Inspiration comes from many places. We asked some of the artists in "The Art of Pollinators" exhibit to share the inspiration for their artwork with us to shed more light on what's behind their artwork. Here are their stories.
"The Art of Pollinators" exhibit features nearly 100 artworks inspired by native pollinators. A collaborative effort between the Forest Preserve District of DuPage County and DuPage Monarch Project, the exhibit runs May 2 – June 1 at Mayslake Peabody Estate, 1717 W. 31st St. in Oak Brook. Exhibit hours are Monday – Friday 9 a.m. – 3 p.m. and Saturdays 9 a.m. – 1 p.m. An opening meet-the-artists reception is slated for May 7 from 6 to 8 p.m.
Ann Grill
Milkweed
Watercolor
$175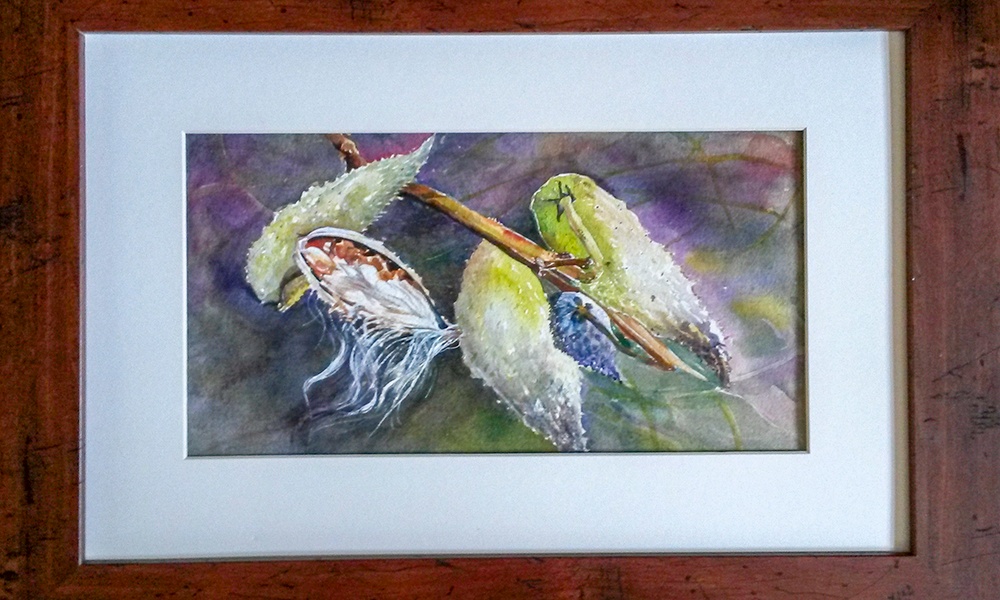 While on one of my getaway walks in the woods at Fullersburg Woods Nature Education Center in Oak Brook many years ago, I stopped to see what a volunteer was doing shoulder high in the wildflower garden. She explained she was checking the milkweed plants for signs of the monarch butterfly caterpillars. She was concerned because there weren't as many as in previous years. It was the first time I was aware of the dwindling population of monarch butterflies. Since then in my own garden and in public spaces, roadsides, medium strips, riverbanks, and now in our city community garden, I check the milkweed for hopeful signs of rebirth.
---
Cherylyn Gnadt
Telling the Bees: Delicate Deconstruction
Mixed media altered book
$600



Like many artists, I'm drawn to butterflies, bees, birds and industrious winged creatures of all sorts. So the inspiration to contribute to this show was infinite. The pleasant imagery of color, motion and light made its way into my sketches early on.

It was then I remembered a book I collected from the used section of the Elmhurst Library late last summer, "Telling the Bees," by Peggy Hesketh. The intriguing title and a photograph of my daughter, at the time 4, in her butterfly costume, sent me down a path a little less optimistic. How will I tell my daughter and my daughter's daughter that we knew years ago of the plight of the honeybee and its dwindling numbers.

Of course, before deconstructing this salvage-found book, I had to read it. Through the narrative, I learned so much about beekeeping history, rituals and the solemn custom of letting the bees know of its mistress' death. In the creation of the artwork, I intentionally used new technology like a laser cutter, also found at the Elmhurst Public Library, paired with hands-on techniques of cutting, painting and connecting. Thinking, "How can we help resolve the dwindling dilemma with newfound solutions?" I don't have the answers, only questions. How will we tell the bees?
---
Bill Kalnes
Hummingbird Moth
Hard at Work
Photographic print on metal
$400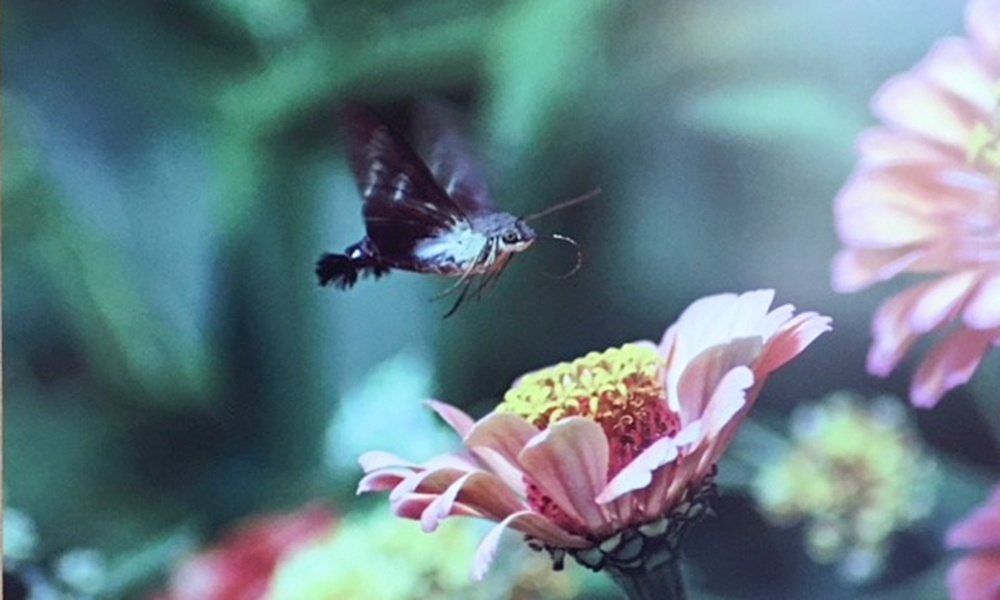 I have been photographing nature for over 20 years now, and at least once a summer I go to the Chicago Botanic Garden for a photo shoot. I got this photo in the summer of 2016. I was set up on my tripod, taking photos of the various flowers in one area when I noticed this black blur darting around the area stopping very briefly at the flowers. I had no idea what it was, so I set up and focused on one particular flower with the hopes that he/she would stop there. As I noticed the blur approaching I just started shooting, with the hopes of getting a decent photo. Once I got home and reviewed the photos I realized I got more than just a decent photo. I got a once in a lifetime photo. That's why I want to share it with everyone that passes through the exhibit. As with most nature photography it sometimes takes patience, persistence and luck to get a really great photo.
---

Robin Liefeld
Your Wings are Ready
Acrylic paint and collage
$500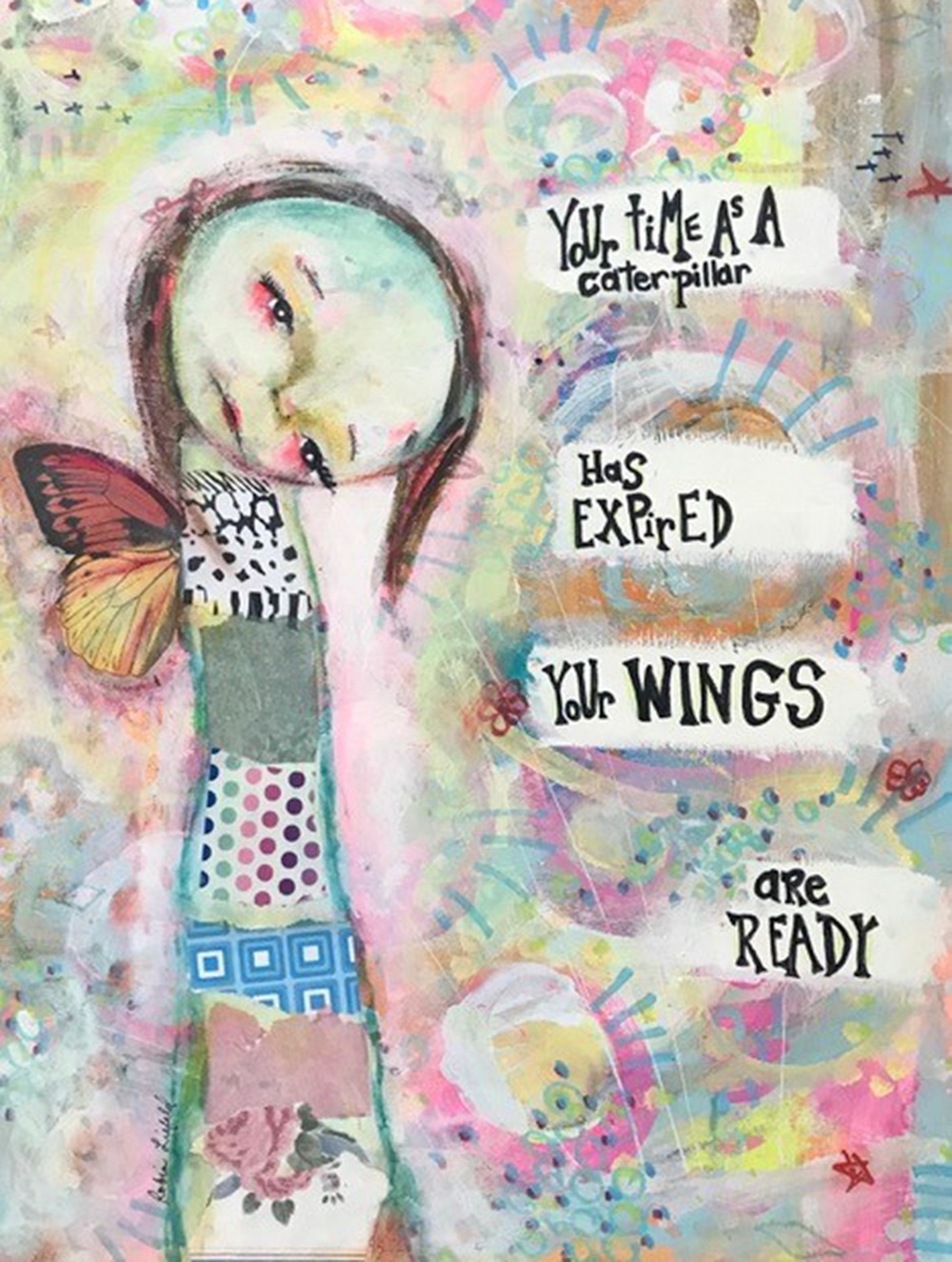 Two of my passions are painting and gardening. They both include color and transformation, which is probably why I love them so much. I live close to a monarch waystation (Eldridge Park, Elmhurst) and I try into include plants in my garden to help butterflies and other precious pollinators. When they show up in my garden, I am filled with delight and wonder. I am mesmerized by the incredible transformation of monarch butterflies and think they speak to our own lives as well. I painted "Your Wings Are Ready" during a challenging time when fear threatened to derail my growth. It reminded me that it was time to let go of the past and soar into my future.
Buy plants that will help attract pollinators at our Native Plant Sale May 11 and 12 at Mayslake Peabody Estate.