A spirited juvenile northern goshawk eagerly regained its freedom Thursday after being nursed back to health at Willowbrook Wildlife Center in Glen Ellyn.
The bird first arrived at Willowbrook Wildife Center in rough shape and at first glance, staff thought it was a large Cooper's hawk.
But because of its size and slight overall differences, Willowbrook vet technician Emily Simpson asked for a second opinion on the bird's identification.
It came as quite a surprise to find it was a northern goshawk, a rarity for this area and Willowbrook. The largest of the North American accipiter species of hawks, northern goshawks live most of the year in northern Canada. They migrate south relatively late in fall and early in spring.
"They're rare but not unheard of in this area," Willowbrook wildlife specialist Rose Augustine said. "We are right at the southern edge of their typical nonbreeding winter range."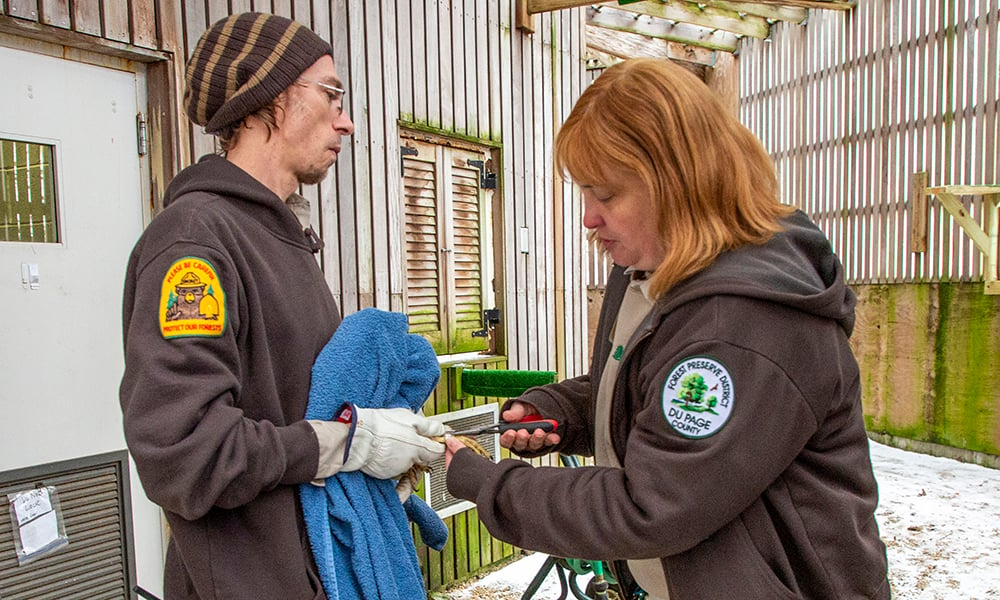 Willowbrook wildlife keeper Justin Sharp holds the northern goshawk while Willowbrook wildlife specialist Rose Augustine removes a temporary band prior to putting a metal band on the bird.
There are two types of hawks — buteos and accipiters. Buteos include stocky red-tailed, red-shouldered and broad-winged hawks. Accipiters like sharp-shinned and Cooper's hawks as well as the northern goshawk have shorter wings and longer tails with a more narrow body.

Accipiters all have very similar markings and can cause quite the ID debate among birders, said Willowbrook naturalist Stephanie Touzalin. A closer look at the pale eye stripe and barring on the tail, plus the large size of this bird, led Willowbrook to the correct identification of a juvenile northern goshawk.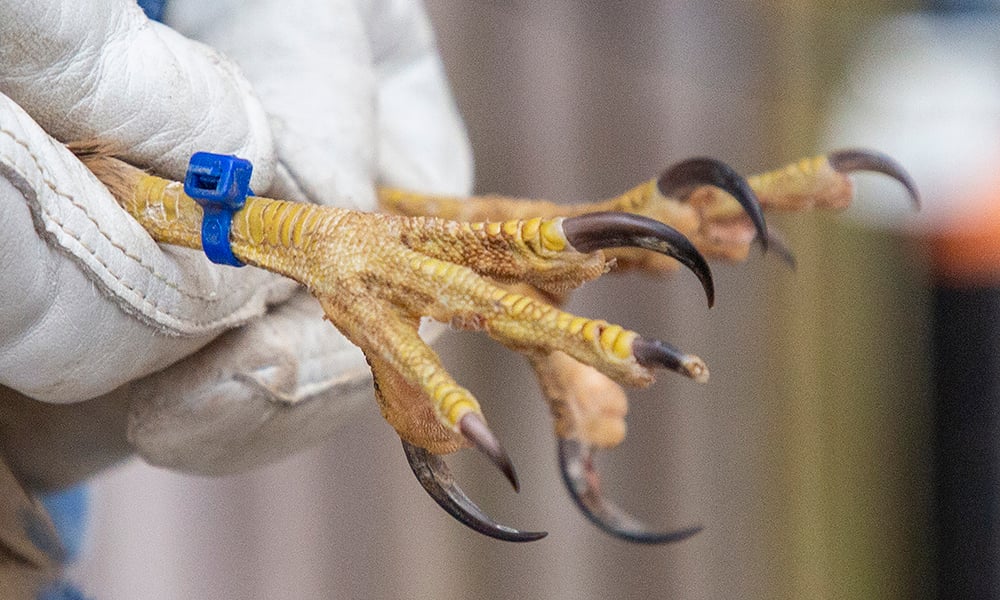 The talons of the northern goshawk as it gets banded.
Goshawks are the bigger, fiercer, wilder relative of the sharp-shinned and Cooper's hawks that prowl suburbs and backyards. They are powerful hunters that prefer mature forest habitat. They have incredible maneuverability and speed to dart between trees and can take down a variety of prey, including squirrels, rabbits, woodpeckers, ducks and songbirds.
The Chicago Bird Collision Monitors brought the bird in on Dec. 13, after it was found in a residential area in Carol Stream, Augustine said. It had head and spinal trauma and was unable to stand and could barely use its legs, she said. X-rays showed nothing abnormal.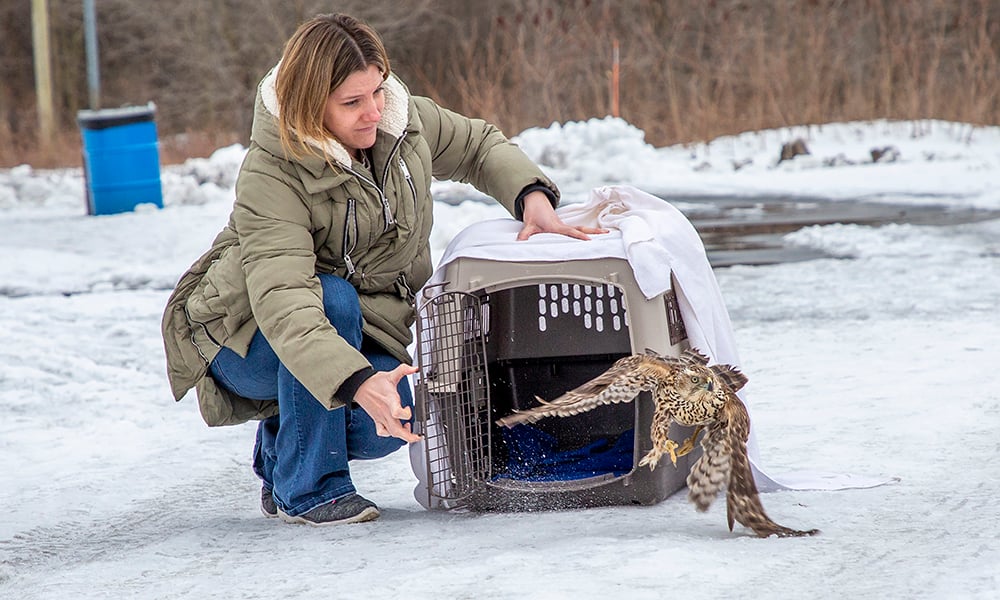 Willowbrook wildlilfe assistant Vanessa Laesch releases the northern goshawk at McKee Marsh at Blackwell Forest Preserve.
The bird was treated with anti-inflammatory medication for 10 days and cage rest in Willowbrook's ICU for 2 ½ weeks. It was then moved to progressively larger enclosures as it started showing improvements in motor function and using its legs, Augustine said. On Jan. 30,, Augustine and Willowbrook wildlife assistant Vanessa Laesch released the powerful bird at McKee Marsh at Blackwell Forest Preserve in West Chicago.