Willowbrook Wildlife Center's raptor outreach program has been captivating audiences and educating them about conservation and native raptors for more than 30 years.
The raptor outreach program was developed by Mrs. Nancy Pierson (Coons) during her tenure as a fellowship participant at Willowbrook in 1986. Willowbrook uses live raptors in programming to not only enhance the effectiveness of our wildlife educational message but also to encourage personal bonds between our interpreters, birds and audience.

What makes the raptor outreach program so popular? The use of live animals enhances our ability to teach. Willowbrook uses only permanently disabled birds that cannot be returned to the wild in the program, which enables an educator to accomplish two goals. First, the animal commands the attention of our audience, intriguing visitors' curiosity and motivating them to learn. Second, seeing an animal up-close and discovering its history personalizes the wildlife-encounter experience. Our raptor program creates a lasting impression about the relationship between humans and wildlife in our community.

Over the course of 30 years, Willowbrook has presented more than 2,400 raptor programs to DuPage County children and adults. Equally impressive: Willowbrook reaches more than 2,100 students and 400 adults through three formal raptor programs each year.

Willowbrook is trying to raise money for new housing for the hawks, falcons and owls that are part of our team at the center. The next time you visit Willowbrook, stop by the visitor center and check out the designs for the new building, and if you'd like to support the center's effort to take care of these fascinating birds, consider making a donation to the raptor housing fund at dupageforest.org/donate.

Here's the starting lineup of our feathered teachers who help us to deliver our conservation- and education-related message in DuPage County:

Tonka the Great Horned Owl
Tonka was found in a sludge pit covered in substance with extensive muscle damage to her left wing and admitted in Sept. 1991. Tonka is Willowbrook's oldest education program animal. She came to us as an adult and is at least 28 years old and could possibly be well into her 30s! (It's very difficult to precisely determine a bird's age once it has its adult plumage or coloration.) Tonka is so comfortable on the glove that when we are training new raptor handlers, she is the first bird we have them work with. New human trainees can be awkward in their handling, but Tonka just takes it in stride. Due to her age, she is in semi-retirement and does not travel off-site anymore.
Tonka ©Mike Shimer
Andre the Great Horned Owl
Found along I-90 and likely hit by a car, Andre was admitted with a vision impairment to his right eye on June 7, 2005. He is blind in that eye but otherwise healthy, and he is fully flighted — quite the understatement! Great horned owls, like Andre, can be a bit bullheaded. I had the pleasure of glove training Andre and he often demonstrated to me that he was a strong flier! One of his favorite perches is a nest box that he sits atop, its roofline at my chin level. During training, I would approach Andre and present the glove. On those days when he didn't feel like a training session, he would jump up in the air and helicopter over my head without ever touching me. It was pretty amazing to see him demonstrate how strong he was! Sadly, his vision impairment precludes him from being returned to the wild. Andre shares an enclosure with Tonka.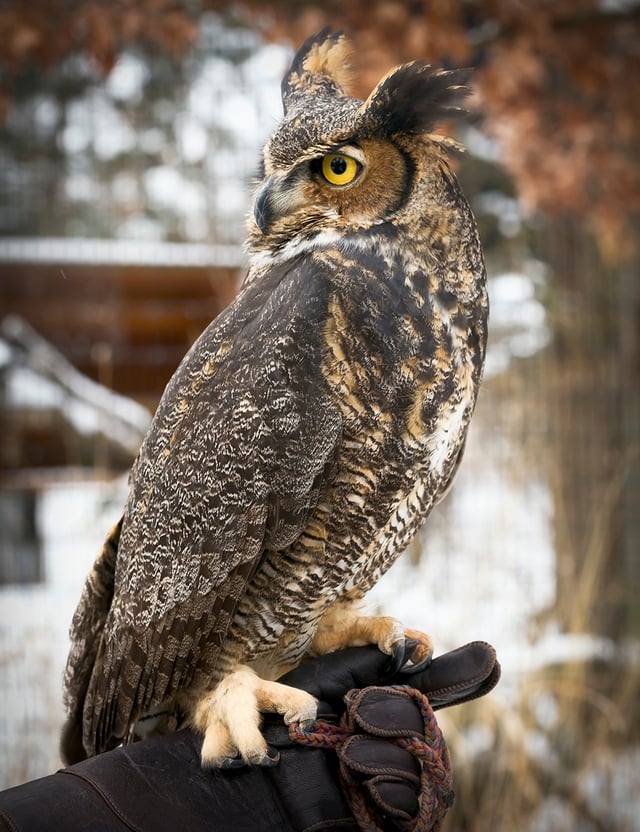 Andre ©Mike Shimer
Professor the Red-tailed Hawk
Professor was admitted with a broken right wing that resulted in abnormal elbow and shoulder movement in Dec. 2003; he was likely hit by a car. When he was trained to take to the glove, this bird watched every move the handlers made — with the studied eye of a college professor! Professor is at least 16 years old but is as spry as a red-tailed hawk half his age.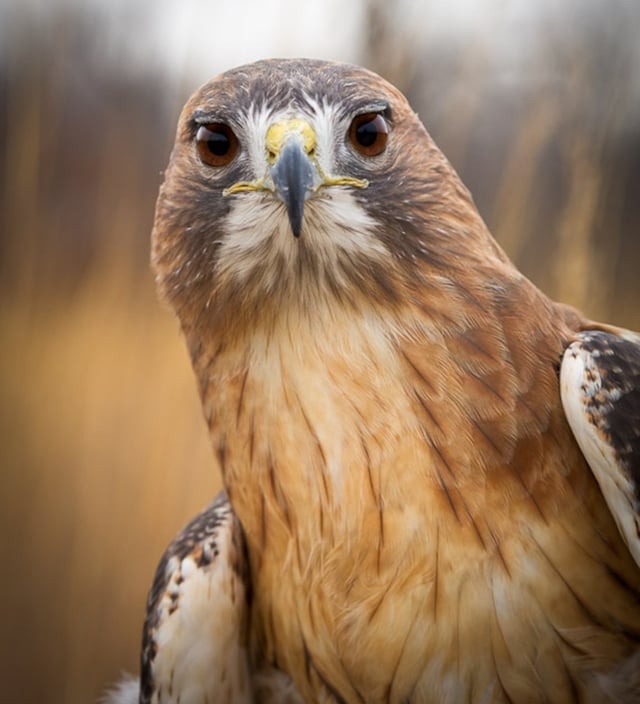 Professor ©Mike Shimer

Henna and Alba the Red-tailed Hawks
Henna and Alba arrived as a "package deal" from the Raptor Education Group in Wisconsin in 2011. Both have permanently injured wings and were formerly housed together. They were originally thought to be both males but as part of Willowbrook's admitting protocol for permanent education animals, our staff veterinarian submitted a blood sample to determine their gender. Lo and behold, we had two females! It's not uncommon to have a mix-up regarding gender, since the majority of raptors don't display color dimorphism between males and females. (REGI originally named them Xavier and Casper, but that would no longer do.) Henna is another word for "dark brown," and she is a dark morph hawk. When she arrived her name was Xavier which means splendid… and she is a splendid looking bird! Alba means "white" in Latin, and she is a light morph hawk. Her name was Casper, as in Casper the Ghost. The severity of Alba's wing injury has caused her to develop significant arthritis and she is in retirement. She still works enthusiastically with her trainers daily.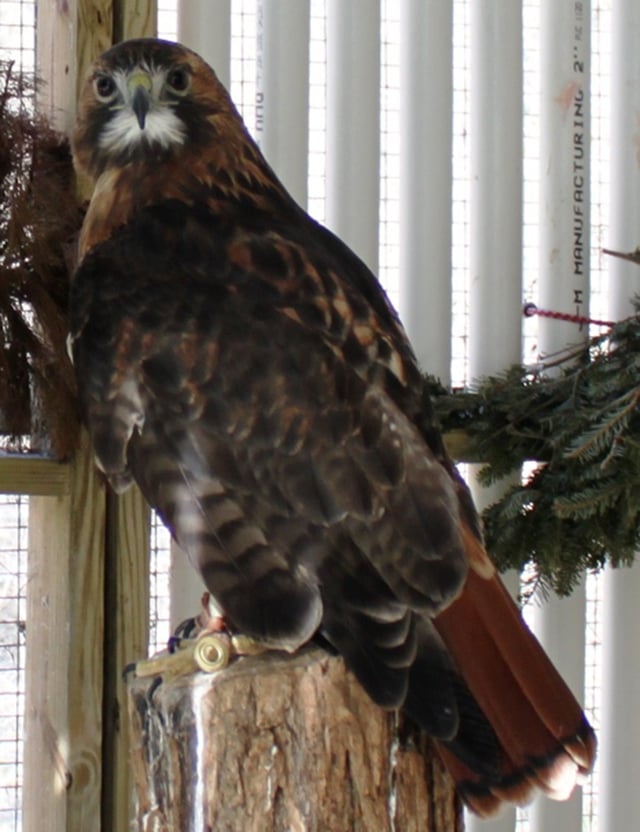 Henna

Alba

Ayasha the Eastern Screech Owl
Ayasha was admitted as an immature bird on May 28, 2006. He was found on the ground being attacked by crows. He suffered from head trauma (not necessarily from the attack) and has vision impairment; he is blind in his left eye, because the retina is detached. Ayasha is otherwise a healthy bird and is fully flighted. We at first thought Ayasha was a female — until put in an enclosure with Otis, thought to be a male. To our surprise, Otis laid eggs! (Otis served as an education ambassador at Willowbrook for 16 years.)

Ayasha is a definite crowd favorite, and many visitors mistakenly think that he is a baby owl. At 12 years old, that definitely is not the case. Ayasha is a "rufous" or red morph Eastern screech owl, which distinguishes him from his roommate Cricket, a grey morph. Although they sport very different colorations, they are both the same owl species.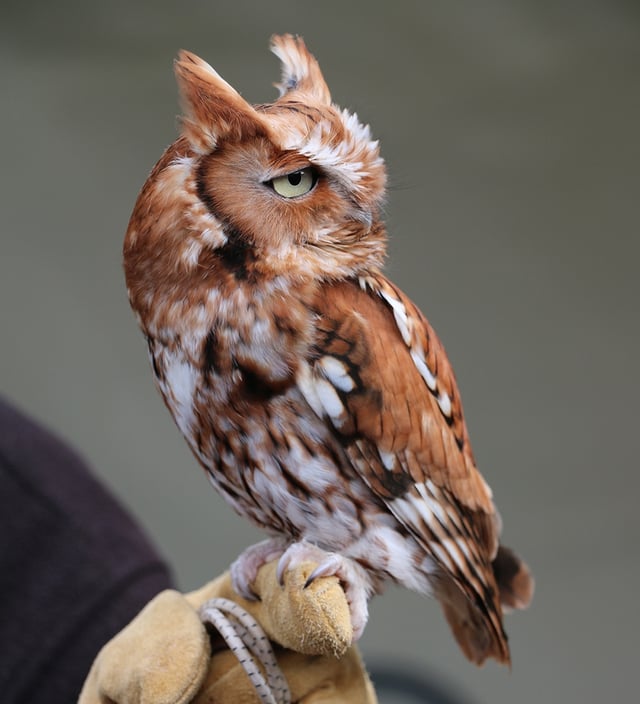 Ayasha
Cricket the Eastern Screech Owl
Cricket was admitted to Willowbrook after being hit by a car in Wheaton in Jan. 2015. She has a fractured left wing and is blind in her left eye. Cricket is the newest member of the education raptor team. When she isn't teaching, we can always find her dozing in her nest box. Cricket and Ayasha share an enclosure.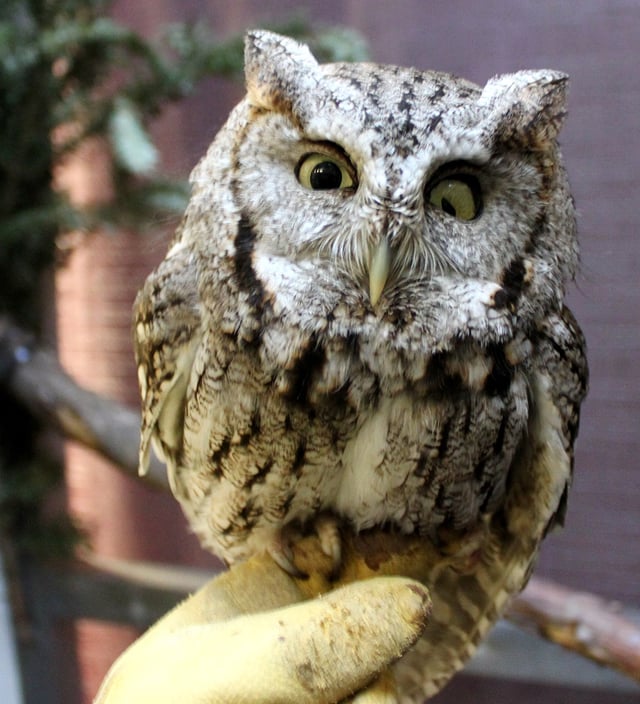 Cricket
Juno the Barred Owl
Juno arrived from Carolina Raptor Center after rehabilitation on Aug. 7, 2004. She was likely hit by a car, which resulted in vision impairment, a beak fracture and a fractured toe. Juno has a penetrating gaze with her dark eyes and is a very beautiful bird. She is fully flighted. Barred owls are not as common as great horned owls in DuPage County but if you are lucky, you might just hear one belting out its call, "Who cooks for you? Who cooks for you, all?"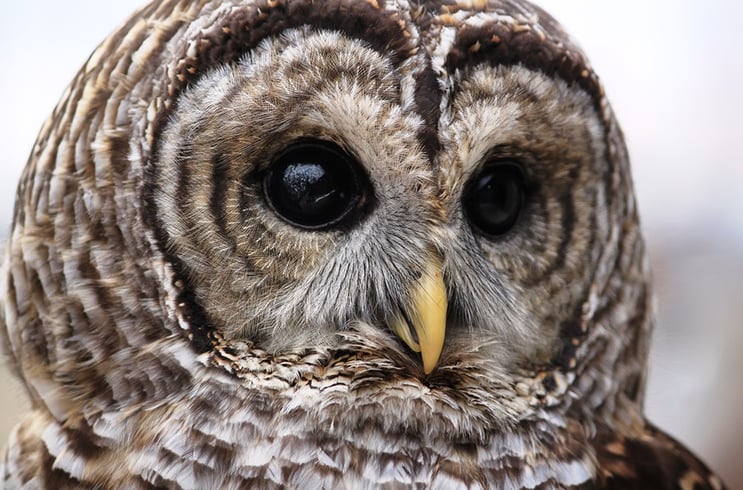 Juno
Skylar the American Kestrel
Skylar was brought in by the Chicago Bird Collision Monitors in June 2011. She suffered from injuries related to being caught in a rat trap; she cannot be released, because she's missing her left talons. Skylar is a beautiful female American kestrel. Kestrels are one of the few raptor species that show color dimorphism. Females have less of the blue-grey coloration on their cap and shoulders than males. Willowbrook is proud to have an American kestrel on its raptor team, because this is a species whose wild population is in decline.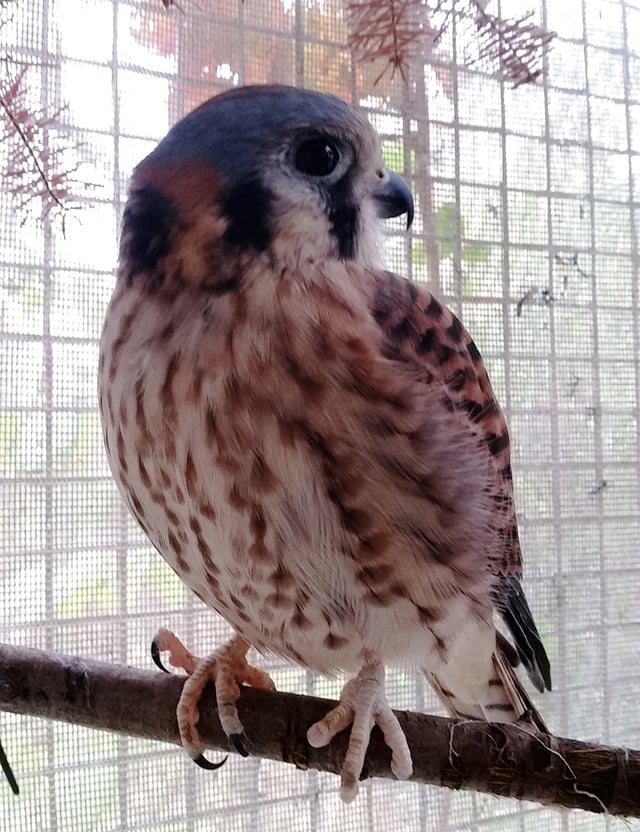 Skylar