From the President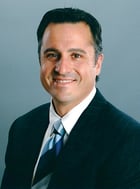 When you're looking for a quick nature fix, the Forest Preserve District has 145 miles of trails, 30 lakes and nearly 26,000 acres waiting for you 365 days a year. When you're ready to try something new or to spend time with people who enjoy the same activities that you do, we host over 50 programs with multiple sessions every season. To better help you find these programs, starting this spring we're packaging them in a redesigned calendar. It'll make it easier to find your favorite ways to connect to nature (and might introduce you to forest preserve experiences you never knew existed!)
Want to try archery, fishing or kayaking? "Ways to Play" will set you up for an action-packed spring. Interested in the things that grow and live in the forest preserves and the ways the Forest Preserve District is helping native species? Browse through "Plants & Wildlife." We're so excited about the work we do in the field of conservation we even created a "Living Green" section with ideas on how to use environmentally friendly practices at home.
Each day seems to bring new reports on the benefits of spending time in nature (less stress, better mood and memory) so we're offering new ways to relax and recharge in "Health & Well-Being" and added new titles like "Mindful Walking for Seniors" and "Shinrin-Yoku." (Not familiar with the term? Read about it and other ways to practice mindful thinking in "Taking It All In.")
Some of our most popular destinations tell the stories of the relationships between the land and early DuPage residents through tours, demonstrations and special celebrations, which you can find under "Heritage." Many offer a chance to experience and explore the arts surrounded by a beautiful forest preserve setting, programs featured in "Nature Art & Performances."
I don't know about you, but I'm ready for spring, and I've already found a few programs in our new calendar I'm set to join. I hope you do, too!

Joseph F. Cantore
President, Forest Preserve District of DuPage County