Few enjoy stepping on the scale, let alone on a daily basis, and the animals along the exhibit trail at Willowbrook Wildlife Center are no exception. To make it easier for the center to keep tabs on animals' weight and other conditions, it uses "positive reinforcement training."
The method, which is cutting-edge for rehabilitation centers, lets an animal decide whether or not to participate in a training activity. Trainers pay close attention to body language and reactions to gauge if an animal's actively participating or showing signs of stress. They then adapt the routine accordingly. This gives the animal a sense of control over its environment and makes it more likely to comply with certain cues.
Trainers use positive reinforcement training to "station" animals each day on scales or on platforms for feet or beak inspections, all vital exams that help the center monitor animals' health.
Because Willowbrook works with the animals every day, look for training activities the next time you visit. Employees or volunteers can explain their techniques and answer your questions. Check the spring calendar for programs where you can help, too!
Despite the chilly weather, the Danada Equestrian Center horses will soon be losing (yes, losing) their winter coats.
Horses shed their coats twice a year, but it's a process trigger ed by the amount of daylight, not the temperature. Receptors in the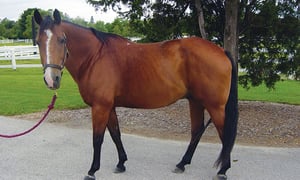 eyes relay changes in daylight to the pineal gland in the brain, which produces melatonin. Less light means more melatonin and more hair growth, so in late summer horses start to grow in longer coats with hollow hairs, as shown in the top photo of Cody. These hairs trap air close to the body, keeping the animals warm.
In January when daily sunlight starts to increase, melatonin levels drop, and the horses begin to shed out this coat for shorter solid hairs, as shown in the bottom photo of Cody. These hairs repel rain and keep the animals cooler.
You may see the horses grooming each other as they try to shed out their itchy longer coats. Sign up for a late winter "No Rush Brush" and help our fuzzy friends get ready again for spring!
Indoor Riding Lessons Come to St. James Farm

Starting in February, the horses of Danada Equestrian Center will be taking day trips to St. James Farm for riding lessons at the newly renovated indoor arena. This Forest Preserve District first means that beginning, intermediate and advanced riders will no longer have to wait until spring to advance their skills. For registration information, see Page 11.
Seventh Graders the Bee's Knees at Kline Creek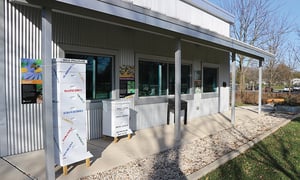 The next time you stroll by the honey house at Kline Creek Farm and learn something new about honeybees, thank the seventh graders at Hadley Junior High in Glen Ellyn.
In 2018 the students received a problem-based learning assignment: Research honeybee colony collapse and formulate a solution. Before starting, they needed to interview experts, so they called in Kline Creek Farm, which has managed active hives for years. The students completed their research and got helpful feedback by presenting their ideas to a panel of volunteer beekeepers from the farm. The whole class then voted on a plan of action: Encourage the Forest Preserve District to spread the word about the importance of honeybees to the modern food supply.
The students sent a letter to the executive director asking for the farm's help, and soon, all involved came up with a creative indoor-outdoor exhibit augmented by interactive displays and a pollinator garden compliments of master gardeners from the University of Illinois Extension. Now, passersby as well as visitors inside the honey house can discover more about why honeybees are so vital.
The Sweetest Season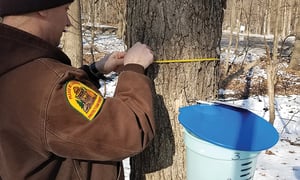 In March, when the days warm but nighttime temperatures still drop below freezing, you know it's maple syrup time.
Collecting sap for maple syrup only happens in early spring, when changes in daily temperatures create pressure within the trees' trunks. This pressure moves the sap (sugars mixed with water pulled up by the roots) through the trunk.
To collect sap, tappers drill a hole in the tree and knock in a hollow tube called a "spile," which lets the clear watery sap drip into a bucket secured around the trunk. The trees heal without permanent damage and can be tapped year after year. When nighttime temperatures warm and the trees begin to bud, the process is over, and it's time to remove the spiles and start boiling the sap into syrup.
Any maples produce sap, but sugar maples deliver sap with the highest sugar concentration, about 2%. Curious to know more? Discover all of maple sap's sweet secrets at "Get Sticky" March 10 at Fullersburg Woods. Find registration details on Page 12.
Join the Club at Mayslake

Now that the shelves at Mayslake Peabody Estate's newly restored library are mostly filled, the space is again becoming a place for exploration, reflection and interaction.
Besides changing exhibits and activities, the hall wants to make books the center of attention, so this winter it's kicking off the "Peabody's Pages Book Club."
This fun forum will discuss titles from 1880 – 1922, the interpretive period at Mayslake Hall, or ones that relate the connections between people and nature. Share your thoughts, listen to others, and appreciate a book in a deeper, sometimes surprising way. Read how to sign up on Page 15.