News & Notes
2023 Annual Permits on Sale Dec. 1

Annual permits for 2023 for private boating, archery, off-leash dog areas, and model crafts go on sale online on Thursday, Dec. 1.
Permits will also be available Monday – Friday 8 a.m. – 4 p.m. through Visitor Services at 630-933-7248 or at Forest Preserve District headquarters at 3S580 Naperville Road in Wheaton.
Questions? Call Visitor Services, or use our convenient online chat at dupageforest.org.
Collections Corner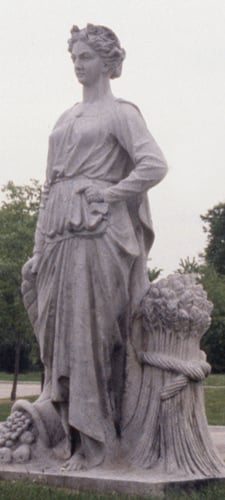 When the Forest Preserve District purchased Hidden Lake in 1978, it also acquired something unexpected: two 12-foot-tall, 5.5-ton statues.
After much research and help from the Chicago Historical Society, the District discovered that the two statues, one posing with a cornucopia symbolizing agriculture and one with an anchor and anvil representing industry, had once graced the second-story ledge of the 1833 Chicago Board of Trade building. The pieces' origin is unknown, but researchers speculated they were crafted in Italy. When the trade building was razed in 1930, businessman Arthur Cutten preserved the statues, moving them to his Sunny Acres Farms, today's Hidden Lake.
The statues eventually moved to Danada Forest Preserve, but in 2004 the District returned them to the Board of Trade, where they now stand on display, demonstrating how research and a commitment to discovering the provenance of items are as important as maintaining the pieces that remain in the Forest Preserve District's collection.
Right: The statue representing agriculture as it stood at Danada Forest Preserve

Live and on Demand

Can't make it to a board meeting? Find schedules and agendas and watch it live or on demand under "Our Board." You can also link directly to live streaming video from the Forest Preserve District's Facebook page at facebook.com/dupageforest.
Commission meetings and planning sessions are open to the public and held at Forest Preserve District headquarters at 3S580 Naperville Road in Wheaton. Normally, commission meetings are at 8 a.m. on the first and third Tuesdays of the month; planning sessions, 8 a.m. on the second and fourth Tuesdays. At both the board hears public comments and staff reports, discusses business, and votes on agenda items.
Forest Preserve District Celebrates Upcoming Master Plan Projects


Top: (L to R) State Rep. Deanne Mazzochi, Commissioner Linda Painter, President Daniel Hebreard, Commissioner Tina Tyson-Dunne, and State Sen. Suzanne Glowiak Hilton at Mayslake
Bottom: Forest Preserve District commissioners with staff from contractor Wight & Company at the Willowbrook Wildlife Center ceremonial groundbreaking
Forest Preserve District commissioners and staff recently joined forest preserve fans to kick off two major master plan projects.
On July 16 the Forest Preserve District marked the start of a yearlong exterior restoration project at historic Mayslake Hall. The $6.4 million certified master plan project will repair structural deficiencies and other problems with the roof, masonry, wood, stucco, windows, doors, and foundation. A $750,000 capital grant from the Public Museum Capital Grants Program, Illinois Department of Natural Resources, Illinois State Museum will help pay for the renovations.
On Aug. 16 the District also held a ceremonial groundbreaking for an ambitious $25.5 million project for Willowbrook Wildlife Center, which will transform the center and make it the agency's first net-zero-designed building. The project includes a 27,000-square-foot wildlife rehabilitation clinic and visitor center that will allow visitors to view animals through one-way windows and video monitors as patients are examined, treated, in surgery, being fed, and rehabilitated.
Many Thanks

The Friends of the Forest Preserve District supports the District by inviting individuals, corporations, and foundations to donate for the benefit of natural areas, wildlife, and master-plan projects. We thank the following donors who contributed $500 or more in the second quarter to help enhance our environment and quality of life in DuPage. If you would like to learn more about how you, your group, or your business can partner with us, visit dupageforest.org/friends or call 630-871-6400.
Estate of Beth Fikar
$25,000 — Willowbrook Wildlife Center Master Plan Improvements
Kline Creek Farm Visitors
$5,770 — Kline Creek Farm
Giving DuPage
$5,477 — Willowbrook Wildlife Center
Marilyn L. Schweitzer and Michael Firman
$5,064 — Natural Resources, Willowbrook Wildlife Center, and Education
Jessica Ahn, in memory of Edwin Eunkyu Ahn
$5,000 — Tribute bench
ComEd, an Exelon Company
$2,500 — Willowbrook Wildlife Center
Willowbrook Wildlife Center Visitors
$2,252 — Willowbrook Wildlife Center
Robert and Rosemary Carroll
$2,000 — Mayslake Peabody Estate
Edward and Clare Malysiak, in memory of Holden Wight
$1,030 — Tribute bench
Gregory Baird
$1,000 — Willowbrook Wildlife Center
Palais Charitable Foundation
$1,000 — Willowbrook Wildlife Center
Robert R. McCormick Foundation
$1,000 — Willowbrook Wildlife Center
Mr. David Nienke
$750 — Area of greatest need
J. Lyons
$625 — Area of greatest need
Ace Hardware Corporation
$500 — Native Plant Presale sponsor
Keith and Dorine Bryant
$500 — Area of greatest need
Cathleen Carter
$500 — Willowbrook Wildlife Center
Dawn Chiang
$500 — St. James Farm
The Davey Tree Expert Company
$500 — Native Plant Presale sponsor
Domtar Paper
$500 — Willowbrook Wildlife Center
John and Diane Fiore
$500 — Willowbrook Wildlife Center
Daniel Hebreard and Family
$500 — Native Plant Presale sponsor
Allan G. Hins
$500 — Willowbrook Wildlife Center
Kathleen Isoda
$500 — Willowbrook Wildlife Center
Kathleen Murphy
$500 — Kline Creek Farm
Precision Homes LLC., in memory of Holden Wight
$500 — Tribute bench
Jefferson and Catherine Reiter
$500 — Willowbrook Wildlife Center
Rice Lake Square
$500 — Native Plant Presale sponsor
Schwab Charitable
$500 — Area of greatest need
Chet and Jeanette Wilczak
$500 — Mayslake and St. James Farm