News Release
---
St. Charles Business Donates $23,000 Toward Belleau Woods Restoration

J. Lyell Clarke III, president and CEO of Clarke, presented the Friends and the Forest Preserve District's Board of Commissioners with a check at the board's Aug. 15 meeting. The donation is part of the company's "One for Tomorrow" award program, which Clarke funds with 1 percent of revenues from its NextGen products and services developed to reduce the environmental footprint for mosquito control and aquatic habitat management.

"We provide those awards to seven regions internationally — two international and five in the U.S. — that have the same value system as Clarke does," Clarke said.

The money will protect native trees and plants at Belleau Woods by funding the removal of invasive or exotic plants such as honeysuckle and buckthorn. It is difficult to use prescription burns to control invasives at the preserve at Roosevelt and County Farm roads because of the challenges of managing smoke in such a heavily developed area, according to District Natural Resources Director Erik Neidy.

The first phase of the project is expected to cost $42,000 and take two years to complete. Long-term efforts at the site will stabilize soils, reduce stormwater runoff and enhance the natural experience for visitors, Neidy said.

Belleau Woods consists of high-quality mature oak woodlands, a small remnant prairie, ephemeral ponds, wetlands and Winfield Creek. It was dedicated as an Illinois land and water reserve in 2013. The preserve supports 81 different species of wild animals, including the state-endangered black-billed cuckoo, and 310 native plant species, seven of which are considered regionally rare.

"Managing and protecting our natural areas is our primary mission," said Forest Preserve District of DuPage County President Joe Cantore. "Clarke's contribution to this restoration project supports that mission and helps save a key natural area in DuPage County."

"We are thrilled by Clarke's generosity and longstanding commitment to the environment and the Forest Preserve District," said Forest Preserve District Commissioner Al Murphy, District 6.
The Forest Preserve District of DuPage County has been connecting people to nature for more than 100 years. More than 4 million people visit its 60 forest preserves, 145 miles of trails, five education centers and scores of programs each year. For information, call 630-933-7200 or visit
dupageforest.org
, where you can also link to the District's e-newsletter,
Facebook
,
Twitter
and
Instagram
pages.

###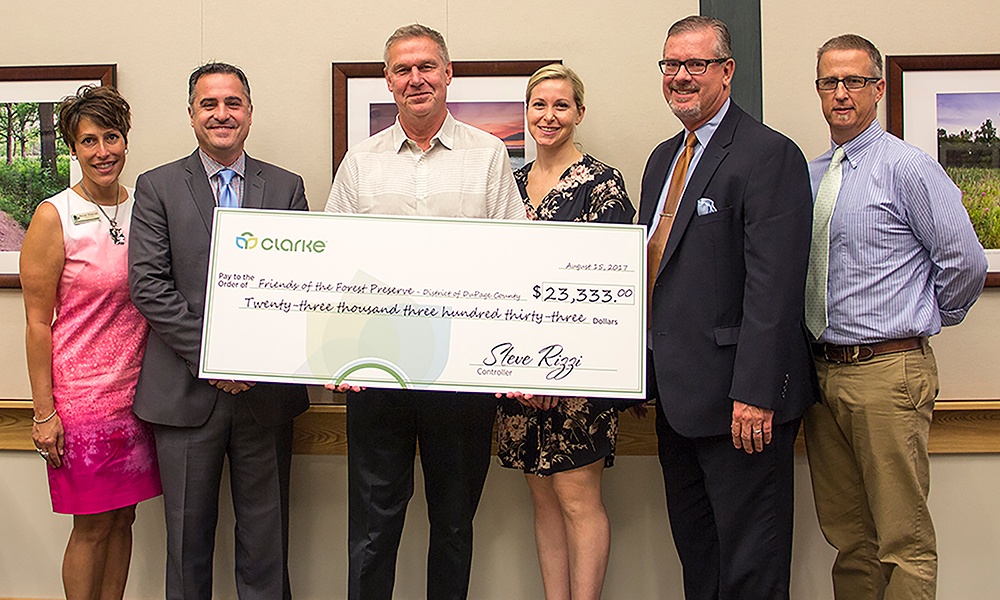 Friends Board members Karyn Charvat (left) and Scott Hardek (second from right), Forest Preserve District of DuPage County President Joe Cantore (second from left) and District Natural Resources Director Erik Neidy (right) accept a donation from Clarke CEO J. Lyell Clarke III (third from left) and Clarke entomologist Emily Glasberg for habitat restoration at Belleau Woods Forest Preserve in Wheaton.