News Release
---
Oak Brook Company Donates to District Program for Special Needs Individuals
Employees also Volunteer at St. James Farm
Nearly 80 employees of Oak Brook-based Chamberlain Group (CGI) participated in a recent cleanup day at the Forest Preserve District of DuPage County's St. James Farm in Warrenvile.

Part of Chamberlain Group's Good Corporate Citizenship Value and activities, this event supported the company sustainability initiative as well as its continued efforts around children's wellbeing. In addition to collecting seeds and helping with general autumn cleanup, CGI made a $5,000 donation to help support the District's Special Needs Outdoor Education Day, a day of kayaking, archery and fishing for nearly 500 local individuals with special needs.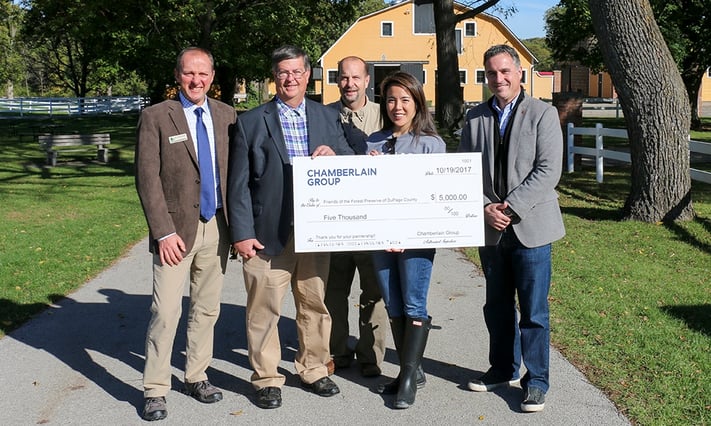 "It was a tremendous event for CGI," said JoAnna Sohovich, CEO of Chamberlain Group. "We have a great partner in the Forest Preserve District of DuPage County. They are a valuable resource in our area, and their outdoor education event is a wonderfully inspiring program for so many local children. Spending time outside helping their programs not only supports our community, but also fosters positive team building for our associates."

"We love it when companies like Chamberlain Group reach out to us," said Forest Preserve District of DuPage County President Joe Cantore. "There are so many programs and events that benefit greatly from both their donations as well as the work that large groups like theirs can offer."

Special Needs Outdoor Education Day started in 2004 with rangers bringing activity stations to various area schools to share the outdoors with special needs students. In 2008, it was moved to Herrick Lake, where boating was added to the array of activities offered and more than 180 students and counselors participated. The event continued to grow in popularity and was moved to St. James Farm in 2012, when it hosted more than 450 participants. The larger location allowed the District to open it up to more special needs groups, including hearing- and sight-impaired individuals. It is now offered one day in the spring and one day in the summer, with more than 700 individuals participating.

At the events, special needs individuals ranging in age from 7 to 30 years old participate, coming from Downers Grove, Carol Stream, Glen Ellyn, Lombard, Wheaton, Hanover Park, Bartlett, Franklin Park, Des Plaines, Chicago, Norridge, Oak Park, River Forest, Forest Park, Elmwood Park and Berwyn. Among the organizations participating are the Western DuPage Special Recreation Association, West Suburban Special Rec Association, South East Association for Special Parks and Recreation, School Association for Special Education, Ray Graham Association and Philip Rock Center.

"Good corporate citizenship is a value that has always been very important to Chamberlain Group," said Sohovich. "From our owners, the Duchossois family, through every level of our organization, CGI is made up of people who care deeply about making a difference. We proudly put that on display at St. James Farm."
The Forest Preserve District of DuPage County has been connecting people to nature for more than 100 years. More than 4 million people visit its 60 forest preserves, 145 miles of trails, five education centers and scores of programs each year. For information, call 630-933-7200 or visit
dupageforest.org
, where you can also link to the District's e-newsletter,
Facebook
,
Twitter
and
Instagram
pages.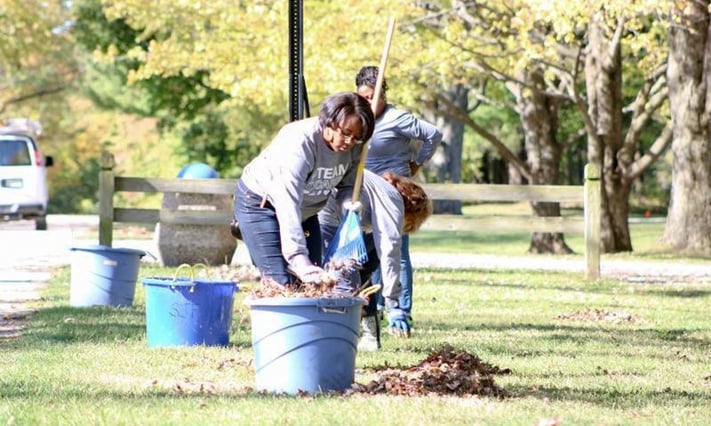 Photo courtesy of Chamberlain Group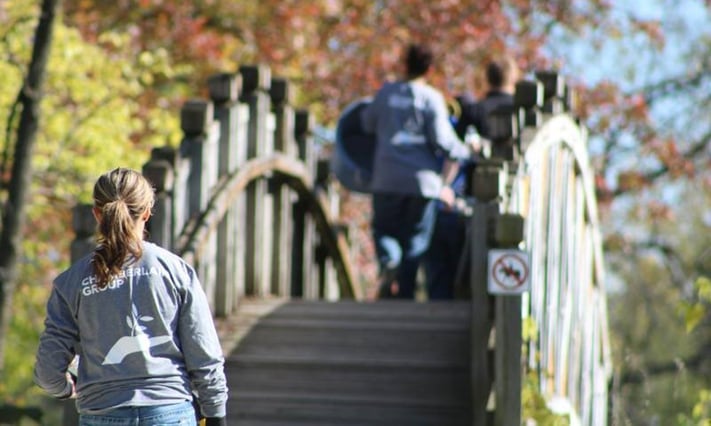 Photo courtesy of Chamberlain Group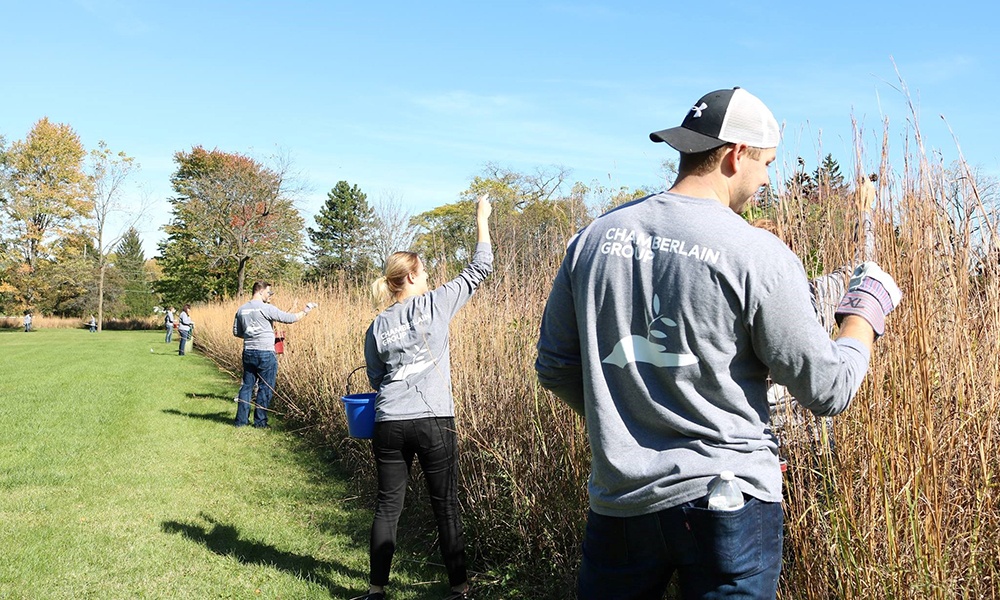 Photo courtesy of Chamberlain Group