Plans also call for improvements to St. James Farm picnic pavilion
(Aug. 12, 2020) — The DuPage Forest Preserve District is moving forward with plans to build a 0.5-mile limestone trail along Mack Road to connect the
St. James Farm Forest Preserve
trail system to county trails along Winfield Road and a future trail at Cantigny Park.
The 10-foot-wide trail will include an equestrian trailhead with rest area and overlook. Construction will begin in August and is expected to be complete by November 2020, according to Forest Preserve District Planning manager Kevin Horsfall.

The $300,000 project will be paid in part by a $200,000 Recreational Trails Program grant from the Illinois Department of Natural Resources. The remainder will be covered with funds from the St. James Farm endowment, Horsfall said.

The trail will run along the south side of Mack Road through a former agricultural field that the Forest Preserve District is restoring to prairie. It will connect to the preserve's main loop trail, an existing service drive and carriage walks along Winfield Road. It will be the last major trail segment north of Butterfield Road in St. James Farm's master plan.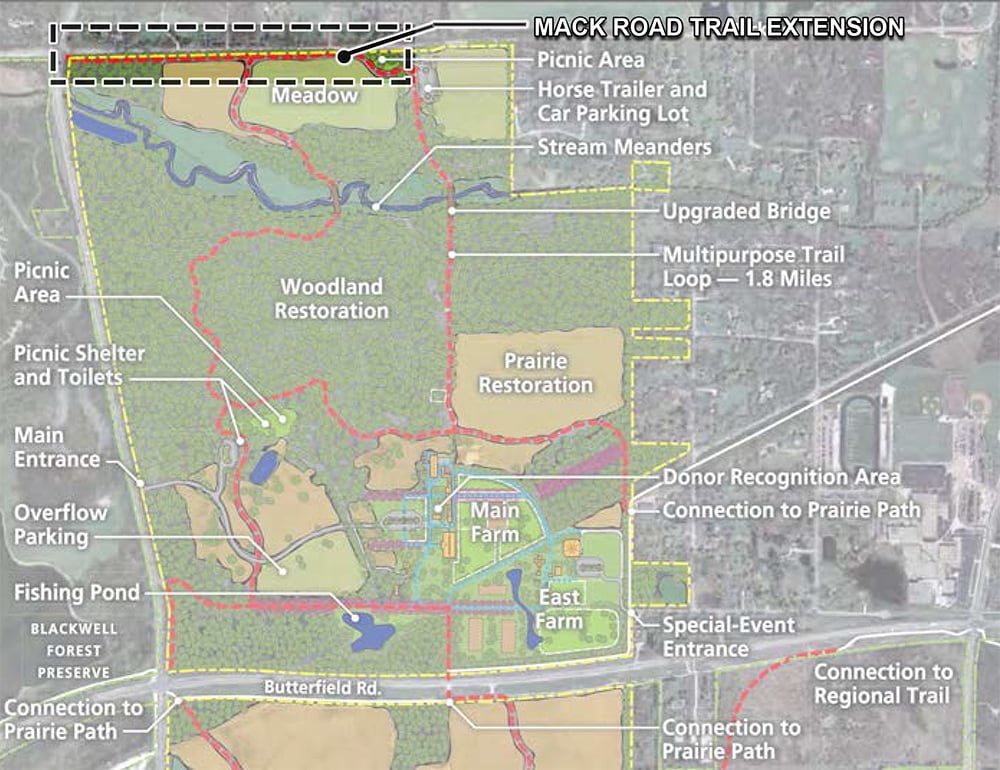 Also at St. James Farm, work will begin in September on the 4,300-square-foot picnic pavilion, one of the District's most-reserved shelters.
Plans call for replacing the cedar shake roof with asphalt shingles; repairing posts and foundations to stabilize the structure; connecting both sides of the pavilion with a covered roof; adding a grill patio to the south shelter; and providing benches and artificial turf game courts.
The entire floor of the shelter and the outer plaza space will be replaced to meet accessibility guidelines and increase capacity for larger groups.
The project, which will finish by November 2021, received a $150,000 matching grant from the Illinois Department of Natural Resources' Open Space Lands Acquisition and Development program. The District has allocated $155,000 toward this project.
The Forest Preserve District of DuPage County has been connecting people to nature for more than 100 years. More than 4 million people visit its 60+ forest preserves, 166 miles of trails, six education centers and scores of programs each year. For information, call 630-933-7200 or visit
dupageforest.org
, where you can also link to the District's e-newsletter, blog,
Facebook
,
Twitter
and
Instagram
pages.