News Release
---
Villa Park Woman's Donation to Help Fund New Raptor Housing at Willowbrook Wildlife Center
Dorm Will House Willowbrook's Education Raptors

(Nov. 28, 2017) — Retired music teacher Donna "Ginger" Jelf lived a simple life but never wavered in her pursuit of her three passions: music, travel and animals.

"She loved wildlife and she loved taking walks on the trails in the preserves," said her niece, Jackie Miller.

The dorm will house Willowbrook's eight education raptors, permanently disabled birds that are part of the raptor outreach program. The raptor house will feature 12 enclosures and a weathering area to provide the resident hawks, falcons and owls with enriching and visually stimulating experiences beneficial to their mental and physical well-being. Construction is expected to begin in summer 2018 and finish by spring 2019.

"It was really important to my aunt to provide shelter and food to animals," Miller said. "She would be so pleased to know that her donation went to build a permanent structure for these birds."

ComEd and other individuals have also donated to the raptor dorm project as part of Willowbrook's 60th anniversary campaign in 2016.

"We are very grateful for these donations that make it possible for us to proceed with this project," said Forest Preserve District of DuPage County President Joe Cantore. "It shows that one person can indeed make a difference."

"These donations will help us build a better home for our majestic education raptors, who serve a vital role in connecting people to nature," said Forest Preserve District Commissioner Tim Whelan, District 4.
Developed by Nancy Pierson 30 years ago, the
raptor outreach program
uses live raptors in programming to enhance the effectiveness of its wildlife educational programs and encourage personal bonds between interpreters, birds and the audience. The program creates a lasting impression about the relationship between humans and wildlife in the community.

Over the course of 30 years, Willowbrook has presented more than 2,400 raptor programs to DuPage County children and adults. Willowbrook also reaches more than 2,100 students and 400 adults through three formal raptor programs each year.

Willowbrook takes in more than 10,000 birds, mammals, reptiles and amphibians annually. It is the only publicly funded wildlife rehabilitation facility in DuPage County and one of the few in northeastern Illinois equipped to treat native and migratory birds.
In addition to caring for native wildlife, Willowbrook welcomes more than 120,000 annual visitors who enjoy self-guided tours of its exhibits, nature trail and butterfly garden and attend nature-based educational programs for children, adults and groups.

Several native animals with permanent disabilities live in enclosures along the center's outdoor exhibit trail, including bald eagles, red-tailed hawks, a turkey vulture, owls, red foxes, a bobcat, a groundhog, raccoons and opossums. Willowbrook is also home to two state-threatened sandhill cranes, who live in an enclosed wetland bird habitat at Willowbrook.
The Friends is a 501(c)(3) nonprofit that advances the vision of the District through philanthropic endeavors. For more information about the Friends, call 630-933-7097 or email
fundraising@dupageforest.org
.
The Forest Preserve District of DuPage County has been connecting people to nature for more than 100 years. More than 4 million people visit its 60 forest preserves, 145 miles of trails, five education centers and scores of programs each year. For information, call 630-933-7200 or visit
dupageforest.org
, where you can also link to the District's e-newsletter,
Facebook
,
Twitter
and
Instagram
pages.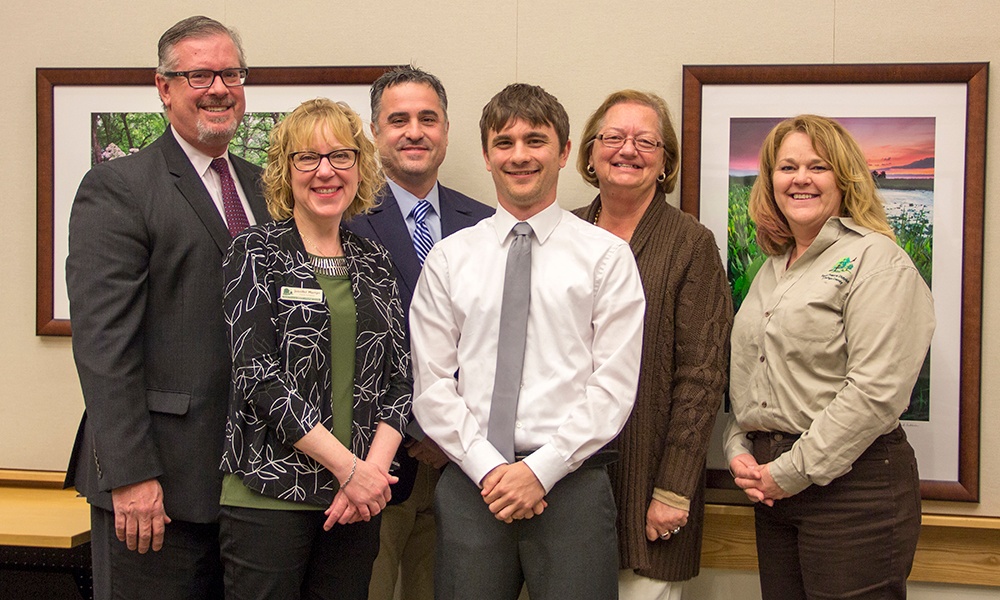 On hand to recognize Donna "Ginger" Jelf's donation to Willowbrook were Scott Hardek, president of the Friends of the Forest Preserve District of DuPage County (left); Friends board member Jennifer Martyn; Forest Preserve District of DuPage County President Joe Cantore; District project planner Matt Adams; Jelf's niece Jackie Miller; and Wilowbrook Wildlife Center manager Sandy Fejt.