The Friends of the Forest Preserve District are overjoyed to share the news of the birth of a baby horse to Daisy this May at Danada Equestrian Center!

Duke symbolizes the great love our visitors, volunteers and equestrians have for the horse in our DuPage community.

To celebrate that love and our work to advance the relationship between man and this beloved companion animal, we're throwing a virtual baby shower for the young colt and Daisy from Aug. 1 to Sept. 7, 2020.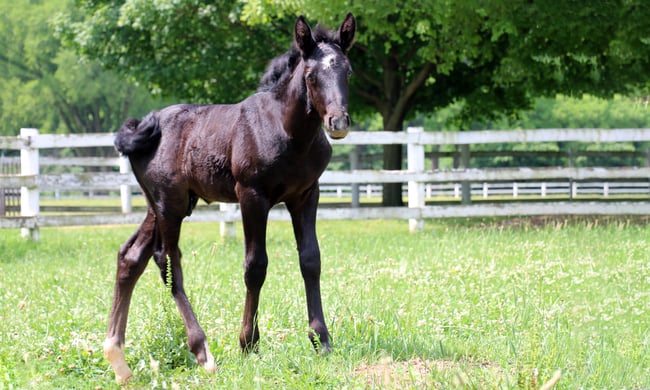 We hope to raise $3,000 for the first year of care for Duke — including his veterinary expenses, gelding and training. Proceeds exceeding our goal will benefit Daisy and other horses. (Danada is publicly funded through DuPage County tax dollars and does not receive state or federal money. Because many of its lessons, camps and tours were canceled due to COVID-19, the center is not generating revenue from programming at this time.)

Your donation of $20 or more will provide Duke with the necessary veterinary care and training he deserves.

In turn, you will receive a hand-drawn portrait of Duke (or Daisy). You may even request a portrait of another member of the Danada herd — from Jude the Irish sport horse to Nick the Appaloosa-and-draft cross. No matter which horse you select to symbolize your kinship, one of our committed volunteers or staff will commemorate that sentiment with a one-of-a-kind drawing to depict its personality. (In the interest of full disclosure, some of us have degrees in art, while others of us simply appreciate art. You never know what you're going to get, but your portrait will always be drawn from the heart to support this great cause!)

Be sure to follow Danada's Facebook page to see exclusive short videos and photos featuring Duke's growth, training and silly antics. Or stop by the center to see Duke and Daisy turned out to pasture daily in one of the paddocks between 8 and 8:30 a.m., weather permitting.

Thank you for giving this colt a head start in life!

In gratitude,

Karyn Charvat
Board Chair
Friends of the Forest Preserve District of DuPage County

Wayne Zaininger
Equestrian Education Manager
Danada Equestrian Center

Your Tax-Deductible Gift Helps to Provide...