Host an Event
The Forest Preserve District offers several settings for business meetings, conferences and seminars, weddings and receptions, or casual lunches.
Danada House
Danada House in Wheaton is a beautiful location for any special event, meeting or party.
Danada House's main level accommodates 150 for cocktails or seats 110.
A modern 4,000-square-foot all-season atrium with a wooden dance floor, state-of-the-art lighting and climate control accommodates 250 guests. Its large windows connect guests to the surrounding landscape and garden.
Outdoor space for over 200 is available.
A list of licensed and approved caterers is provided to assist in planning.
Danada House is owned by the Forest Preserve District and operated by the Friends of Danada, a nonprofit support group. For more details or to schedule a visit, call 630-668-5392 or email jill@danadahouse.com.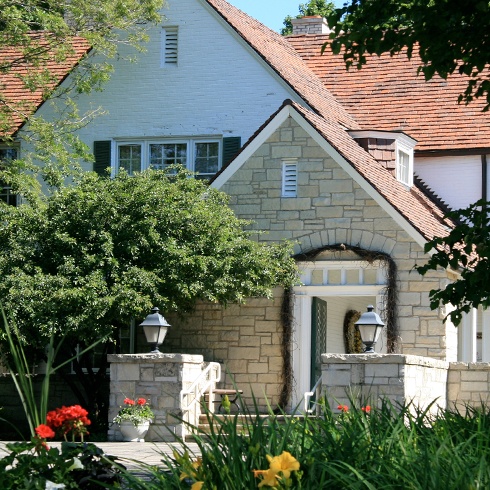 Frederick Graue House
Inspired by the villas of Italy, the Frederick Graue House in Oak Brook is the perfect venue for small private functions. It is situated near Graue Mill, the only operating waterwheel gristmill in Illinois.
The Graue House accommodates up to 70 and seats 50.
The maximum occupancy of the grounds is 150, with access to the house limited to 70 at one time.
A list of licensed and approved caterers and bartenders is provided to assist in planning.
Graue House is owned by the Forest Preserve District and operated by the DuPage Graue Mill Corporation, a nonprofit support group. For more details or to schedule a visit, call 630-920-9720 or email info@grauemill.org
Maple Meadows Grill & Pub
The Maple Meadows Grill and Clubhouse in Wood Dale is a great place to gather before or after a round of golf, watch the game, or host a business meeting or special celebration.
Maple Meadows Grill & Pub offers a delicious menu with daily specials, a full-service bar, a comfortable atmosphere and a scenic patio.
The Maple Meadows Clubhouse is also available for luncheons, meetings and parties.
For rental and restaurant information, call 630-616-8424.
Mayslake Hall at Mayslake Peabody Estate in Oak Brook is available for private functions and offers several unique spaces. The hall is currently undergoing periodic detailed restoration.
Food and beverages may be restricted to a preferred caterers list, depending on the size and type of the function.
Groups may also rent the adjoining event hall.
Related architectural and historical tours are available as additional features for guests.
Portiuncula Chapel
Perfect for intimate ceremonies, this historic chapel is a replica of the original in Assisi, Italy.
The chapel seats 62. Two sets of large double doors open to allow additional guests seated outside to witness the ceremony.
Ceremonies may also take place on the beautiful Mayslake Peabody Estate grounds.
The party renting the chapel is responsible for arranging for the clergy or officiant and any music or flowers.
For more details or to schedule a visit, call 630-206-9569.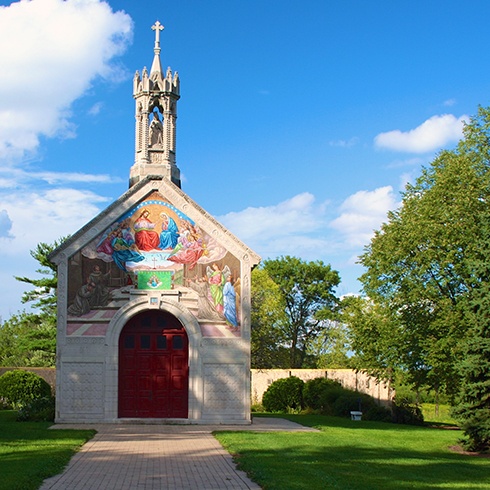 Forest Preserve Picnic Shelters & Areas
Scenic forest preserves provide beautiful backdrops for wedding ceremonies and photographs and special family and group gatherings.
Outdoor picnic shelters and areas accommodate groups from 50 to 300.
Per the General Use Regulation Ordinance, several activities require more than picnic permits to reserve sites. They require special-use permits, which you can't purchase online. These activities include fundraisers for charitable, humanitarian, or benevolent causes; contests; training programs or exercises; shows; exhibits of dramatic performances; plays; acts; motion pictures; acrobatic feats; bazaars; sporting events; musical events; ceremonies; children's day camps; or any public meetings, assemblies, demonstrations, or parades, including but not limited to drills or maneuvers, rallies, picketing events, public speeches or addresses, group marches, or political meetings.
To request a special-use permit, call Visitor Services at 630-933-7248 Monday – Friday 8 a.m. – 4 p.m. at least two full calendar weeks in advance.
Other locations may be available with a special-use permit. Permits must requested two weeks in advance through Visitor Services at 630-933-7248.
Visit the picnicking page for a list of shelters, fees and related information.
To obtain a permit for an outdoor space, call Visitor Services weekdays from 8 a.m. to 4:30 p.m. at 630-933-7248.