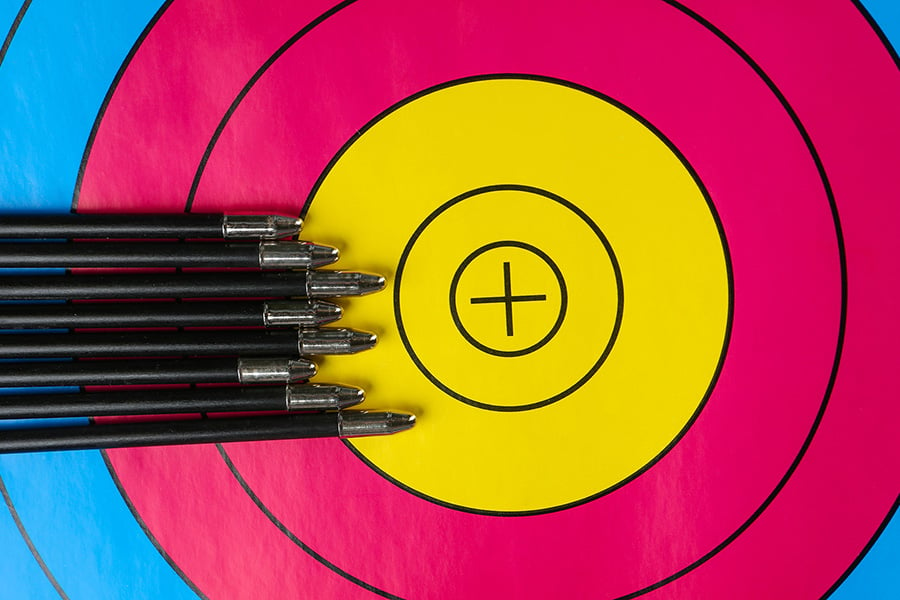 The archery range at Blackwell is off the Butterfield Road entrance. It has three separate areas, each with posted regulations, bow racks, quivers, and limestone shooting lanes.
You need a permit to use the range and are encouraged to bring your own target covers. Crossbows and broadhead arrows are not allowed.
The range is open one hour after sunrise until sunset except on Wednesdays, when it opens at 10 a.m.
The beginner range has eight lanes up to 25 yards and is open daily March 1 – Nov. 30. (It's closed the rest of the year.) The advanced range has 11 lanes up to 90 meters and is open year-round. The interactive range has nine lanes up to 60 yards and is open daily March 1 – Nov. 30. (It's closed the rest of the year.)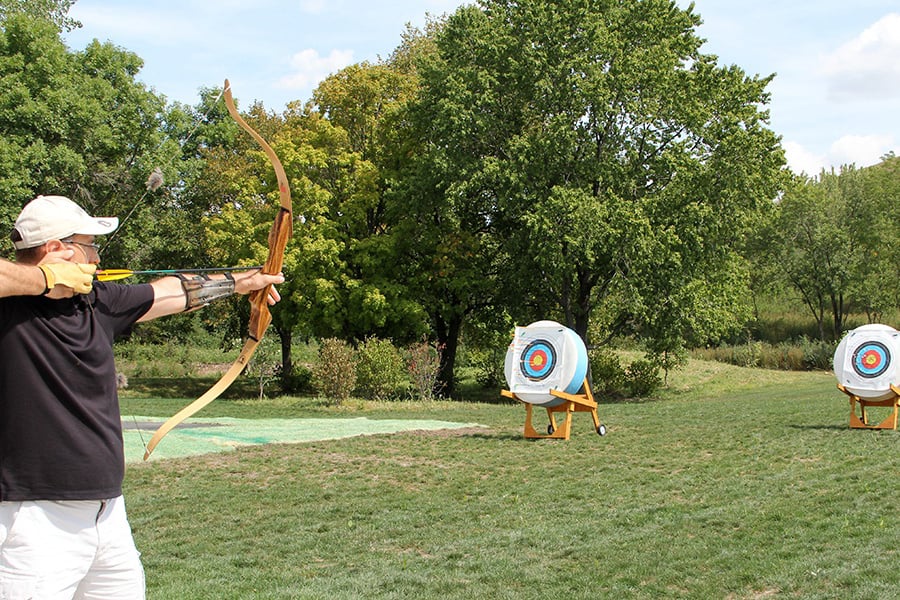 Permits
You need an annual (valid January – December only) or daily permit but can buy one online 24/7. (Scroll down for your purchase options.) You can also get permits through Visitor Services at 630-933-7248 or at our headquarters office at 3S580 Naperville Road in Wheaton Monday – Friday 8 a.m. – 4 p.m. To apply by mail or fax, download our application (PDF).

People 65 or older, active U.S. military personnel, and honorably discharged U.S. veterans are eligible for one free annual permit per household per calendar year. If this is the first time you're requesting a free permit, you need to provide proof of your age (driver's license or birth certificate) or military-service status (active status or a DD-214 Member 4 form).
Rules & Regulations
For everyone's safety and enjoyment, you must follow these rules and regulations, which the Forest Preserve District may change at any time.
Ranges are for archery use only, and use is first-come, first-served unless someone obtains exclusive use from the Forest Preserve District via written request.
Wear or display your permit when using the archery range, and present it to a Forest Preserve District agent for inspection if requested.
Never use crossbows, broadhead points, or aerial targets or devices. (You can only use a crossbow if you qualify under the Americans with Disability Act and include a copy of your disability ID card with your permit application.)
Permitted adults must supervise children under 16.
Always walk in the archery range.
Never run.
Do not move to the shooting line until the range is clear or someone gives the proper whistle command.
Keep your arrows in a quiver until you're ready to shoot.
Only point arrows at the ground or your target.
Shoot only at your target. At the interactive range, shoot only at the target that's the same color as the zone you're shooting in (green, yellow or red).
Do not advance to the target until someone gives the all-clear or the proper whistle command. Additionally, at the interactive range, do not shoot if a flag is deployed on any of the bow racks. The flag's a signal someone is retrieving arrows.
As a permit holder you agree to abide by these rules and regulations as well as all Forest Preserve District ordinances and administrative orders and state statutes. You also understand that the Forest Preserve District may fine you or revoke your permit without refunding your permit fee if you supply false information on your application or fail to comply with any rules, regulations, ordinances, orders, or statutes.