Our President and Commissioners
The Forest Preserve District is governed by a seven-member Board of Commissioners, which translates the open-space needs of county residents into ordinances designed to protect and enhance natural areas and support general operations.
DuPage County contains six districts. Voters elect one commissioner from the district in which they live. The seventh member — the president — is elected by the county at large by popular vote.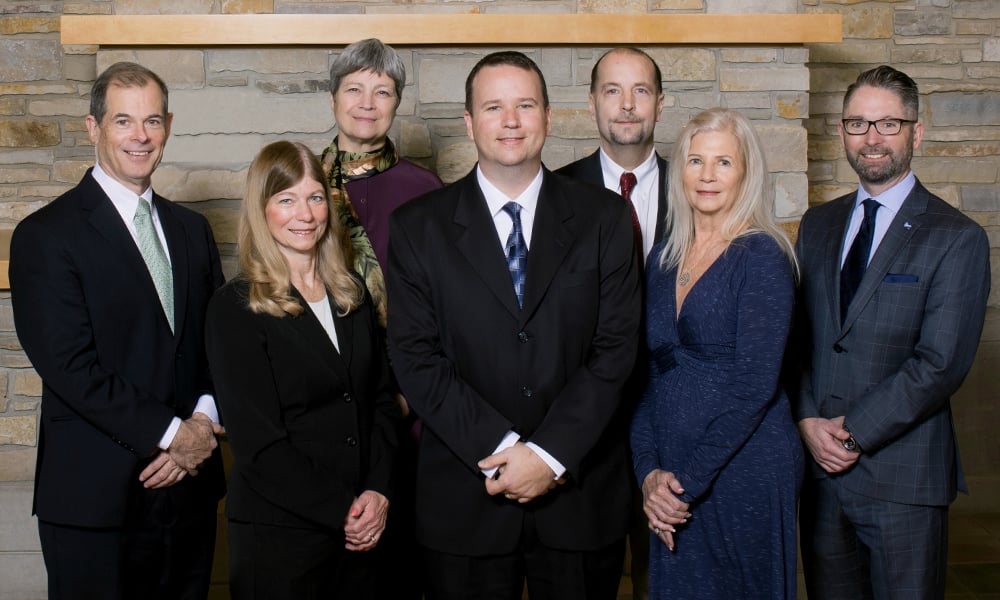 630-933-7087
dhebreard@dupageforest.org
Daniel Hebreard was elected at-large to the Forest Preserve District's Board of Commissioners in 2018. Hebreard holds a bachelor's degree with honors in parks and recreation management and a master's in business administration and formerly served as a ranger for the organization.
District 1 — Commissioner Marsha Murphy
630-650-0700
mmurphy@dupageforest.org
Since becoming commissioner for District 1 in 2002, Marsha Murphy has helped guide efforts to acquire lands that provide wetland mitigation and flood-control management, important issues to her constituents.
630-487-0719
jredick@dupageforest.org
Jeffrey Redick was appointed to the Forest Preserve District's Board of Commissioners for District 2 in December 2014. Prior to his appointment, Redick served as an ethics advisor for the agency.
630-209-5783
lpainter@dupageforest.org
Linda Painter has been a Forest Preserve District commissioner since 2008. She has been instrumental in acquiring 89 acres of open space in District 3, including at Waterfall Glen Forest Preserve.
630-254-1113
twhelan@dupageforest.org
An active member of the community, Tim Whelan joined the Board of Commissioners in December 2012. He is a member of organizations such as the Knights of Columbus and the Wheaton Lions Club and is a committeeman with the Milton Township Republicans.
630-420-2282
mlwehrli@dupageforest.org
Before becoming a Forest Preserve District of DuPage County commissioner in 2012, Mary Lou Wehrli served as co-chair of DuPage Neighbors for Open Space, Clean Water and Clean Air, where she worked in 2006 to successfully promote the District's $68 million referendum.
630-244-2674
amurphy@dupageforest.org
As a lifelong resident of DuPage County and an avid outdoorsman, Al Murphy has a keen interest in the Forest Preserve District of DuPage County. He believes his passion to make green space available and accessible, as well as his political and business experience, have prepared him to serve on the District's Board of Commissioners.