Individuals 12 and older can learn valuable horsemanship and riding skills in a friendly group setting or receive one-on-one instruction with private lessons.
Horsemanship I is for inexperienced riders as well as riders with experience who need a refresher course. Students receive hands-on instruction in haltering, grooming, leading and tacking and learn basic riding skills. Register online.

Horsemanship II is for students who successfully completed Horsemanship I and want to improve their skills.

Horsemanship III is for intermediate riders who continue to practice techniques from Horsemanship I and II. Students prepare their horses for riding with little to no assistance and learn to ride a balanced seat in a western saddle.

Horsemanship IV is for intermediate and advanced riders who continue to practice techniques from Horsemanship III and want to establish a balanced seat and perform intermediate and advanced skills associated with the walk, trot and canter. Register online.
Private lessons allow students to progress at their own pace and achieve personal riding goals. They're also a great way to work on a specific skill that needs extra attention. Danada offers private individual lessons and private 5-pack lessons.

Students can register for single lessons or a package of five that meet at the same day and time each week. Packages help riders advance more quickly than lessons taken weeks apart and allow the instructor to design five-week lesson plans to help students better reach their goals. Register online.
Trail Ride Classes for Intermediate and Advanced Students
Our five-part trail classes focus on the educational aspects associated with trail riding on public trails such as in the DuPage forest preserves. Students will learn trail etiquette, safety and the riding skills and techniques needed to prepare them for riding on the trail through on-the-ground and mounted instruction. The first part of the class will be held in the enclosed riding arena to go over trail skills and what to expect when riding outside of the arena. The instructor will determine which trails are ridden and the length of time outside of arena.
Horsemanship III Trail Class
Intermediate students will ride in western saddles and maneuver through, over and around intermediate trail obstacles inside and outside of the arena. Students enrolled in Horsemanship III Trail Ride Class must have completed Danada's Horsemanship III class or above within the last year. Students who have taken private lessons at Danada within the last year will need instructor approval before enrolling in Horsemanship III Trail Class.
Horsemanship IV Trail Class
Advanced students will ride in western saddles (English saddles can be used with instructor approval) and will maneuver through, over and around intermediate/advanced trail obstacles, both inside and outside of the arena. Students enrolled in Horsemanship IV Trail Ride Class must have completed Danada's Horsemanship IV class within the last year or must have instructor approval to move on from Horsemanship III Trail. Students who have taken private lessons at Danada within the last year will need instructor approval before enrolling in Horsemanship IV Trail Class.
This series will provide the prospective horse owner or horse enthusiast with an in-depth look into the daily, annual and lifelong care of horses. Individual lecture topics will include conformation, horse health, feeding, horse behavior and leasing vs. owning. Lectures will take place indoors and, weather permitting, may include handling of horses in the Kentucky Barn. Please dress accordingly. Register online.
Interested in spending time with a horse but don't care to ride? Want to get comfortable around one on the ground before moving on to your first lesson? Then join us for 45 minutes of one-on-one horse grooming time followed by 15 minutes of lectures or ground work. (Lectures may include stall vs. pasture, breeds, and behavior; ground work may include basic leading skills.) Ages 10 and up. Register online or call 630-668-6012.
Camps for Kids and Teens
Kids and teens ages 10 – 14 can enjoy hands-on experiences with horses and the chores of a working barn. These day camps offer horse-related games and crafts and either lead-line rides or daily lessons. They're available in summer and during spring and winter breaks.
Guided Group Barn Tour
This one-hour tour of the equestrian center's Kentucky-style barn introduces horse behaviors, types of feed, saddles and tack and includes a grooming demonstration. (It does not include any horseback riding.) If interested, please fill out the tour application form (PDF) and call 630-668-6012 for availability and reservations.
Enjoy cultural and natural history stories on guided horse-drawn hayrides at Danada Equestrian Center Sept. 22 ‒ Oct. 7 and Oct. 27 ‒ Nov. 11, 2018 on Saturday and Sunday afternoons at 1:00, 1:45 and 2:30 p.m. Groups can also reserve private rides at Danada from Sept. 21 – Oct. 7 and Oct. 26 – Nov. 11, 2018 on Friday, Saturday and Sunday evenings between 4:30 and 7 p.m. at 630-668-6012. Complete and submit the Private Hay- & Sleigh-Ride application (PDF).

All Saturday and Sunday afternoon hayrides are $5 per person ages 5 and up and free for kids under 5, although adults must accompany children under 13. Rides are first-come, first-served and registration is not required, but the District will cancel rides if there's severe weather.


Horsin' Around at Danada
Danada Equestrian Center hosts themed days for family and friends. These fun-filled equine activity days may include painting demonstrations by Nick the painting horse, self-guided barn tours, tractor-drawn hayrides, up-close-and-personal visits with the Danada herd of horses and more! All ages. Free. No registration. Questions? Call 630-668-6012.
Breed All-About-It
Jun. 2

Noon

– 4 p.m.

Horseology 101
Jul. 21

Noon

– 4 p.m.

Tractor Day
Aug. 25

Noon

– 4 p.m.
The 19-room Danada House was once the home of Dan and Ada Rice. Today, the house and its bright, airy annex are available for receptions, meetings, showers, parties and other catered functions for up to 250. It's managed by the nonprofit Friends of Danada. For rental information, visit danadahouse.com (link) or call 630-668-5392.

The adjoining gardens showcase native and ornamental plants. A permeable brick paver parking lot limits runoff by allowing water to slowly seep into the ground. Rainwater feeds a courtyard water feature, and decks, arbors, pergolas, trellises, benches and fences feature low-maintenance materials. West of the house, a synthetic turf lawn absorbs up to 6 inches of rain an hour while remaining attractive even after heavy foot traffic.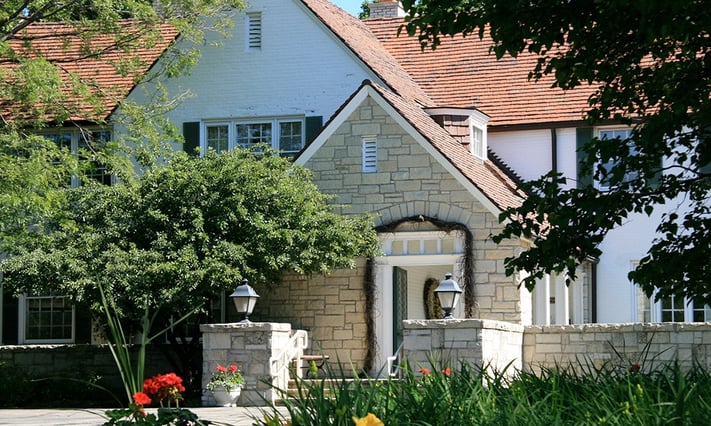 The Rice Legacy
The equestrian center and most of the surrounding Danada Forest Preserve were part of the Dan and Ada L. Rice estate. The Rices purchased the land in 1928, when it was a working farm with apple orchards, wheat and corn fields, and grazing lots for livestock. In 1943 Dan bought eight Thoroughbreds for his wife's interest in horse racing, and the Ada L. Rice Stable was born, a legacy that would last 32 years.

The farm produced many champions and served as a training facility. The Rices patterned their 26-stall barn after the white dormered-window stables in Lexington, Kentucky. The "Kentucky-style" design, which features center stalls surrounded by an inside aisle, allowed trainers to exercise their Thoroughbreds even in bad weather. The 0.5-mile regulation racetrack west of the barn conditioned yearlings that arrived from a sister farm in Kentucky.

In 1965 the Rices' Lucky Debonair, a bay colt, crossed the wire first in a neck-to-neck finish for a $112,000 Kentucky Derby purse. One year later, their Thoroughbred Advocator placed second.