Think back to your childhood. You may have had someone in your life who introduced you to the outdoors.
Someone who showed you how to connect with the natural world and appreciate the plants and animals that live right outside your home. Having meaningful experiences in nature as a child can lead to a lifelong love of nature and the environment.
Centering a young child's focus on the joy and wonder of the natural world can develop their curiosity and appreciation for nature. According to David Sobel, author of Beyond Ecophobia, young people are far too often introduced to nature through daunting concepts like global warming, pollution, or deforestation.
This can lead to the development of ecophobia, or a pervasive worry about environmental degradation, Sobel says. This can also lead to a feeling of powerlessness to prevent serious environmental change, and even depression and guilt about harming the environment.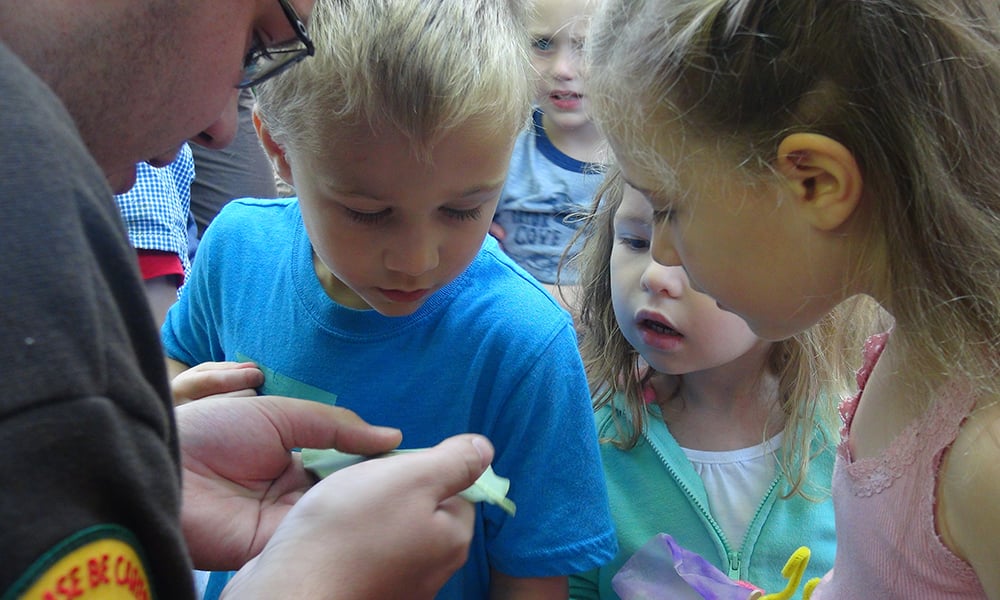 Introduce your child to nature and the environment by focusing on the amazing things found all around them. Children benefit more from experiencing the simple joys of watching birds, catching insects, flipping over rotting logs, touching and smelling plants, and exploring a creek.
Engage your little ones in outdoor adventure as you participate together in stories, songs, movement, and games as well as outdoor adventure and exploration in our Pre-K Outdoor Play program. Ages 2 – 4 with an adult. $5 per child. Register online or at 630-933-7248..
We're quick to introduce kids to faraway places like the rainforest before we introduce them to the wonders in their own backyards, Sobel said. Learning about different parts of the world is important, but it may not be the best way to instill an appreciation of nature.
Instead, Sobel urges us to start with the basics. Child-led play in your backyard can bolster feelings of agency, hope, and joy for your children, all while introducing them to the amazing plants and animals they can see at home. This can build a foundation for a positive lifelong relationship with nature.
A slow, play-based approach to learning about the natural world can build feelings of genuine understanding and enjoyment for a child. In addition to developing an appreciation of nature, playing outdoors can help children develop fine- and gross-motor ability, physical stamina, and social skills. Developing these skills leads to a healthy, balanced life.
So take the first step and provide your little ones with meaningful time in nature by enrolling them in our Pre-K Outdoor Play program. We'll explore things like snow and weather in the winter, fireflies and flowers in the spring and summer, and leaves and pumpkins in the fall.