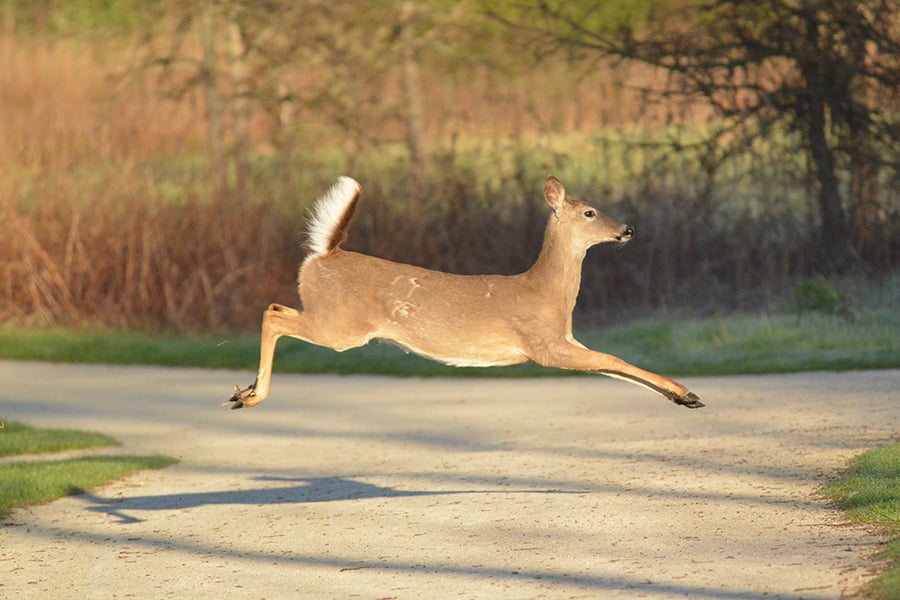 News Release
On the Road This Fall? Watch for Deer!
Deer breeding season makes roads more dangerous this time of year.
The Forest Preserve District of DuPage County reminds drivers to slow down and stay alert to avoid collisions with deer this fall, when the risk of accidents dramatically increases.
"October through December is deer breeding season, and these large animals won't think twice about crossing busy roads in their search for mates, especially around dusk and dawn," says Forest Preserve District ecologist Brian Kraskiewicz.
But there are steps drivers can take to lower the risk.
Reduce your speed and watch for deer on the edge of the road, especially around curves and during dawn and dusk. They're common along woods, fields, fencerows, and waterways, but you can encounter them almost anywhere.

Make note of where you've seen deer before. Look for deer-crossing signs, too, which mark areas where collisions are likely to occur.

Don't assume a deer in the road will run off as you approach. It may bolt but then quickly change direction without warning.

If you see one deer, be on the lookout for more. They can move in pairs or larger groups.

Don't use your horn unless a collision looks inevitable. Distant noise may confuse the deer. Close noise may produce an extra burst of speed from the animal, but there really is no way to predict how a deer will respond.

Do not swerve to avoid deer; it could result in a more severe crash. Slow to a stop and wait. Flash your headlights to encourage the animal to move.

If your car has an automatic emergency braking system, don't solely rely on it. It may not be designed to recognize large animals.
If an accident does occur, drivers and passengers should not attempt to remove dead or injured deer from busy roads. Instead, they should contact local law enforcement for help. Illinois law requires drivers to report to police any deer-related accident with more than $1,500 in damage.
According to State Farm insurance, Illinois ranked 11th in the nation for the number of claims filed by drivers who struck an animal from July 1, 2022, through June 30, 2023. The company estimates that a driver in the state has a 1-in-152 chance, or what it defines as a medium chance, of hitting a deer while driving.
The Forest Preserve District of DuPage County has been connecting people to nature for more than 100 years. More than 5.5 million people visit its 60 forest preserves, 166 miles of trails, seven education centers, and scores of programs each year. For information, call 630-933-7200 or visit dupageforest.org, where you can also link to the District's e-newsletter and Facebook; X, formerly known as Twitter; Instagram; YouTube; and TikTok pages.
# # #