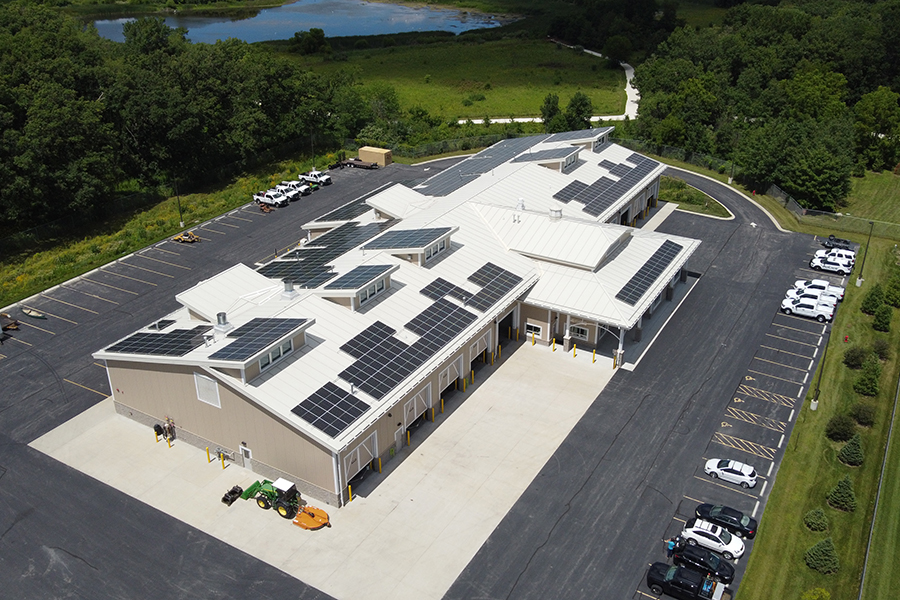 News Release
Forest Preserve District Earns U.S. Environmental Protection Agency Recognition for Use of Green Power
District joins EPA's Green Power Partnership
The Forest Preserve District of DuPage County is pleased to announce that it has joined the U.S. Environmental Protection Agency's Green Power Partnership, a voluntary program designed to reduce the environmental impact of conventional electricity.
According to its most recent calculations, the Forest Preserve District uses more than 3.7 million kilowatt-hours of green power annually, which is enough to meet 105% of the organization's electricity use. It accomplishes this by buying renewable energy credits, which it uses to purchase 100% wind-generated energy to offset its conventional energy use. According to the U.S. EPA, the Forest Preserve District's green-power use is equivalent to the electricity use of 400 average American homes annually.
The Forest Preserve District also offsets its traditional energy consumption by using solar technology at several locations.
603.2 kW solar photovoltaic rooftop under construction at the new net-zero-designed visitor center and rehabilitation clinic at Willowbrook Wildlife Center and a 72.2 kW solar photovoltaic rooftop on the center's species recovery building
262.2 kW solar photovoltaic rooftop on the District's fleet building at Blackwell Forest Preserve
41 kW solar photovoltaic rooftop at The Preserve at Oak Meadows, which powers the course's electric golf cart fleet
18.8 kW solar photovoltaic rooftop on the Danada Farm barn at Danada Equestrian Center
The District has a variety of other environmentally friendly initiatives in place as well.
Solar thermal hot water systems at the Forest Preserve District's headquarters (Danada) and facilities management building (Blackwell) and the restrooms at Hidden Lake, Springbrook Prairie, and Spring Creek Reservoir forest preserves
Renewable energy from gas collected at the former landfill at Greene Valley Forest Preserve
An alternative-fuel and electric vehicle fleet, which reduces greenhouse gas emissions by 213.3 tons
By moving the needle in the green power market, the Forest Preserve District and other Green Power partners are helping to reduce the negative health impacts of air emissions, including those related to ozone, fine particles, acid rain, and regional haze.
"We're thrilled to accept this EPA recognition," said Forest Preserve District President Daniel Hebreard. "We take great pride in being at the forefront of embracing green energy technology and hope that this most recent partnership helps send the message that green power is not only economically viable but also readily accessible."
In addition, the Forest Preserve District's land management practices result in carbon sequestration equivalent to its operations plus an additional 50 DuPage households. It's ecosystem restoration efforts increase climate resiliency and biodiversity, reduce stormwater runoff, clean air and water, and preserve scenic viewsheds.
The Forest Preserve District's green energy efforts have been supported in part by donations to its 501c3 partner Friends of the Forest Preserve District of DuPage County. The Friends is currently raising funds to help offset the cost of the new net-zero-designed building at Willowbrook, and donors may always choose to direct their gifts to future green energy projects at dupageforest.org/friends.
The U.S. EPA's Green Power Partnership is a voluntary program that helps increase green power use among U.S. organizations. It advances the market for green power and the development of green resources as a way to reduce air pollution and other environmental impacts associated with electricity use. In 2021, the partnership had more than 700 partners voluntarily using more than 85 billion kilowatt-hours of green power annually. Partners include Fortune 500 companies; small- and medium-sized businesses; local, state, and federal governments; and colleges and universities. Additional information is available on the EPA's website at epa.gov/greenpower.
The Forest Preserve District of DuPage County has been connecting people to nature for more than 100 years. More than 5.5 million people visit its 60 forest preserves, 166 miles of trails, seven education centers, and scores of programs each year. For information, call 630-933-7200 or visit dupageforest.org, where you can also link to the District's e-newsletter and Facebook, Twitter, Instagram, YouTube, and TikTok pages.
# # #