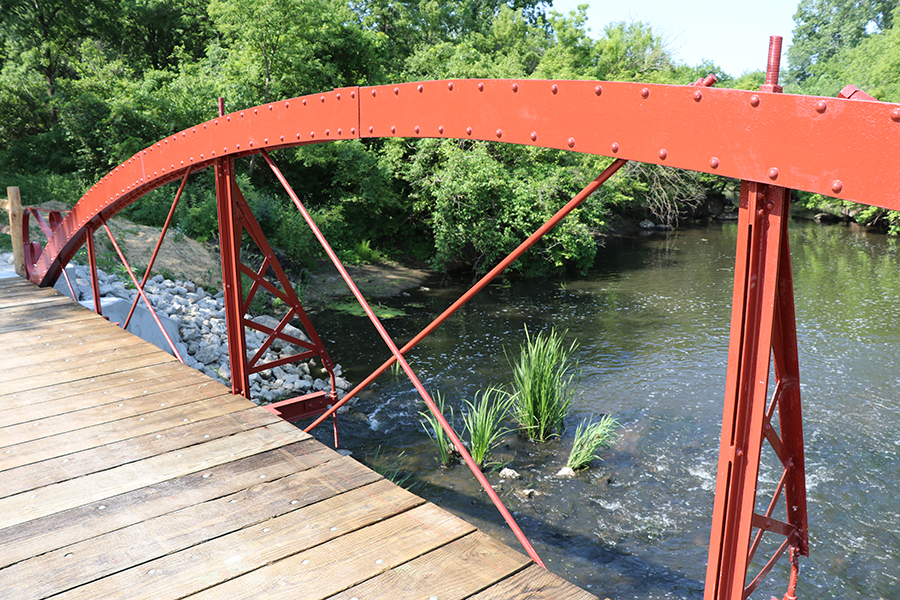 News Release
Ribbon-Cutting Celebrates Improved Access at Hidden Lake
Two new bridges enhance trail access
This past weekend, Forest Preserve District of DuPage County officials and guests gathered for a ribbon-cutting ceremony to commemorate the reinstallation of two bridges at Hidden Lake Forest Preserve in Downers Grove. The event, which was held on National Trails Day, marked the successful completion of another 2019 certified master plan project and enhanced trail access at the preserve.
Forest Preserve District elected officials, including President Daniel Hebreard, District 2 commissioner Tina Tyson-Dunne, District 3 commissioner Linda Painter, and District 4 commissioner Jeff Gahris, joined state Rep. Terra Costa Howard and Sen. Laura Ellman, Friends of the Forest Preserve District members, preserve neighbors, and other fans of the forest preserves for the celebration.
"We are all part of nature's tapestry, and as we walk this loop today and every time you walk this trail or any other trail, I encourage you to reflect on the interconnectedness of all things — humans are merely one species in our ecosystems," said Forest Preserve District president Daniel Hebreard.
Routine inspections of Hidden Lakes' bridges revealed structural deficiencies in two existing aging bridges. Last fall the "lake bridge," located on the east side of Round Meadow Lake and serving a recreational trail encircling the lake, was replaced with a 50-foot-long by 14-foot-wide prefabricated truss bridge. The "river bridge," a remarkable 50-foot long by 11-foot-wide cast- and wrought-iron bowstring pony truss bridge dating back to the 1870s, underwent meticulous, month's-long restoration before it was reinstalled in its previous location over the past few weeks.
"If you overlay a modern map onto the 1874 DuPage County atlas, you can see this bridge in the same location as a road that once crossed the river," said Commissioner Gahris of the bridge, which is the only remaining example of its kind in the Chicago region. "This suggests that this bridge sits in the same location it was originally installed in the 1870s."
Both bridges are now open, inviting visitors to explore the preserve for decades to come.
The Forest Preserve District of DuPage County has been connecting people to nature for more than 100 years. More than 5.5 million people visit its 60 forest preserves, 166 miles of trails, seven education centers, and scores of programs each year. For information, call 630-933-7200 or visit dupageforest.org, where you can also link to the District's e-newsletter and Facebook, Twitter, Instagram, YouTube, and TikTok pages.
# # #