News Release
More Accolades at Award-Winning The Preserve at Oak Meadows
Golfers can find a top-notch experience and PGA-recognized staff at local golf preserve and clubhouse

The Forest Preserve District of DuPage County's The Preserve at Oak Meadows has only been on the golf scene in its current renovated state with a new clubhouse for a few years, but it continues to earn accolades in the golf world.
Most recently, the PGA of America recognized The Preserve's golf services supervisor and PGA head golf professional Jamie Nieto with its Deacon Palmer Award, which honors a PGA professional who displays outstanding integrity, character, and leadership in the effort to overcome a major obstacle in their life. Nieto is one of 13 award recipients for 2023.
On his 20th birthday in 2003, Nieto sustained life-threatening burns to more than half of his body. Four years of intense treatment combined with his never-give-up attitude resulted in him not only playing golf again but also eventually earning his PGA membership in 2012. He continues to volunteer his time counseling other burn patients and sharing his story and relating it back to the game of golf.
As Nieto continues his PGA-recognized work at The Preserve, the facility itself continues to earn its own awards. The Preserve's clubhouse, which opened its doors at the end of the 2021 season, was recognized this past fall in Golf Inc. Magazine's 2022 Best New Clubhouse competition in the new public clubhouse category. Four clubhouses were honored in this international competition, and the new building in Addison joined winning entries from North Carolina, Greece, and Scotland. The building's design is a reinterpretation of the midcentury modern style that features angled roofs, the blending of indoor and outdoor spaces, and large expanses of windows that feature views of the course, which won Golf Inc. Magazine's worldwide "Renovation of the Year" award for public golf courses in 2018.
The clubhouse restaurant, the Greenway Tap, continues to gain a reputation with local foodies. Chef Mike Riley is a graduate of both Culinary Institute of America and Roosevelt University Chicago, and his menu includes featured entrees, salads, healthy inspirations, and seasonal cuisine.
Recently, the online restaurant-reservation service OpenTable awarded the Greenway Tap its Diner's Choice award for top-rated restaurants in the West Suburbs and Chicago/Illinois. OpenTable reviewers have consistently given the restaurant high marks, placing it on "top 10" lists for best American cuisine, outdoor dining, and scenic views as well as its value, service, and ambience.
"We're excited to see that the restaurant is much more than a grab-and-golf dining option but really offers an experience in and of itself and is attracting not only a fair share of regulars but also many first timers who have heard about it outside of golf from other happy patrons," said Ed Stevenson, executive advisor for the Forest Preserve District and head of golf operations.
Restaurant winter hours include lunch and dinner on Thursdays, Fridays, and Saturdays. Reservations are recommended.
The Forest Preserve District of DuPage County has been connecting people to nature for more than 100 years. More than 6.2 million people visit its 60 forest preserves, 166 miles of trails, seven education centers, and scores of programs each year. For information, call 630-933-7200 or visit dupageforest.org, where you can also link to the District's e-newsletter, Facebook, Twitter, Instagram and TikTok pages. 


###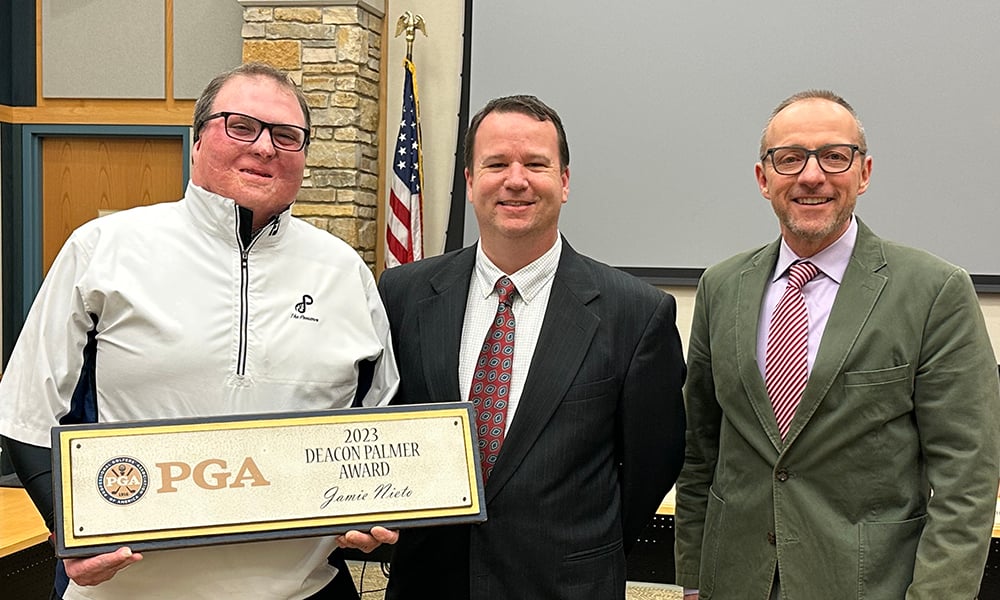 Left to right, PGA Deacon Palmer award winner Jamie Nieto poses with Forest Preserve District president Daniel Hebreard and executive advisor for the Forest Preserve District and head of golf operations Ed Stevenson.