News Release
Newly Elected Forest Preserve District Board Sworn In
Six commissioners and president take their oaths and establish term lengths

This week the Forest Preserve District of DuPage County's newly elected seven-member Board of Commissioners — all incumbents — took their oaths of office and determined how long each of their terms will be.
Marsha Murphy will continue to represent District 1; Tina Tyson-Dunne, District 2; Linda Painter, District 3; Jeff Gahris, District 4; Barbara O'Meara, District 5; and Al Murphy, District 6. Board president Daniel Hebreard will continue to represent the county at-large.
The legislation that establishes the staggered terms of the board dictates that the six district seats must be up for re-election at the same time every 10 years. The 2022 election was one of those years. As a result, on Tuesday — at the newly elected board's first official meeting — commissioners drew at random their voting districts' term lengths for the next 10 years.
Districts 3, 4, and 6 will be up for election in 2024, 2028, and 2032. Districts 1, 2, and 5 will be up for election in 2026, 2030, and 2032. The president is always a four-year term.
"I'm looking forward to working with all of them as we continue to do great things here at the District," said Forest Preserve District executive director Karie Friling. "We've developed a strong foundation in our five-year master plan, and we'll continue to work toward its objectives without delay."
The Forest Preserve District's seven-member board of commissioners meets regularly to translate the open-space needs of county residents into ordinances designed to protect and enhance natural areas and support general operations in DuPage forest preserves.
Commission meetings are at 8 a.m. on the first and third Tuesdays of the month, and planning sessions are at 8 a.m. on the second and fourth Tuesdays. Citizens can attend meetings in-person at Forest Preserve District headquarters at 3S580 Naperville Road in Wheaton. They can also view livestreams on Facebook and previously recorded meetings at dupageforest.org.
The Forest Preserve District of DuPage County has been connecting people to nature for more than 100 years. More than 6.2 million people visit its 60 forest preserves, 166 miles of trails, six education centers, and scores of programs each year. For information, call 630-933-7200 or visit
dupageforest.org
, where you can also link to the District's e-newsletter,
Facebook
,
Twitter
,
Instagram
and
TikTok
pages.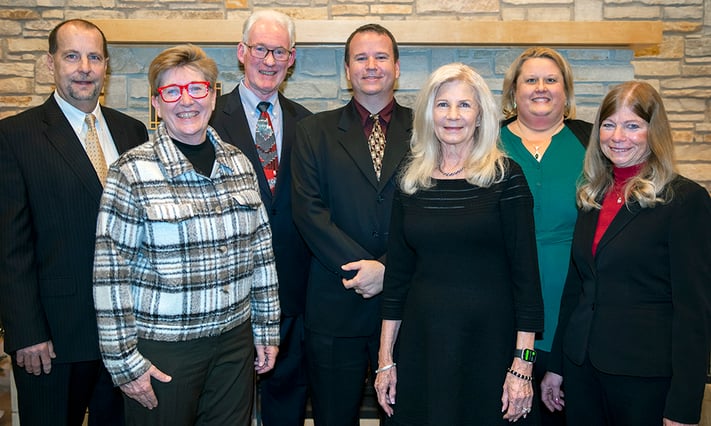 President Daniel Hebreard (center) poses with (left to right) commissioners Al Murphy (District 6), Barbara O'Meara, (District 5), Jeff Gahris, (District 4), Marsha Murphy (District 1), Tina Tyson-Dunne (District 2), and Linda Painter (District 3).
###