Danada - Model Farm Barn Improvements
The Danada Model Farm Barn is located Southwest of Butterfield Rd and Naperville Rd in the Danada Forest Preserve in unincorporated DuPage County near Wheaton, Illinois. It is estimated that the barn was built sometime in the 1930s after Daniel F. Rice purchased a 152-acre farm in 1929. The model farm barn is now owned by the DuPage County Forest Preserve District but is managed and operated by Friends of Danada. Using equipment dating as far back as the 1950s and period farming practices, the volunteers offer a glimpse into DuPage's all-important agricultural past while also implementing ecological and land conservation situations of today. The model farm barn also offers opportunities for an educational experience.

This project will address several structural deficiencies found during a structural condition assessment as well as replace the existing asphalt shingle roof and select areas of siding. Several options for the lower roof will be evaluated.
Status: Completed
The District has hired a consultant to complete a structural assessment of the barn to identify and quantify the repairs needed. The project is currently in the design phase and will need to be evaluated by a qualified structural engineering consultant to perform work involving the preparation of plans, specifications and construction documents to address the various structural concerns.

It is estimated that construction will start in June of 2023 and be completed in September of 2023. During the construction phase of this project the Danada Model Farm Barn will be closed to the public.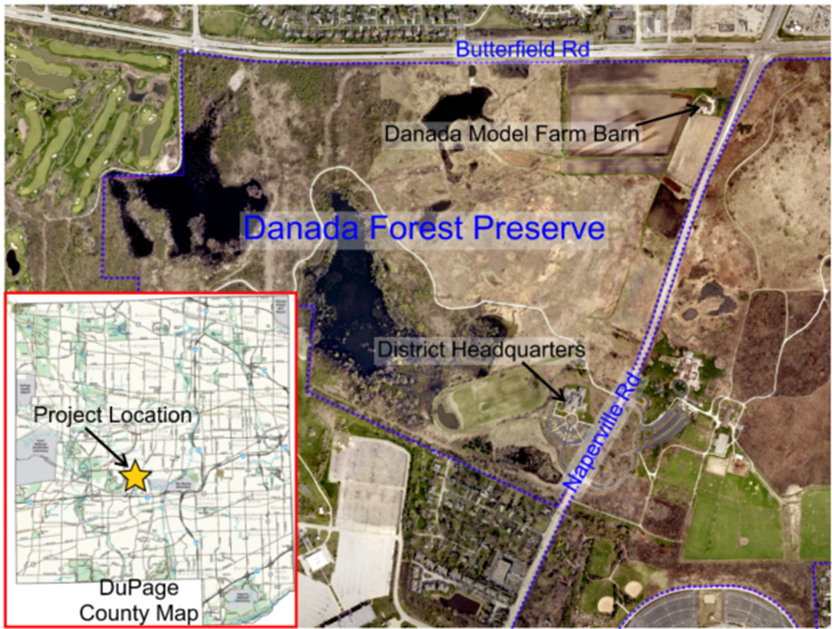 Funding
Funding for this project will be through funds set aside in the District's yearly appropriated Building Renewal Fund.
The project funding includes all costs associated with the assessment, design, permitting, repairs, and new construction to the barn.