The first project we tackled was replacing the production kitchen wood-burning stove in our remodeling project at Kline Creek Farm's 1880s farmhouse museum.
In the 1980s, a family in Wisconsin donated an old stove when they learned that the Forest Preserve was restoring the farmhouse. The stove was taken apart and the fancy parts were re-plated with nickel. Then the whole thing was cleaned and put back together. After 30 years of daily use making biscuits, cornbread, cookies, pretzels and the occasional turkey, the stove was in need of repair. As we looked into the stove, we found its features were too modern for an 1890s living history farmhouse. I mean, it had a temperature gauge that measured the oven temperature from 1 to 14. I like to bake at about 3 but will heat it up to 4 for biscuits and quick breads. A temperature gauge was pretty high-tech for the 1890s. We had to make a choice: Do we invest money in restoring a stove that was just out of our time period or do we try to budget for a replacement? Well, along came a generous donation of $2,400 from William J. II and Patricia Smith of Naperville so we could purchase the stove, but finding an old stove that looks new was not easy.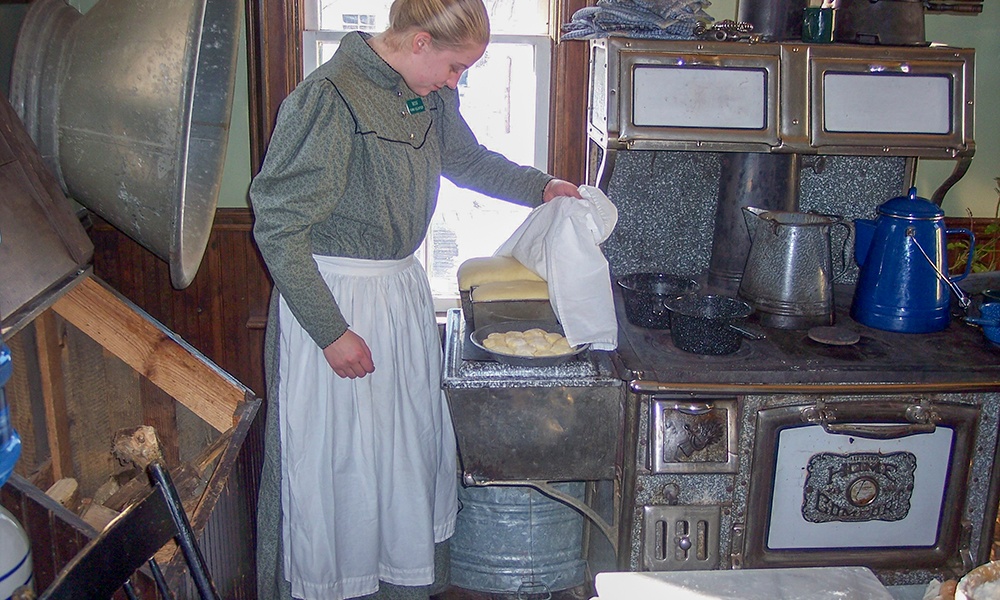 Making bread with the old wood-burning stove at Kline Creek Farm's farmhouse museum..
We found a little company in Wisconsin that rebuilds stoves. It is amazing what they do. They bring in an old beat-up stove. They glue the broken parts together to make molds and then they pour molten iron to cast the replacement part. Then, with all the fancy parts shined up, they rebuild the stove. They look like they're brand new.

They had the perfect stove for us. We told them we wanted it, but before we could get a check written they sold it. I do not blame them: it is a small company and they have to pay the bills. They called us again and said they finished another stove, but it was bigger and would cost more than the first one. We told them about the farmhouse museum and the donation and that we only had so much money to spend. I guess they liked the idea of the museum and the donor because they dropped their price. We told them we were on our way with a check and we picked up our new stove.

Installing the stove had its challenges. When we had the chimney cleaned and inspected we found come cracks in the clay chimney liner. Before we could use our new stove, we had to repair the chimney, but being an 1890s farmhouse we did not want to build a new chimney. It would be very expensive and may not be as historically accurate. The Forest Preserve District's Facilities Maintenance division worked with a contractor to reline the chimney without having to rebuild it.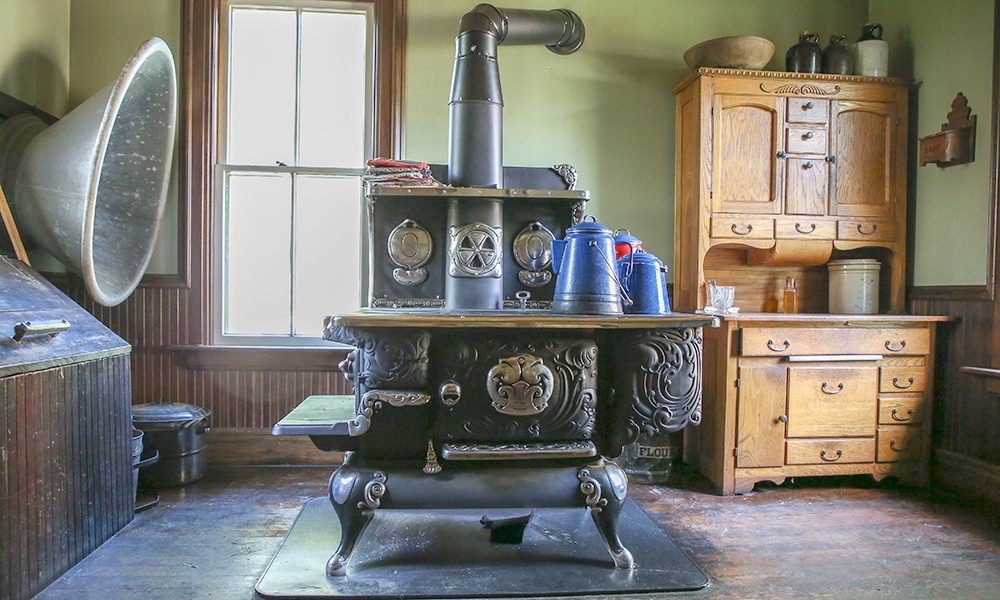 With the chimney repaired, we hooked up the new stove and we are ready for fall. It is a good thing that we have a second stove in our summer kitchen so we could keep making cornbread all summer long. If you want to see the new stove, the summer kitchen or the chimney, visit Kline Creek Farm Thursday through Monday from 9 a.m. to 5 p.m. Farmhouse tours start on the hour from 10 a.m. – 4 p.m.
We invite you to join us as we go through this latest round of restorations. We will replace one of our wood burning stoves, clean our oil cloth and have the pump organ completely restored and rebuilt.
So stay tuned to our "Nature's Storytellers" blog if you are curious about what curators do to maintain a historic farmhouse museum or if you want to learn how we care for the historic furniture. You can also subscribe to the blog to get it sent directly to your inbox once a week.

Other stories in the series:
Remodeling an 1880s Farmhouse Museum