DuPage Forest Preserve Police have a new partner to help them patrol the preserves – an all-terrain vehicle.
"The ATV is very versatile and can be deployed in many different environments as well," said Detective Sgt. Rick Splittgerber.
The Forest Preserve police force got its first ATV in 1995. The versatile vehicles help District police more than 60 forest preserves and 145 miles of trails in DuPage County.

"The ATV allows us to patrol areas that would otherwise not be accessible with our full-size vehicles," Splittgerber said. "We can cover an enormous amount of added ground in a given shift compared to having an officer on foot or bicycle."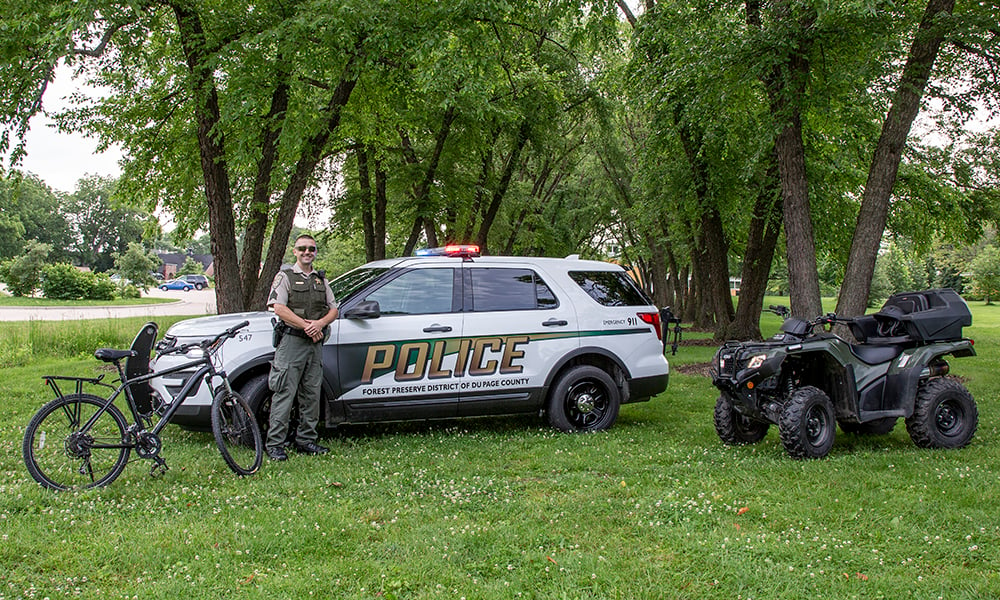 The second ATV joins Law Enforcement's fleet of 4-wheel-drive SUVs, boats and mountain bikes in addition to foot patrol. "Having different modes of transportation helps us respond as quickly as possible to calls in a wider variety of situations," Splittgerber said.

"We'll never know how many times the ATV has prevented crimes from happening in our forest preserves," he said. "We deploy our ATVs for all kinds of scenarios and off-road emergencies. Our ATV has assisted with numerous search-and-rescue missions."

"An ATV allows the officer to use his senses, leave less of a footprint on and off the trails, and is a welcome sight to younger patrons," Splittgerber said. "It makes our officers more approachable and invites the public to interact with them."