It's 5 a.m. at The Preserve at Oak Meadows — the Forest Preserve District's signature golf course — and Louie the border collie is on patrol for nuisance geese. His head is lowered, shoulders and hips down, and tail hung low. He locks his eyes on a flock on the grass near Salt Creek. Step by slow, quiet step… he stalks and uses "the eye" to intimidate the geese.
The geese get the hint: They're unwelcome on the course and eventually take to the air and fly away.
"The Preserve's grass is well maintained, and geese just love it — especially the greens," says Golf Maintenance Supervisor Joe Schneider and Louie's owner.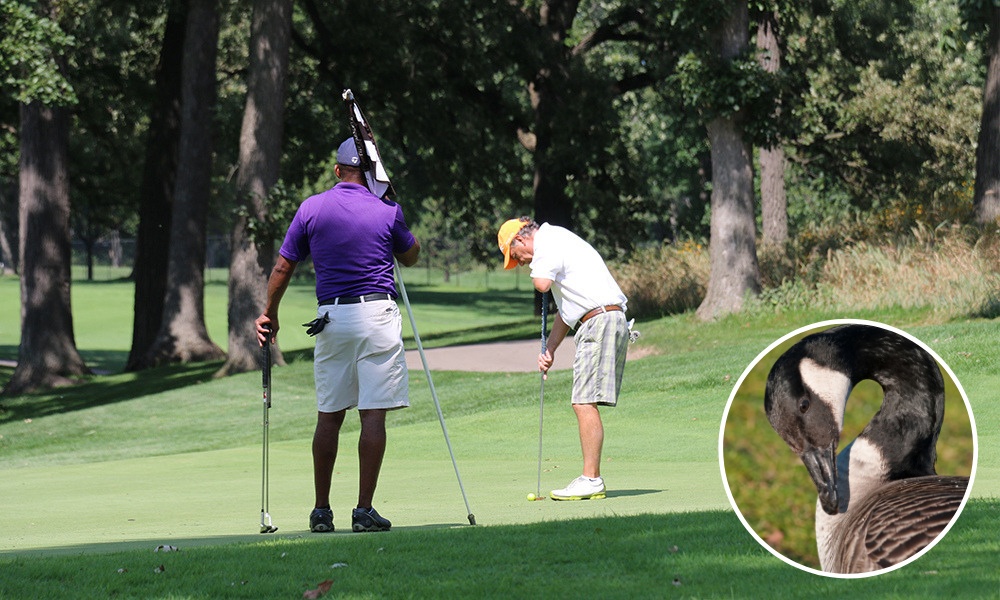 "They'll come up to the greens and just start picking at the grass, creating big holes and dropping feces. Geese are a problem, and we'd routinely have to fix the damage to the course or clean up after them in the past. But with Louie. we keep geese from taking up residence or even landing for just a short time during migration. He pushes them to fly off to other waterways, rivers or lakes."
Every morning the two meet the golf grounds crew at the course maintenance shop. Schneider makes the workday assignments and then sends the crew members out to the course. Schneider then climbs into his cart to inspect the mowing equipment and the progress of the grounds crew's work. Louie is likely already off running the course in search of geese.
"He knows where geese have been in the past, so he knows to go there and check those areas first and then move on. He has a routine," says Schneider.
Schneider first brought his dog onto the Oak Meadows Golf Course (today known as The Preserve) for a trial period five years ago. Course management wanted to better understand the use of the dog for geese-management purposes at its golf courses, and golf patrons also had to be comfortable with a working dog on the course. "After a short period, it became very evident to management that Louie was going to be just fine," Schneider says. "Before I joined the Forest Preserve District, Louie worked with me at private country clubs. He was always pet by members, accustomed to golfers and comfortable in the golf environment."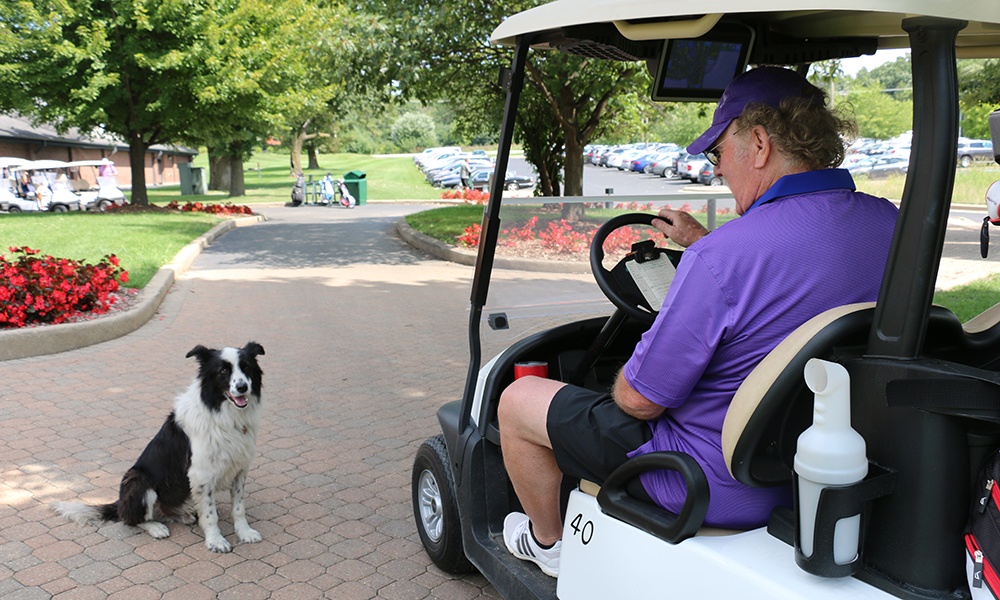 "That dog — he's the best dog on Earth," says a golfer as he drives past the border collie. "That's the thing," says Schneider. "Even people who aren't 'dog people' like Louie."
Much of the dog's geese-management skills are purely instinctual and never taught him. "As a puppy, I worked with him to tweak his instincts from herding to that of simply chasing something off," Schneider says. "When he does see a goose, he takes a different posture. It's a stalking posture versus a herding one. If the geese see a Labrador, they might think that dog is a nuisance. But if they see Louie out there, they think of him as a predator. Border collies are better at keeping geese away."
Schneider did teach his dog to greet golfers while working at private clubs, however. "Members always wanted to come up to pet him. That's just not his natural thing, and he doesn't seek attention from anyone but me. I taught him to go up to people to say, 'hi.' He doesn't much stay very long, but he does it and then moves on."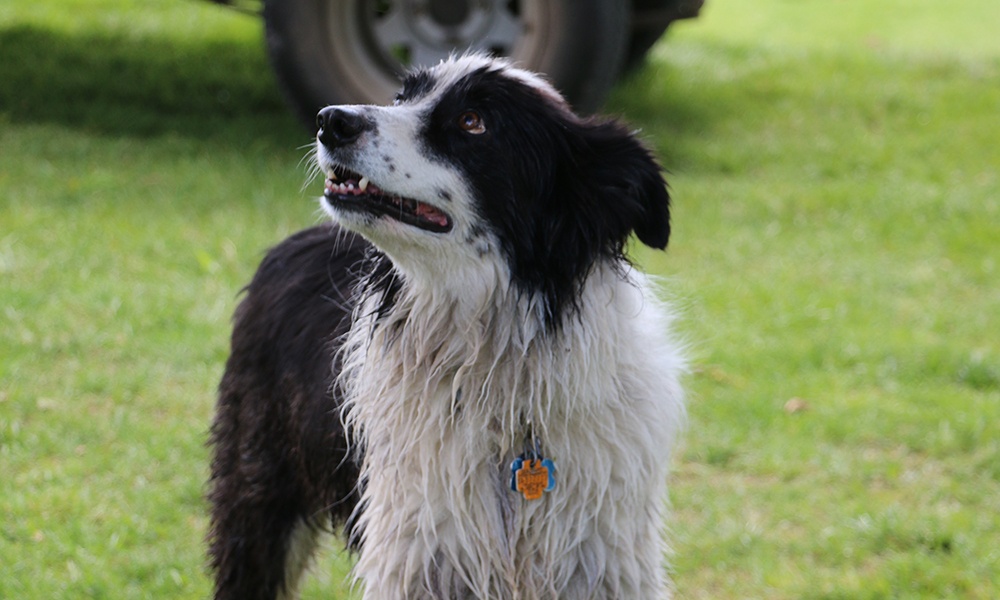 Schneider says he also knows the difference between geese and ducks. "He knows that ducks don't cause any damage to the golf course. He may run next to them (ducks), but he doesn't chase them."
Most days Louie is joined by another border collie, Finley. This three-year-old dog has a bit to learn, and her owner and Golf Maintenance Manager Eric Ensign sends her out to shadow Louie. Without saying, she also spends the better part of her day with Schneider. "Finley comes with me by default, because Louie follows me wherever I go and she only follows him," jokes Schneider.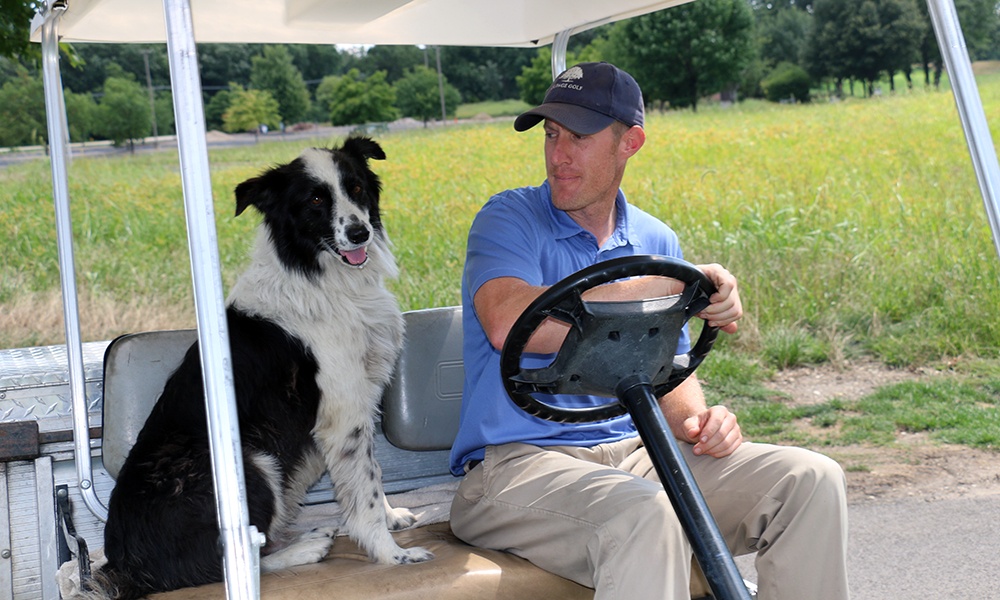 "If Eric is in the office, she usually doesn't want to be inside — especially in the morning. She prefers to go out with Louie and run with him, which works out great for her owner. Eric gets a pretty worn-out dog for the remainder to his day!"
Play a game of golf at The Preserve, and then stop by to meet Louie in the afternoon. He, too, will likely be tuckered out from his morning run and closing out his day with a ride in the golf cart, cooling off with a quick bath from the hose, or sitting just outside the course's pro shop.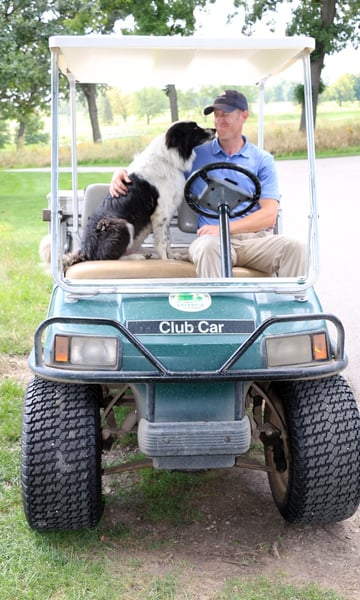 "In the morning, Louie has a lot of energy and usually runs the course on his own. By the afternoon, he does a lot more riding in the cart," says Schneider.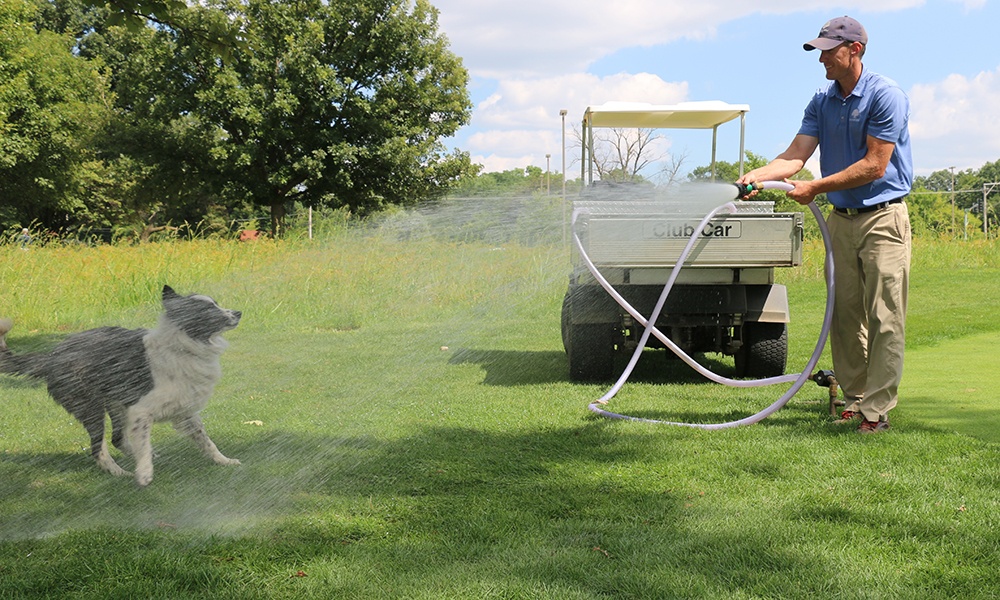 Schneider cools off his dog with the hose on a warm summer's day.