Women's History Month is a great time to reflect on the hard work and dedication of women in all walks of life. We'd like you to meet some of the women who work at the DuPage Forest Preserve District.
We asked a handful of them about their work and what advice they would give to girls and young women thinking of pursuing careers in nature or STEM-related fields (science, technology, engineering and math). Here's what they told us.
Education: B.S. in natural resources and environmental science, University of Illinois; Certified Interpretive Guide with the National Association for Interpretation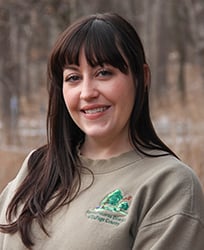 I have always loved animals and wanted to work with wildlife. It's a bonus to be able to work in natural areas. I originally wanted to be a zookeeper or dolphin trainer, but through various experiences, I discovered that I love sharing information about these animals more than I love cleaning up after them.
I hope to instill in others the same awe and appreciation I have for animals. I very much enjoy all the opportunities I have to teach about wildlife with all kinds of people and groups. In my current job I have also gotten to be both a keeper and a trainer at times — but instead of dolphins, it's with raptors and other bird species, and a bobcat.
Advice to Others
Educate yourself in areas you are passionate about. When I first started as a naturalist in 2010, I was the only woman on my team of 4, as well as the youngest and least experienced. I welcomed the chance to learn so much from seasoned naturalists, but also knew I could hold my own since I spent time developing my background through education and personal study.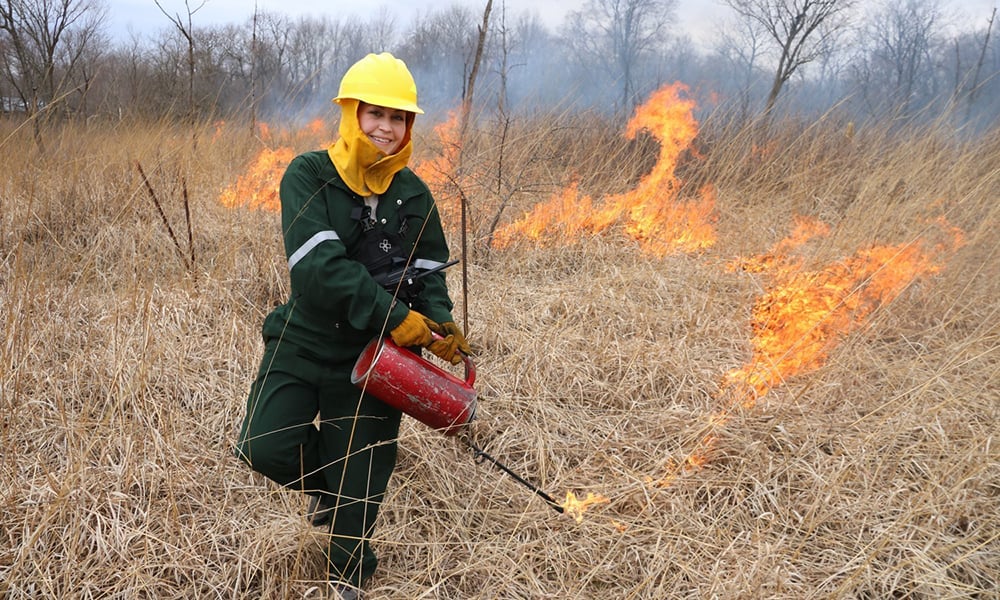 It's also OK to not know everything (and admit that). One way I increase my knowledge in an area I may not feel strong in is to task myself with developing a program about it so I have good reason to learn more with a deadline. This has resulted in surprising new interests for myself (and a lot of trivia knowledge).
Be an advocate for yourself and don't be afraid to say something or look elsewhere if it's not the right fit. Your quality of work life is extremely important and should be evaluated periodically.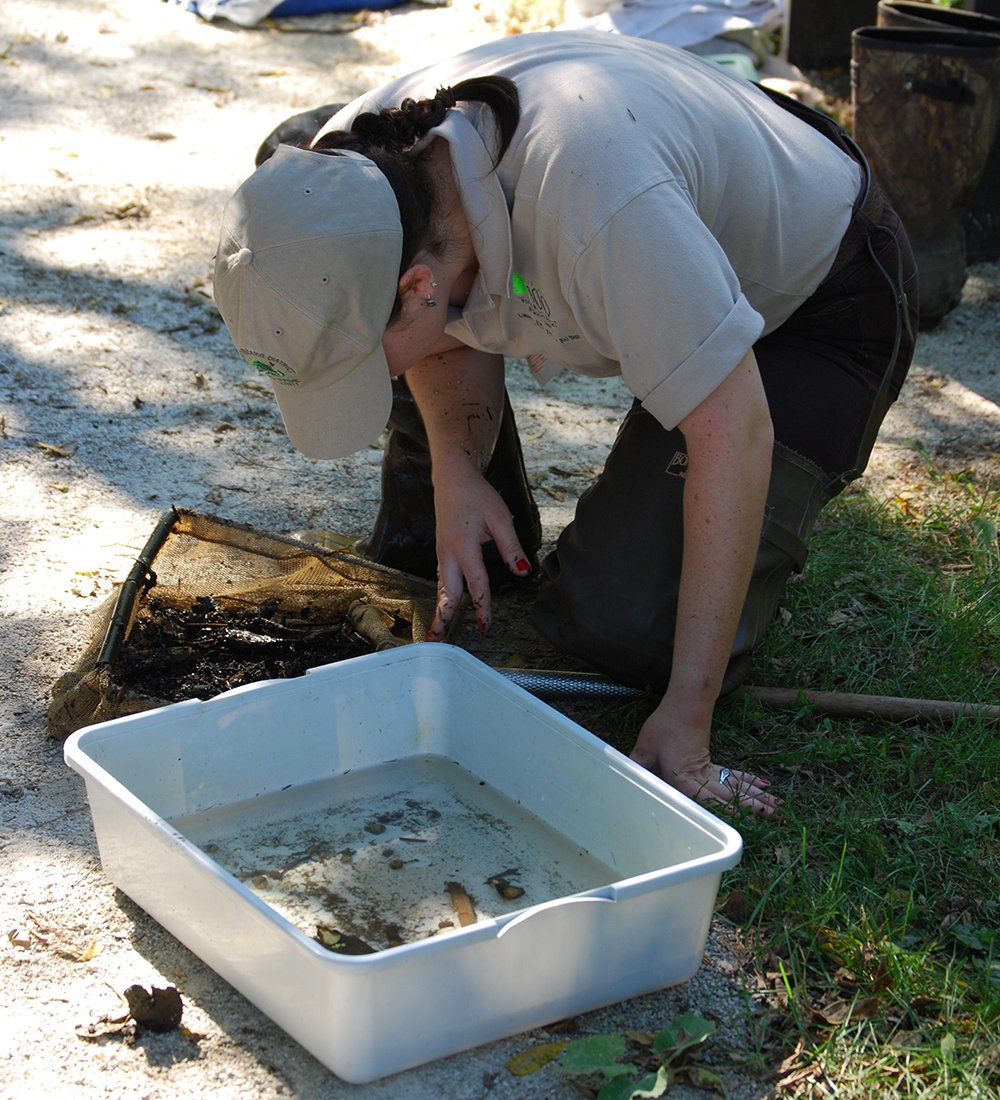 Stephanie Touzalin, education specialist at Willowbrook Wildlife Center, uses a dip net to check the aquatic wildlife at a DuPage forest preserve.
Kathy Lech, stewardship technician, Natural Resources
Education: B.S. in biology, Governors State University; certified pesticide operator. I also have Midwest Ecological Prescribed Burn Training from Chicago Wilderness and S-130 Firefighter Training/S-190 Introduction to Fire Behavior from the National Wildfire Coordinating Group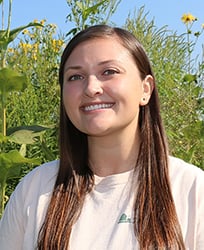 I was fortunate to grow up on a large plot of land with lots of trees and a pond. Much of my childhood was spent outdoors exploring — catching frogs, flipping over rocks and logs in search of bugs and climbing trees. My family and I also used to go to the preserves near our house and camping at state parks.
In high school I joined our science club and went on volunteer/field trips to Midewin National Tallgrass Prairie in Wilmington. I found myself really interested in having a job that involved nature. I ended up pursuing a science degree and joined biology clubs in college as well. We did restoration work and I attended my first Wild Things conference. It was so exciting to see all the opportunities in the environmental field and meet others with the same passion for nature. After graduating, my first job in my field turned out to be a restoration technician for The Wetlands Initiative, which had a project site at Midewin. Our whole field crew that first summer was made up of seven girls.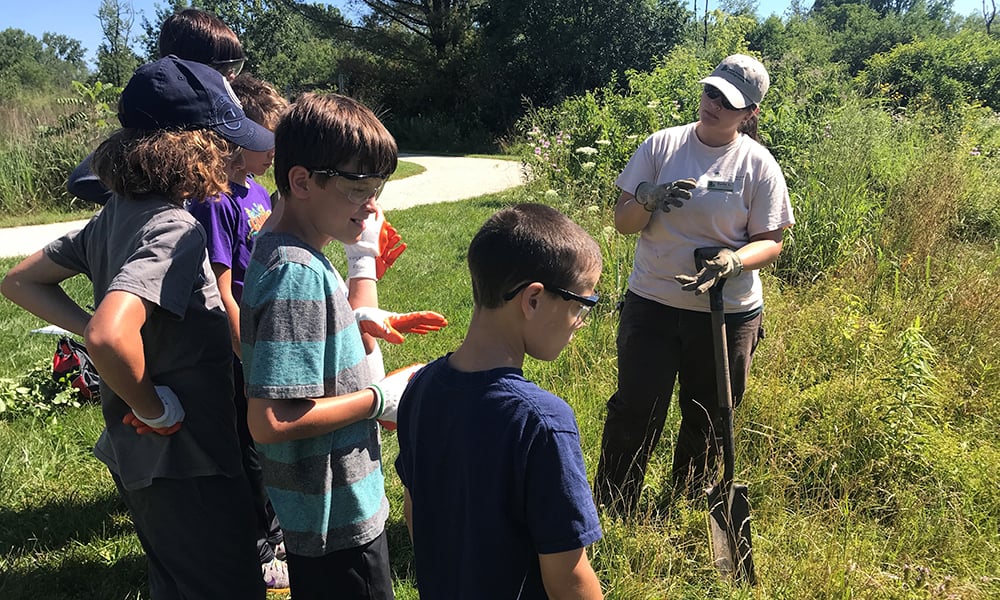 Lech teaches participants in a summer day camp about volunteer restoration workdays at Willowbrook Forest Preserve in Glen Ellyn.
Advice to Others
Be proud to be a girl in STEM! Know that the environmental field is huge and there are so many different ways to get involved. Be open to trying new things because you never know what they might lead to. Try to learn as much as you can and work hard. Volunteering with organizations is a great way to start. There are so many options, not just in the Chicagoland area. Finally, know that the work you're doing will have a lasting impact on the world for generations to come.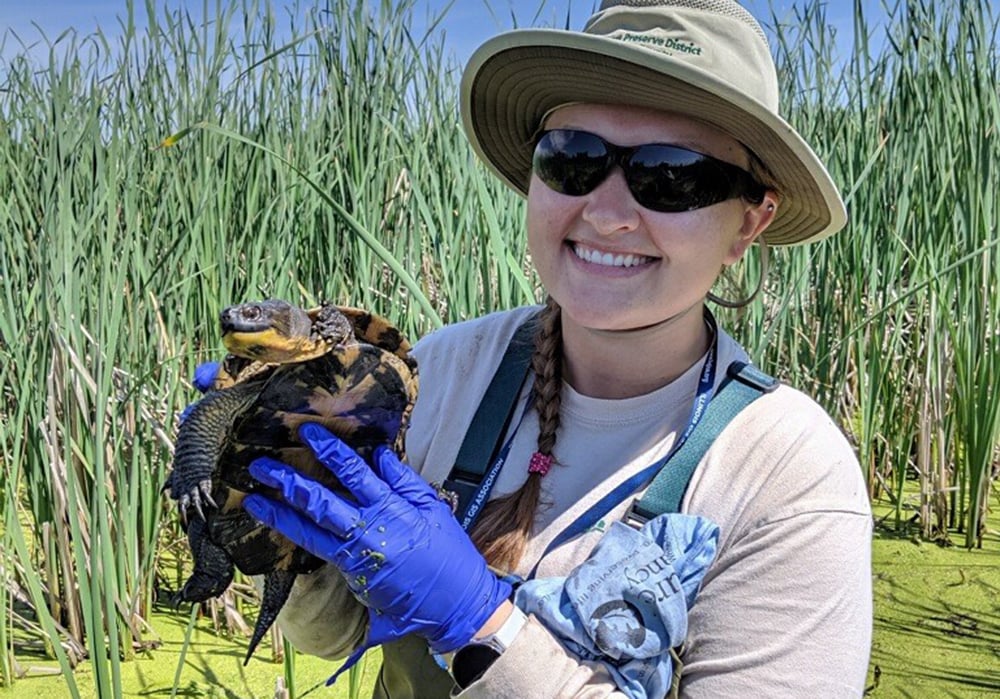 Kathy Lech assists with the District's Blanding's turtle program in 2019.
Lisa Carpenter, historical farming program coordinator, Kline Creek Farm
Education: B. A., English and history; M. A., American studies
I went to graduate school wanting to go into the museum field, but I wasn't exactly sure doing what. I didn't want a completely sedentary job, so it was a revelation to me when I started working in living history.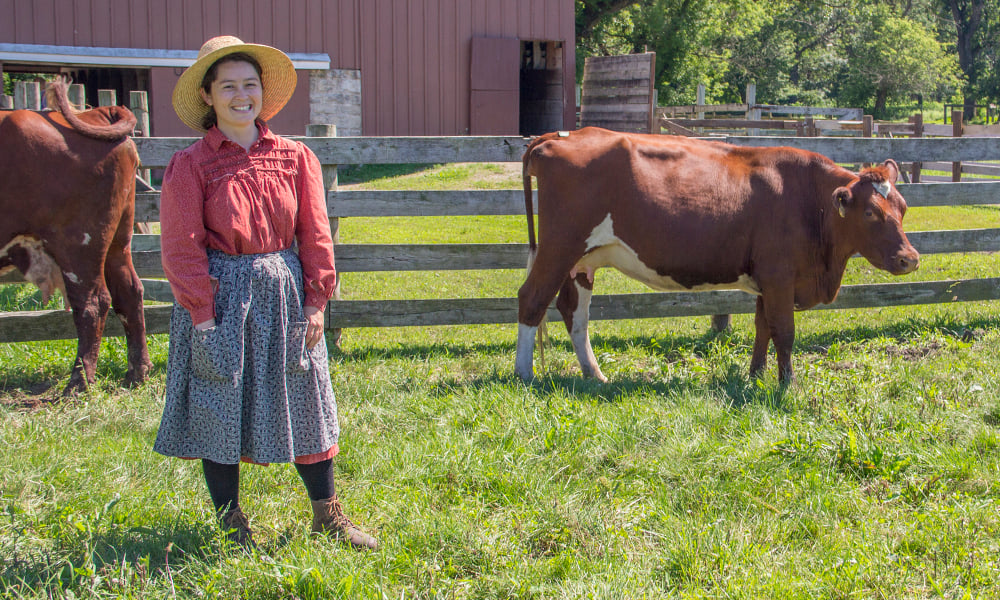 Lisa Carpenter helped bring a Milking Shorthorn cow -- a heritage breed -- to Kline Creek Farm in 2018.
What started out as a summer job turned into a career and a life's passion. I was able to combine my experience growing up on a farm with my educational background in history. Living history farming is this wonderful intersection of nature and culture.
Advice to Others
A college degree is not in itself a ticket to employment, so get as much experience as you can. Internships give you experience and help you discover what type of work you like.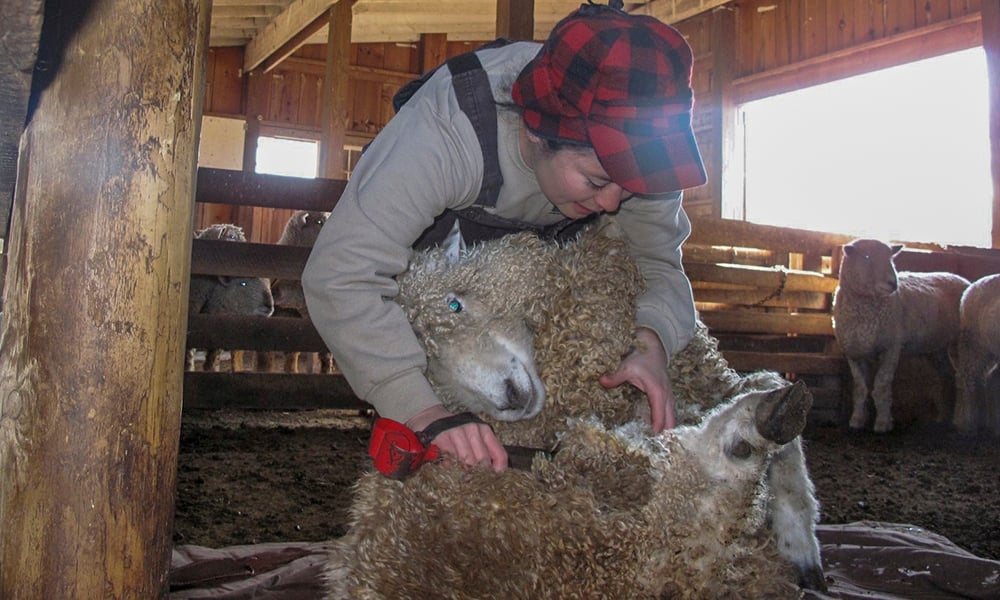 Carpenter shears a Cotswold sheep at Kline Creek Farm, an 1890s living history farm in West Chicago. Cotswold sheep are another heritage breed Carpenter helped introduce to the farm.
Shelli Jandura, Police Lieutenant, Law Enforcement
Education: Bachelor's degree in animal ecology, minor in criminal justice, Iowa State University; certifications include Northwestern Police staff and command and North Central College leadership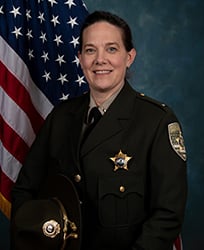 I have always wanted to work in an outdoor environment. As I pursued my bachelor's degree, I interned with the U.S. Army Corps of Engineers and soon developed a great appreciation for law enforcement's role in keeping people and nature safe.
Advice to Others
Go for it! Conservation law enforcement is a very rewarding field and allows you to have an impact in so many ways. If you have the opportunity to do ride-a-longs or internships, there are many levels of government to get involved in (federal, state, county and local) all have law enforcement departments focusing on serving and protecting natural areas and those who visit them.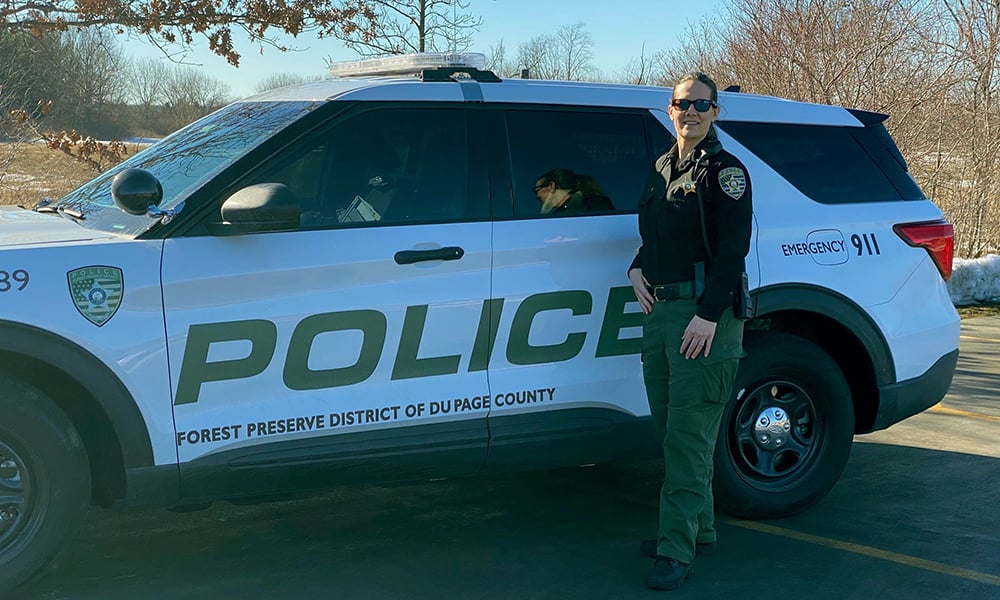 Education: Registered nurse; bachelor's degrees in biology and art; certified naturalist
I began my earth journey in my teens, learning about medicinal herbs and their properties. I was making bath bombs, tinctures, ointments and teas before they had clever names.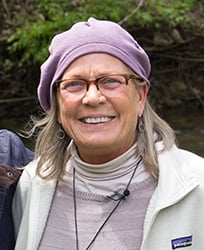 In the course of time change always comes and with change comes opportunity. I've worn many different outfits over the years: one all white with a pointy hat (nursing); another a beret (art); a vest with a million pockets (certified naturalist); and finally a pair of chest waders (biology).
The waders are my favorite. Wading in water — especially freshwater — creates wonder, adventure, and questions without answers, and fear and happiness every day. I am in service to give back to mother earth, care about her, and have a relationship with her. I get to be a voice for the water and the critters that live there at least for a time in my life.
Advice to Others
When opportunity comes along, listen to what the universe whispers and do not be afraid to jump off the pier. Volunteer anywhere and everywhere your passion moves you as you grow. A forest preserve near you can be a great start. Get summer jobs or intern with the Department of Natural Resources or universities; even if it isn't something you're totally into, try it anyway.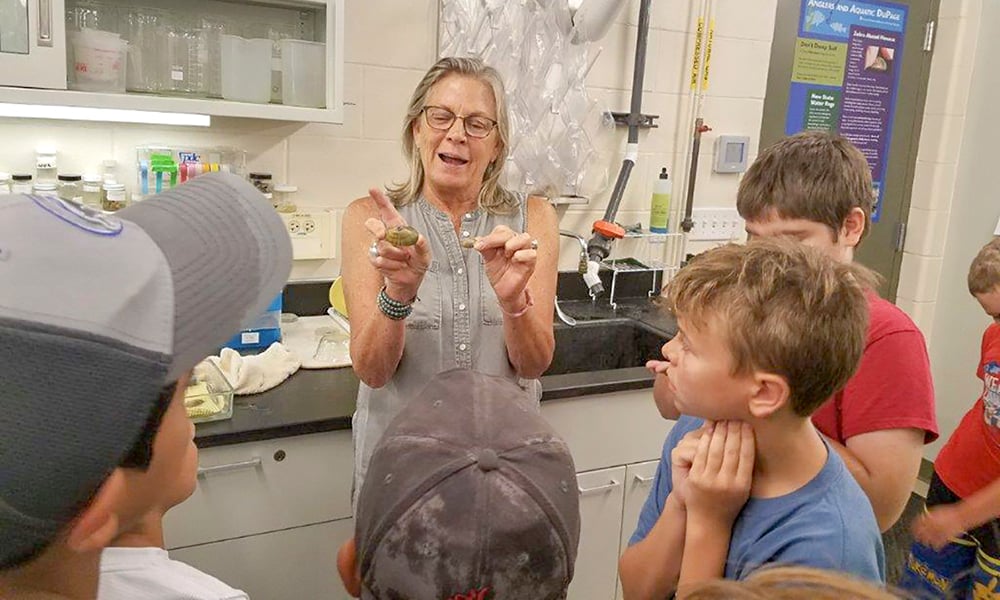 Jessi DeMartini talks about freshwater mussels to participants in a Forest Preserve District summer day camp at the Urban Stream Research Center at Blackwell Forest Preserve.
Go to destinations unknown, go camping, take a paddle on a river, be one with the fish and freshwater mussels, be a brave warrior. Just be. Study hard, do not stop learning, and experience every little thing with wonder. You are the most important person, you are strong, and you can change things. Always believe in your inner self; you can help save the planet one river at a time.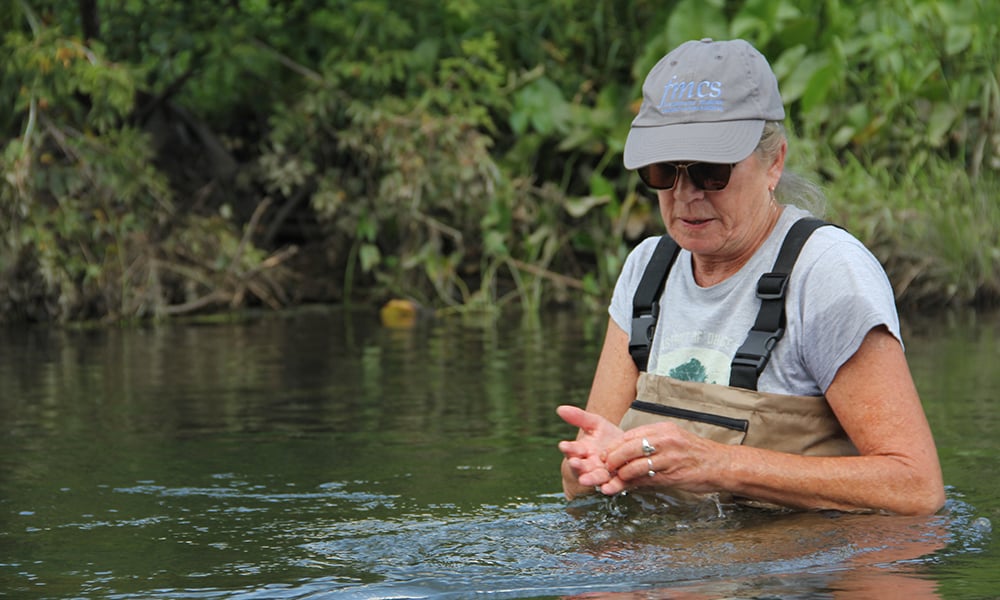 DeMartini working with freshwater mussels in a DuPage forest waterway.