Meet Dori Wagner Eldridge, a Naperville woman who loves photographing and learning about the world around her. She's also a wife and proud mother to two teenagers — a son in college and a daughter in high school. She's been taking photos since she was a young girl with a Kodak Hawkeye Instamatic camera that took 126 film cartridges.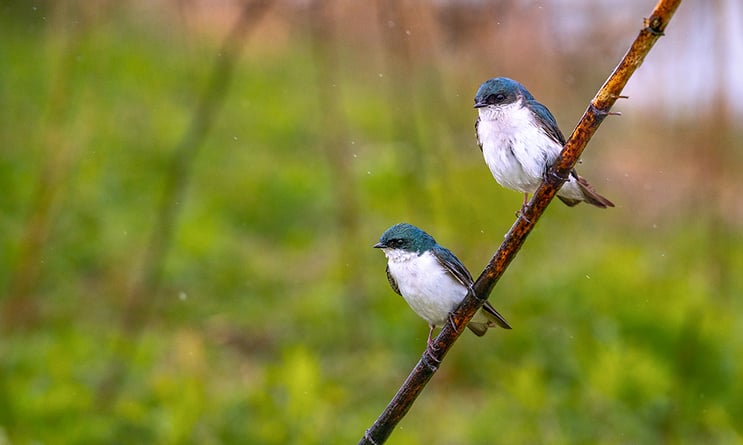 Tree swallows in the rain at Springbrook Prairie. All photos in this blog are by Dori Wagner Eldridge.
She still remembers her first photograph — an image of her seven budgie parakeets. But it was her photo of a rare albino milkweed plant at Springbrook Prairie that first brought her to the Forest Preserve District's attention.
Albino milkweed at Springbrook Prairie
Perhaps what makes Dori as special as that rare pigmentless plant is that she regularly went back to check on it, documenting its unlikely growth, waiting to see if it would bloom, and reporting back to us every step of the way. She not only takes pretty pictures, but she also loves learning about her subjects and sharing that knowledge with others.
"The insects and birds and flowers I photograph with a macro or tele lens hold a special place for me because I often have to research them in order to identify them," Eldridge said. "I won't ever post a photo online of something un­­less I learn about it and can tell a little story."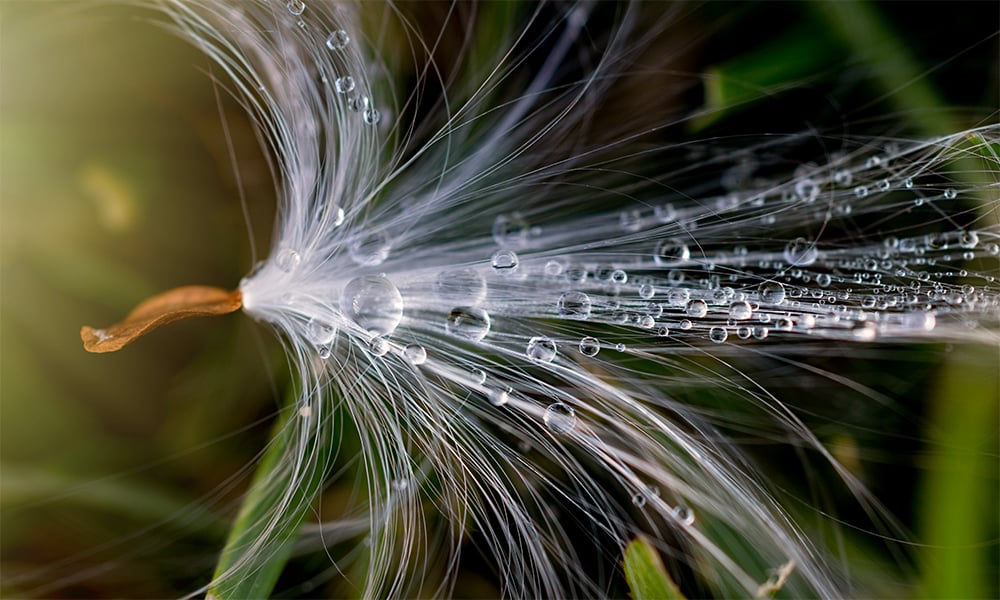 Close up of a milkweed seed dampened by morning dew
A enthusiast of all things aesthetic, she's also fascinated by architecture, insects, birds and interesting plants. She likes to travel, hike, bike, garden and read. "I like foreign languages and words, too," Eldridge said. Here's her story:
Catching the Nature Bug
I grew up on Long Island's north shore, in New York, very close to the beach, and I was an avid shell and rock collector. My parents always had a yard full of plants and trees and other living creatures (fish, bullfrogs, birds, bugs), so I've always been attracted to things in nature.
Pretty much everywhere I've traveled in the world, part of my time has been spent getting out and exploring the natural areas on my visits. It wasn't until we moved to Naperville 16 years ago to a neighborhood that borders Springbrook Prairie that I was able to get outside every day to take photos and learn about the native wildlife that surrounds us.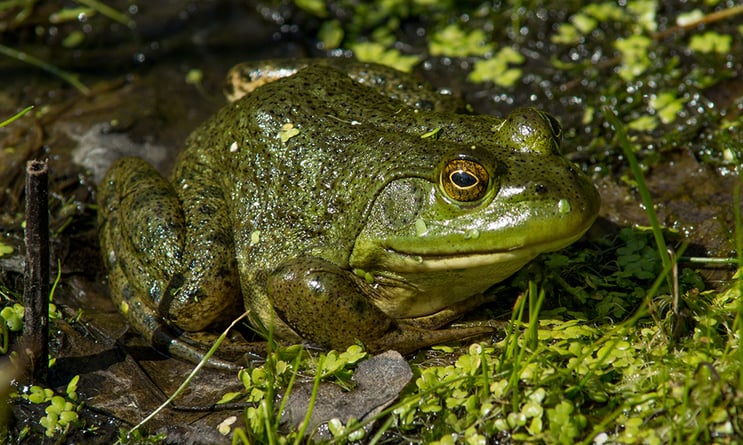 An American bullfrog at Springbrook Prairie
Discovering the DuPage Forest Preserves
We moved to DuPage County in 2004, and we often bicycled in the preserves with our children when they were little. I discovered common milkweed plants and monarch butterflies in my yard and began a hobby of rearing monarch caterpillars that hatched from eggs I collected on those plants.

Bumblebee on common milkweed
I saw milkweed growing everywhere at Springbrook Prairie, learned about the preserve's status as a nesting bird sanctuary, read about the re-meandering project that was in the works at the time, and really starting getting out there regularly when our children were self-sufficient and we got a dog who needed constant walking.
I discovered the off-leash dog park next to my neighborhood and always brought along my camera. I met some great dog lovers who spoke of bobolinks and bald eagles and compass plants, and I began capturing with my camera all the great stuff I found there.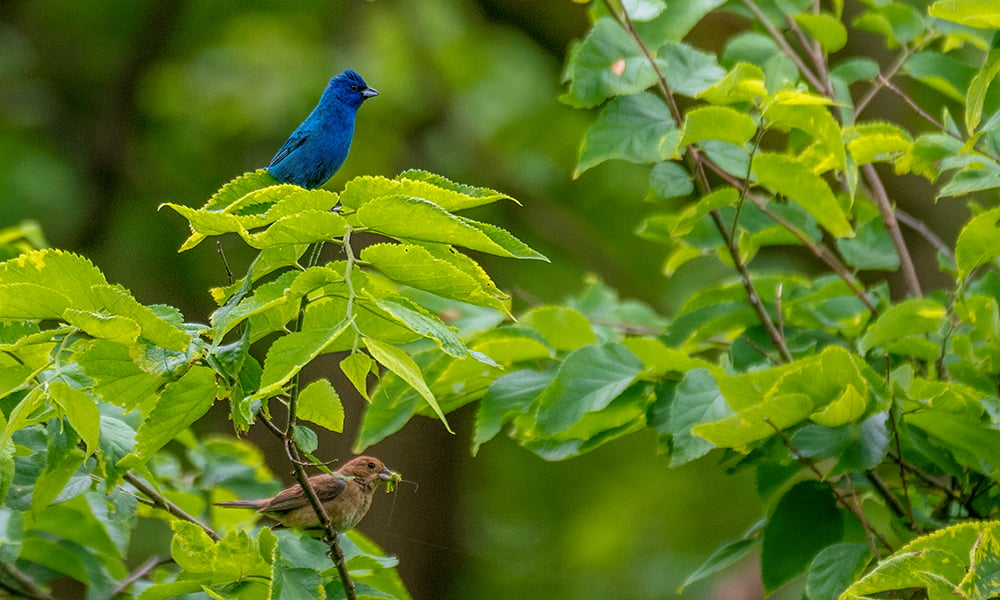 A male and female pair of Indigo buntings
Favorite Forest Preserve and Times to Visit
Hands down, my favorite forest preserve is Springbrook Prairie! It's super easy for me to get to, as I can walk or bike or drive a car to any of its three sections — West, Middle and East, as I call them. It's got prairie, wetlands, woods, a creek, trails and hills, trees and scrub and tall grasses. The variety of birds and insects and plants is astounding.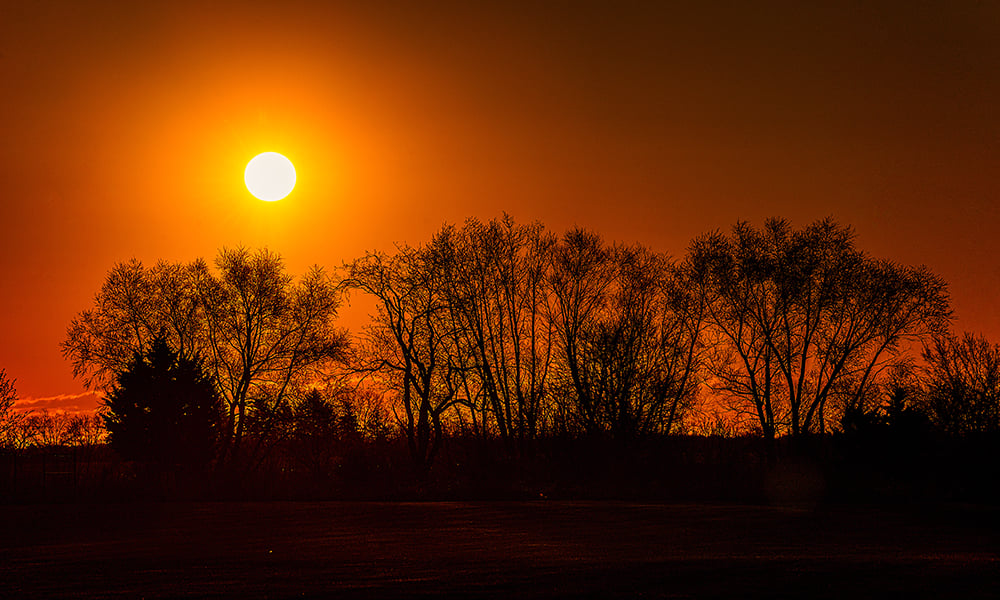 Sunrise at Springbrook Prairie
I try to go every day at various times to catch the skies in different shades and to attempt to figure out when birds are more or less active. My favorite times are early morning for the lack of crowds and overhead sun and the early evening for the golden light.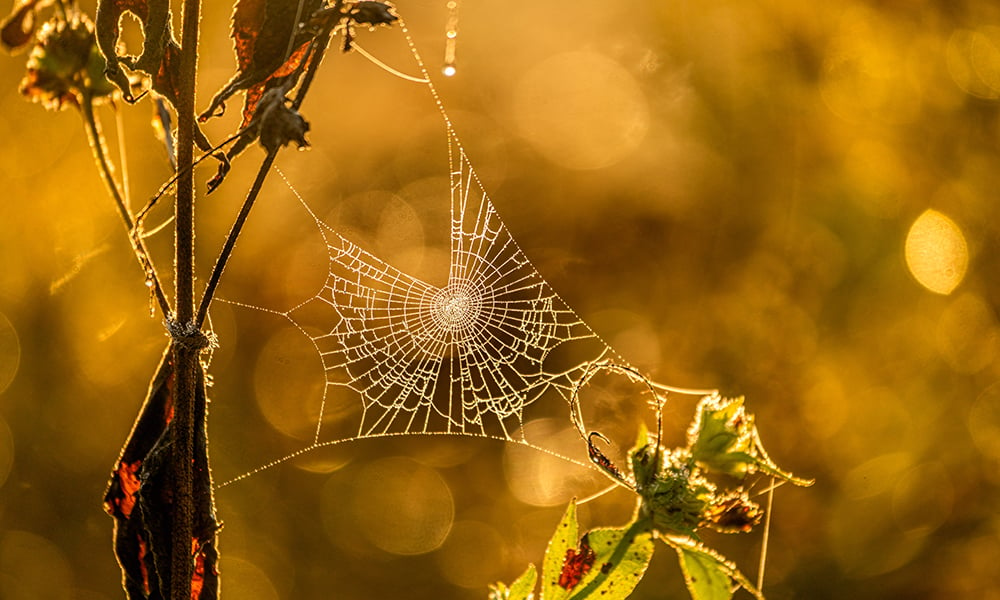 Dew-covered spider web at sunrise
What Brings Her Back Time and Again
The unknown and the challenge of identifying something I may not have encountered before keep me returning for more. Every time I decide to take a walk in the prairie, I have only a limited idea of what I'm going to see and hear and smell, and the joy of seeing/hearing/smelling something unexpected and fascinating is a tremendous feeling that's pretty much guaranteed every day.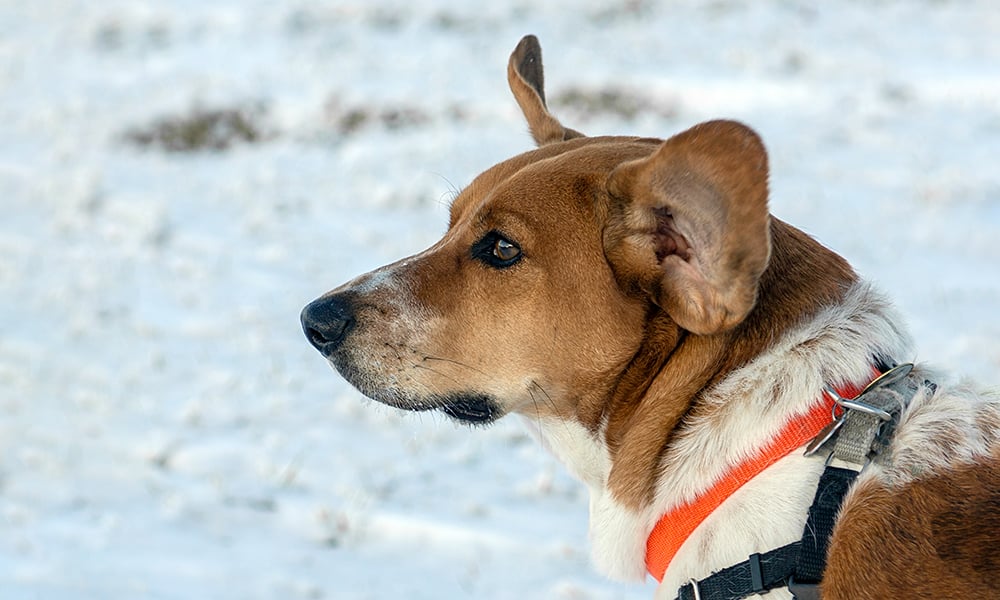 Dalton, Dori's beagle, on a winter walk at Springbrook Prairie
One morning I was walking my dog a day or so after an ice storm and came upon an ice-coated stand of trees just off the trail. The outside temperature was just starting to melt the thick casings of clear ice that surrounded every limb, branch and twig. The combination of the falling shards of ice and the sound they made upon crashing to the ground stopped me in my tracks.
A few weeks ago, I was on a birding walk on the east side of Springbrook with my friends Candace and Jean when I lamented that I really wanted to see a red-headed woodpecker because I'd never seen one. We'd seen a great number of migrating warblers, but I knew I had to go to a place other than Springbrook Prairie to see a red-headed woodpecker because they aren't at all common there.
Within a couple of minutes, Candace laughed and exclaimed that there was one just across the creek from the very bank on which we were standing. The bird entertained us for about 10 minutes, disappeared, and I haven't seen one since. You just never know.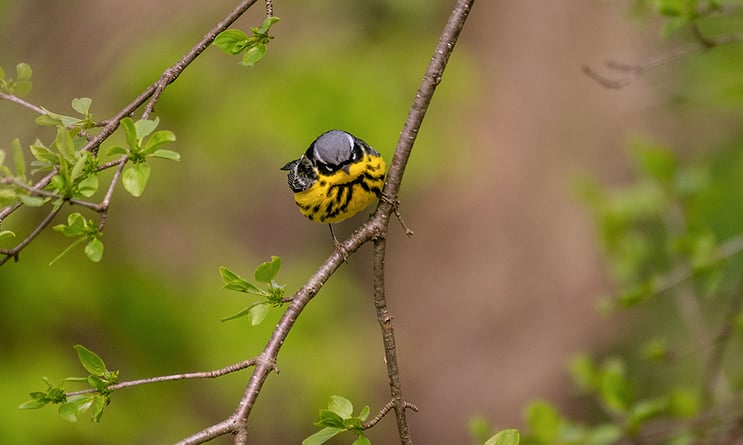 Magnolia warbler
Favorite Things to Do in the Preserves
Obviously, I love photography, especially macro. Up until this year, I'd say my favorite subjects were insects. I've raised monarch butterflies on and off for 15 years, and I've tried to learn as much as I can about Lepidoptera and other insect orders. They're a great subject for macro photography.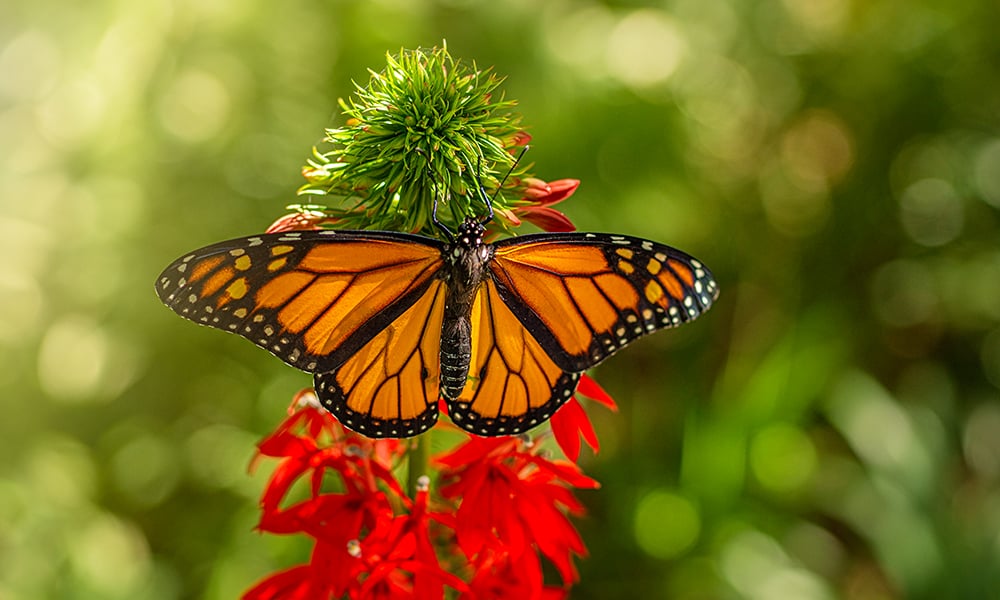 Monarch butterfly on cardinal flower
This year, though, birds have pulled ahead of insects for me. I've taken all the casual, random lists I've compiled over the years and finally input them into eBird checklists. Now I'd love to expand my birding "life list," and because I have pretty terrible eyesight, my photos help me identify the birds I've seen and heard while out exploring.
Birding goes hand in hand with photography, as it's how I identify my new species. I also just love to walk with friends, hike, bike and walk my dog. My husband and son have gone fishing, and I'd love to try kayaking in one of the preserves one day.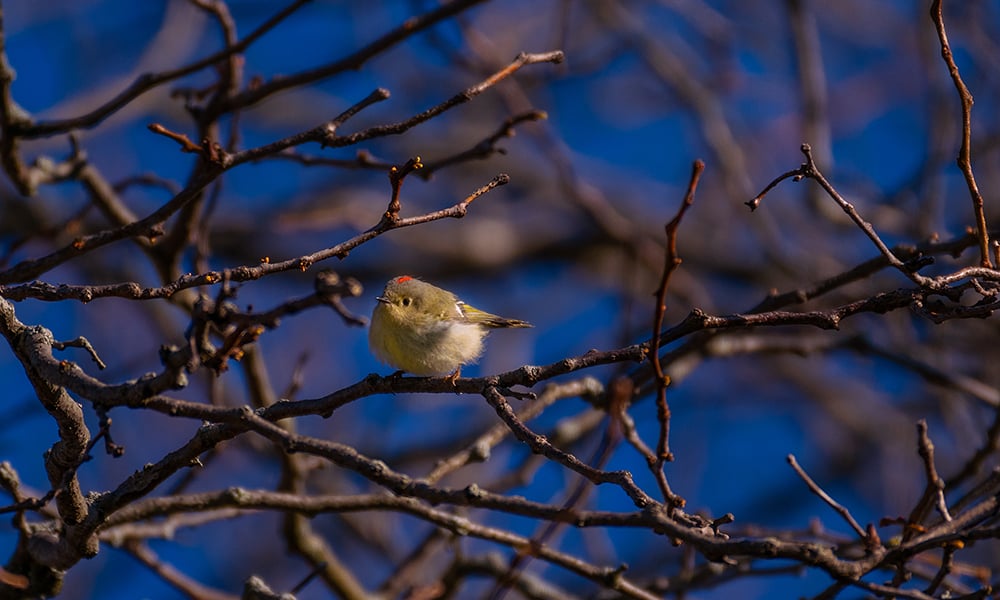 Ruby-crowned kinglet
How Nature Inspires
Nature gives me the solitude, if not always the quiet, to just think and the exercise to stay fit and healthy. Sometimes I like to video record a field of flowers just for the sounds or to capture the way the wind is blowing them. I always think that I'll have a vast collection of photos and video to keep me occupied well into my old age should I ever become unable to get out and enjoy them in the future. There is so much beauty out there, and I try to do an adequate job of showing off what I see.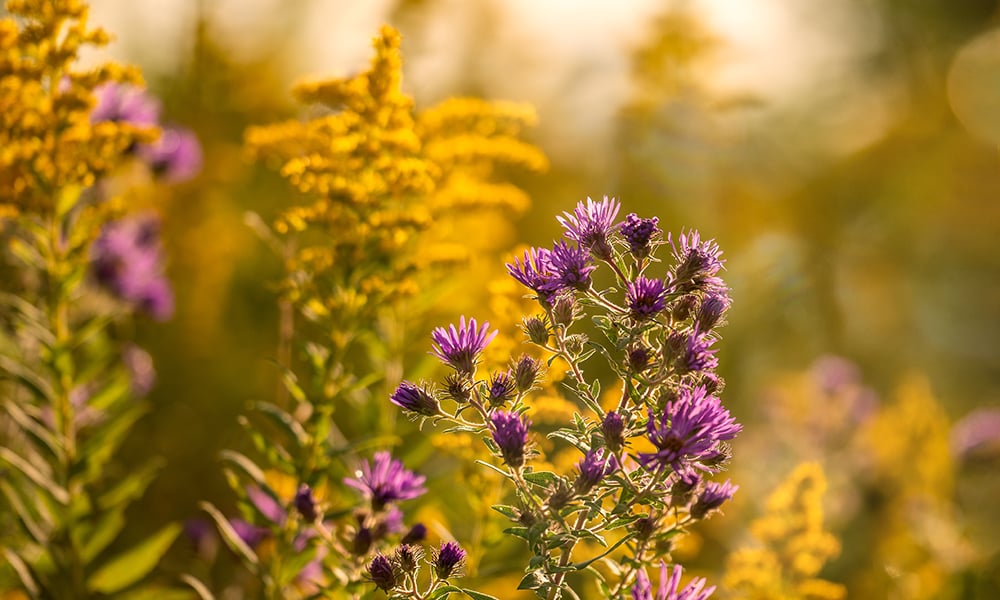 Purple asters and goldenrod
Nature's Lessons
Nature has taught me that people should and can be adaptable. The tree that doesn't bend will break. Wildlife has to contend with so much — fires, floods, drought, thunderstorms, hunting, mowing, predators, noise, pollution, insecticides, heat, cold, ice, wind — yet day in and day out we can still find so much nearly incredible beauty all around us.
Nature survives — what doesn't stay here all winter still manages to return every spring. And the most beautiful places of all are the places where variety is thriving. Nature has also taught me that there is a purpose for every living creature.
I'm not a huge fan of tobacco hornworm caterpillars eating my tomato plants, but I let them be. They turn into really cool sphinx moths, and they're also a favorite food of nestling black-capped chickadees. If I like having the birds around, I have to keep the insects around, too.
American goldfinch among thistle seeds
Favorite Nature Quote
"It seems kinda harsh, but that's nature's way." – Steve Irwin
My son loved Steve Irwin when he was a little boy, and I have heard this quote so many times. At first it seems like he was being dismissive of someone's possible repulsion at a natural predator/prey event, but I really don't think he was. I believe he was explaining that although what's unfolding might appear cruel in human terms, it's not.
Nature isn't evil or cruel or wrong — it just is. It's why Mama Duck has 10 ducklings swimming behind her one week and four the next week. It's why I wasn't horrified a few days ago when I came upon a Cooper's hawk on the trail being dive-bombed by six blue jays. The hawk had a seventh jay in its talons. I respectfully watched from a distance until the hawk flew away. This is what a hawk does, what it needs to do to survive, and what it teaches its young to do so that they can survive. Hawks are amazing, beautiful birds, and this is what they do.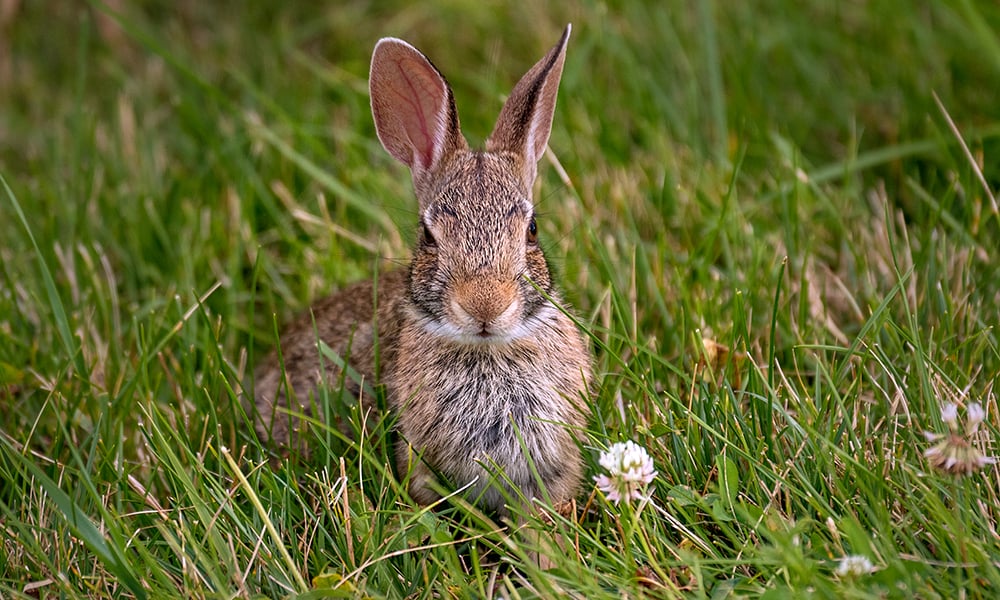 Eastern cottontail
Advice to Others
I tell everyone I know how lucky we are to live where we do with nearly unrivaled access to nature. I haven't even come close to visiting all the DuPage forest preserves because I'm having so much fun going to ones close to my house.
I'd estimate that everyone in DuPage County and well beyond is under an hour's walk, ride or drive to a place like Springbrook Prairie, where they have the same ability to encounter all the wonderful wildlife I see everyday. Just do it!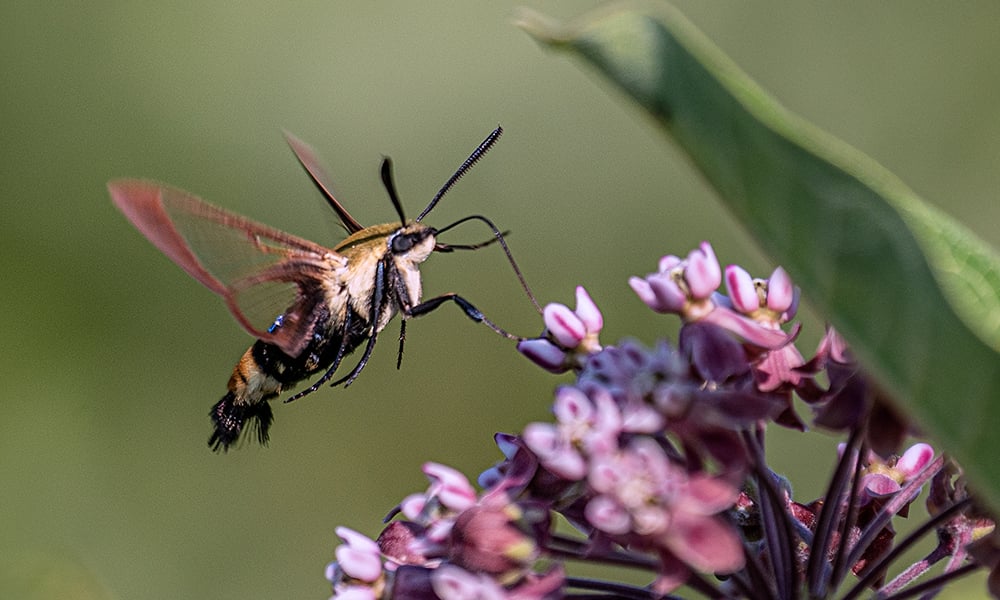 Snowberry clearwing hummingbird moth
If you have a fun or unique way of catching nature in our preserves and would like to be featured in a "Catching Nature" blog, please contact Deb Humiston at dhumiston@dupageforest.org.