For a group of area artists, there is something exquisitely refreshing about plein air painting, perfected by artists like Monet, Renoir and Georgia O'Keeffe. From May through mid-October, members of the DuPage Art League meet Friday mornings at various preserves and other scenic spots to paint and share their experiences. We caught up with them recently at Danada Equestrian Center in Wheaton recently. After they spend time painting and drawing, they meet to discuss their experiences.

Mary Goebel
"We call ourselves the crazy ones," said Mary Goebel with a laugh as she worked on her oil painting of a scene recently in the horse barn at Danada Equestrian Center in Wheaton. "We like to paint outdoors in the natural light."

Goebel started drawing as a child and started painting outdoors after she received a set of oil paints as a Christmas gift. "It's relaxing, absorbing and challenging, and it sure beats housework," she said.

"I got interested in painting outdoors after seeing the beautiful work done by the Impressionist painters. Their work was so difference from the earlier, classical artists because of the color and light they created in their paintings," Goebel said. "I just fell in love with the atmosphere they were able to create in their pictures. That's what I try to capture."
Goebel said she's been a regular visitor to the DuPage forest preserves since bringing her kids there when they were young, "mainly to try and wear them out."

"Most of the preserves are easy to get to, open and have many different kinds of scenes," Goebel said. "You don't have to go to the south of France or Italy to find sunlight and color."

When asked how she's inspired by nature, Goebel responded, "I don't know how to answer that question. How can one NOT be inspired by nature?"

For an artist, the whole point of creating a painting is to communicate with the viewer, Goebel said. "I see the color and light that nature gives and say to myself, 'Wow! Look at what I see. Isn't it beautiful?' I want my viewer to also say, 'Wow, that was a beautiful place.'
"I was once painting a wooded road alongside a hayfield in Wisconsin when a farmer drove past on his tractor. He stopped and walked over and looked at what I was doing and said, 'I've driven this road for over 40 years and never realized that the view here was that pretty.' He made my day," Goebel said.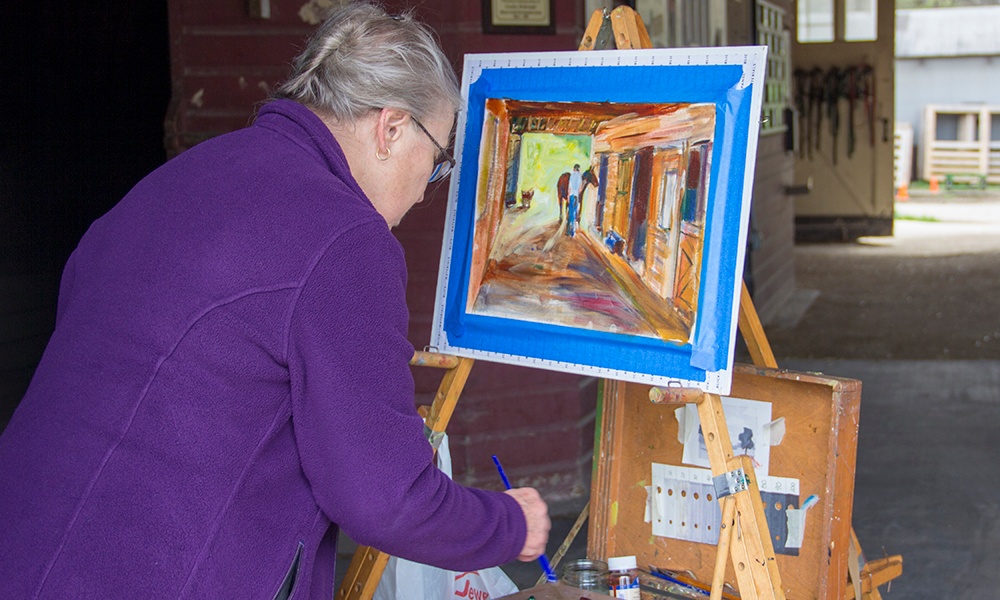 Margie Fazio
Margie Fazio has been painting watercolors since she was in high school in the mid-1980s. It's her favorite medium to use when painting outdoors, especially since it dries fast. She was doing some studies of the Danada horses and surroundings during her first time out with the group.

"I thought I'd give it a try. It's really fun. It's really beautiful," Fazio said.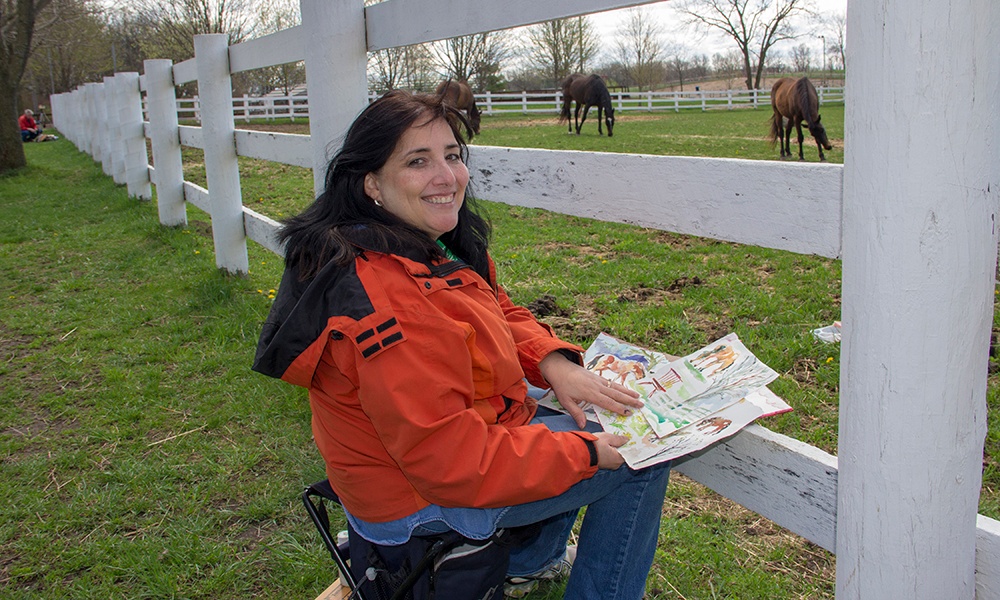 "I think nature is always changing and that is what is inspiring and challenging too," Fazio said. "In nature there are very few truly straight lines, so it is very free flowing and wonderful to paint."

A great way to be inspired by nature is hiking the trails in different seasons, Fazio said. "You see what's blooming, what animals are nesting, what trees are budding, and you can't help but feel intrigued and inspired."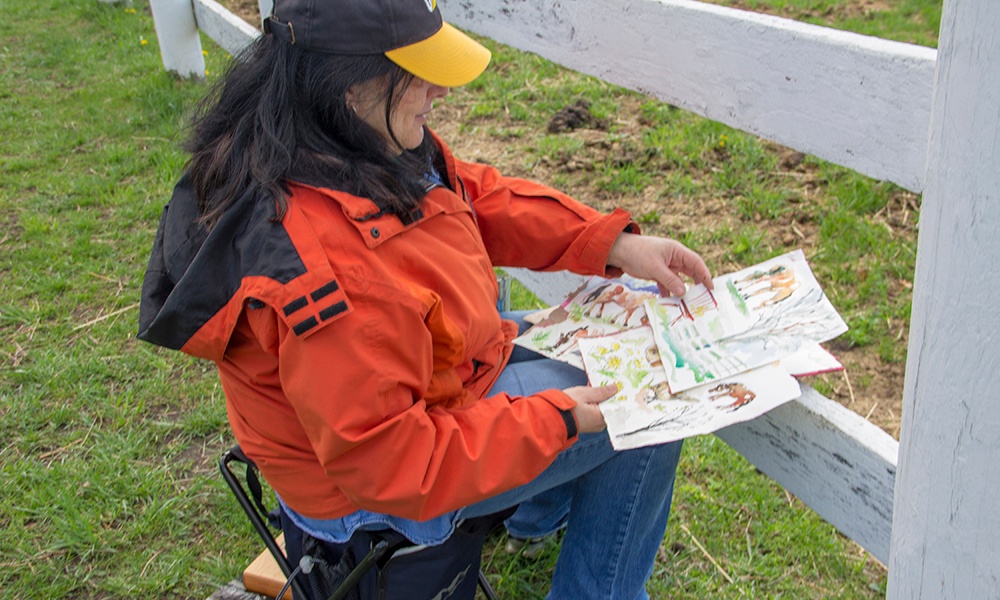 Pete Censky
Although he's been painting for many years, Pete Censky never took it seriously "enough" until he retired several years ago.

"I'm learning a lot," Censky said. "The horses do a nice job of posing. This is a great place to walk around and enjoy nature.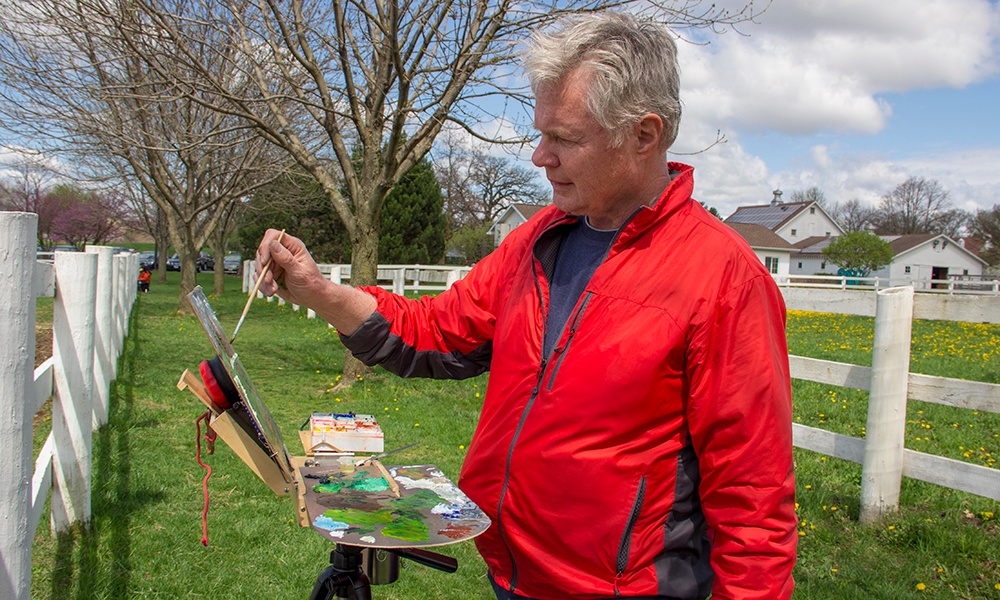 The DuPage Art League invites artists to join them Friday mornings from 9:30 a.m. to noon at DuPage forest preserves and other area locations. For more information, call the art league at 630-653-7090.