Joe Suchecki has many interests, including photography, gardening and bicycling.
"I have been interested in nature since I was a young boy growing up in Connecticut," said Suchecki, 68, of Naperville.
But his true love is birdwatching. He loves it so much he's willing to fight to protect land for native wildlife at what is now Springbrook Prairie Forest Preserve in Naperville. And for 25 years he's been working to restore native grasslands and prairie at the 1,829-acre forest preserve to provide a healthy habitat for native wildlife.
"The variety of habitats offer opportunities to discover many bird species throughout DuPage County," he said. "There's a sense of adventure and thrill going to the preserves to look for new or different birds, and always the opportunity to locate some rare species. Even after 25 years of birding at Springbrook, I was lucky enough to add four new species to the site list in 2018."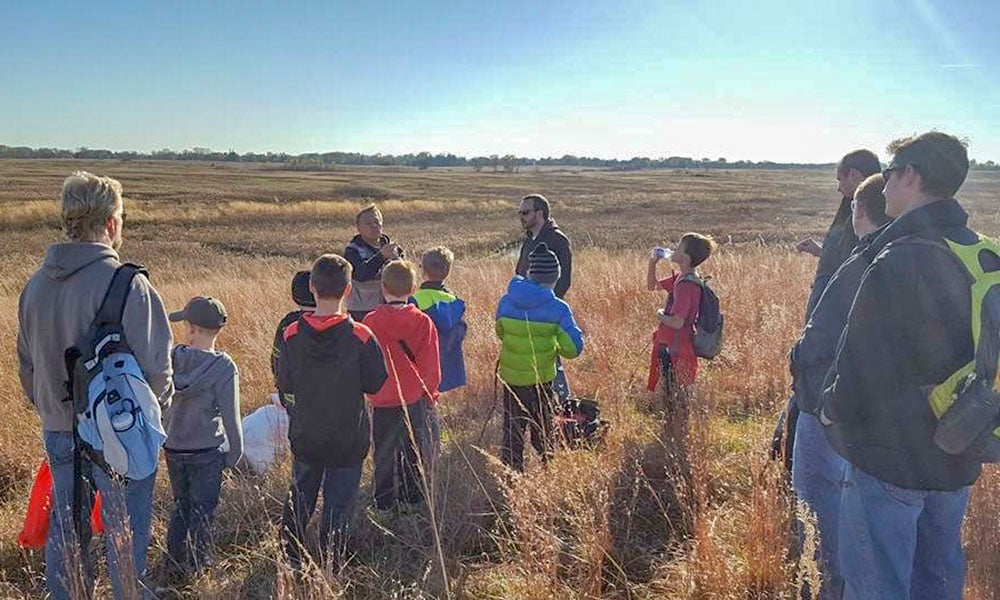 Suchecki talks to a Cub Scout group at Springbrook Prairie in 2016.
Suchecki first became interested in Springbrook Prairie Forest Preserve in 1994 when he helped spearhead a group of citizens who sought to change the master plan for the preserve from a large recreational lake to restored open grasslands and native prairie.
"We were successful in that effort, and the master plan as well as the name of the preserve was changed," Suchecki said. "Those efforts gave birth to the current Springbrook Prairie Forest Preserve."
From there he became a natural resources volunteer for the District in 1995 and started completing bird surveys at Springbrook Prairie. He's currently a site steward, bird monitor and dragonfly monitor at Springbrook Prairie, participates in the District's Advanced Natural Resource Volunteer program and is trained and approved to use a power brush saw to remove woody invasive species, burn brush piles, and apply herbicide as a licensed applicator.
As the site steward at Springbrook, Suchecki leads volunteer efforts to manage and restore the natural habitats, including removing invasive plants and brush, coordinating and leading volunteer workdays, introducing and restoring native prairie plant species, seed collection, and monitoring the dragonfly and bird populations at the site. He also coordinates closely with the District's Natural Resources staff. He's usually at the forest preserve several times a week.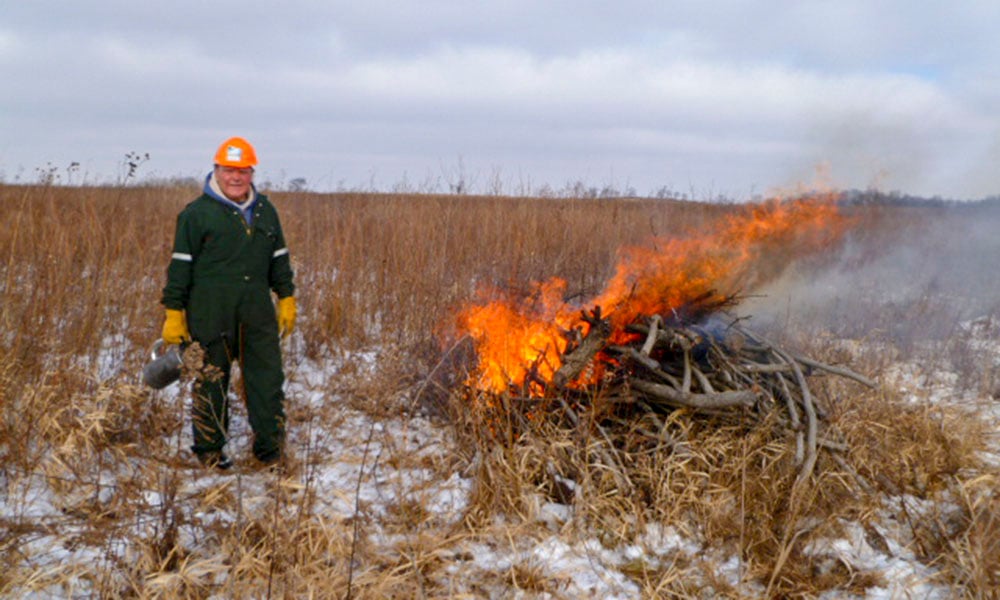 Suchecki works a prescribed burn at Springbrook Prairie in January 2018.
"There's a deep satisfaction and sense of accomplishment in seeing the results of my management work and its positive impact on bird populations," he said. "There's great joy in finding a new native prairie flower that I have never seen before at Springbrook, or documenting the nesting of an endangered bird species that has not nested in the county since the early 1900s, and knowing that my efforts made that possible."
Suchecki is also involved with The Conservation Foundation, the DuPage Birding Club (where he is past president), Illinois Ornithological Society, American Bird Conservancy, and the Friends of the Forest Preserve District of DuPage County.
Suchecki and his wife, Daphne, have lived in Naperville since 1986. They have two adult children and two grandchildren. He has a bachelor of science degree in mathematics, a master of science degree in ecology with a concentration in ornithology, and an MBA in technology management.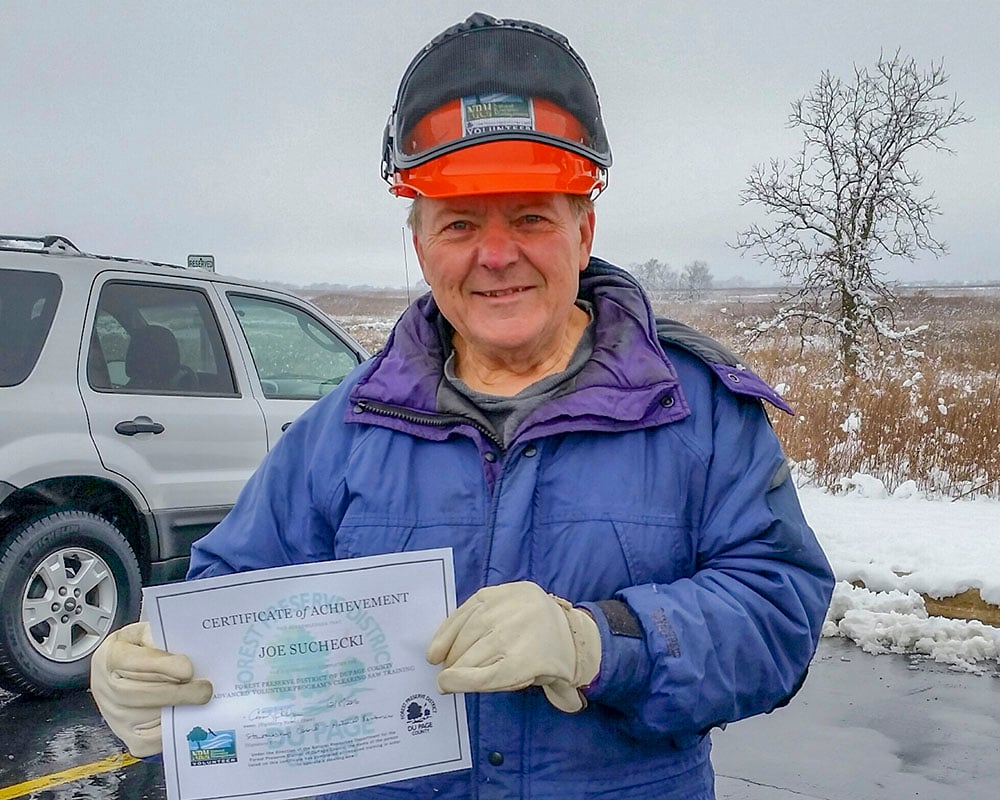 Joe Suchecki received his Advanced Volunteer Program's Clearing Saw Training certificate in December 2016.
"For me, the DuPage forest preserves provide virtually the only opportunities to get away from the hectic and stressful aspects of everyday life in DuPage County," Suchecki said. "The forest preserves provide areas to enjoy the beauty of nature, complete various activities in a peaceful setting, and reconnect with our need to escape the hassles of everyday life.
"DuPage forest preserves offer something for everyone and a way to unwind or get excited about nature and what you can discover in the preserves," he said.
Suchecki said he is inspired by nature's inherent beauty as well as its resilience and capacity to improve.
"Throughout the world, man has destroyed the natural environment. Yet, if given the opportunity, natural habitats will come back, and along with them the wildlife that they support," Suchecki said. "That is very evident at Springbrook Prairie, where our management efforts to improve grassland/prairie habitat have resulted in significant increases in grassland bird populations. New wetlands constructed at Springbrook have attracted populations of threatened marsh birds. Thoughtful, consistent and careful management of our natural areas will have positive results. Given the chance, nature will improve itself, which is an inspiration and lesson for all of us."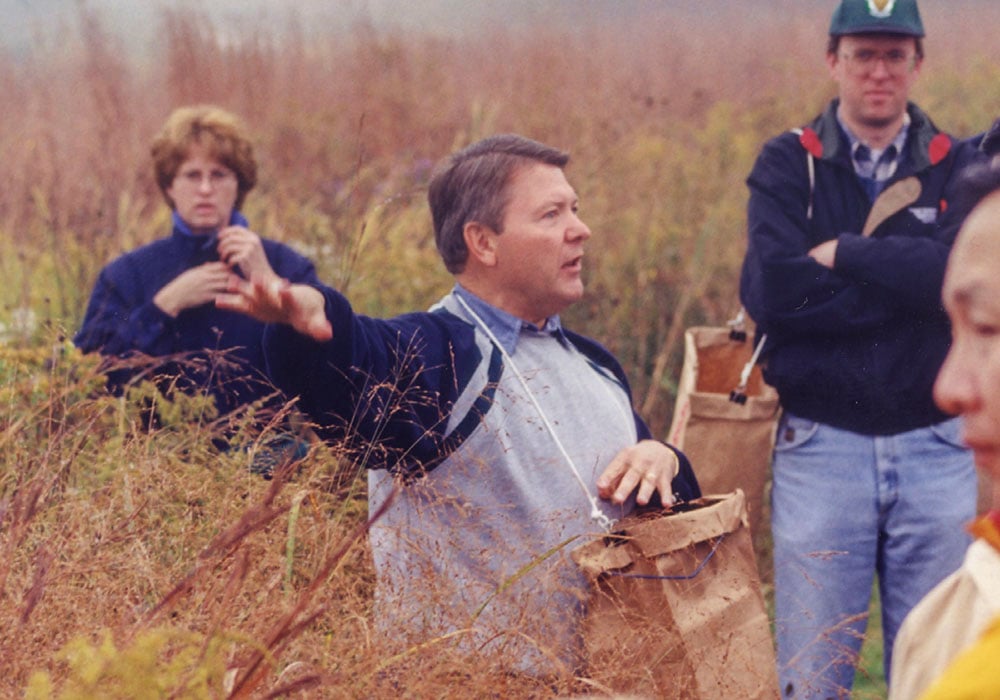 Suchecki instructs volunteers at a Volunteer Restoration Workday at Springbrook Prairie in 1998.
Suchecki's advice to others looking for ways to catch nature: "Get out as much as possible to enjoy everything that nature has to offer in your local forest preserve. There is a surprising variety of nature right in your backyard. The more you go out, the more you will discover, and the more you will reap the benefits from being out in our natural world."
He also recommends getting involved with the Forest Preserve District through its many volunteer opportunities.

"Find a preserve and make it your own. Become the expert and set about working to improve and preserve our precious and declining natural areas. With all the major environmental issues out there right now, I think there is frustration about what can be done to help," Suchecki said. "Well, there is something that each person can do regardless of their experience. As long as you have an interest and desire to help, you can make a significant contribution to improving your little corner of nature right here in DuPage County.
"When you become involved, there is a great feeling of personal accomplishment and satisfaction in knowing that your efforts have saved and improved a piece of nature – even if it is only in your own backyard," he said.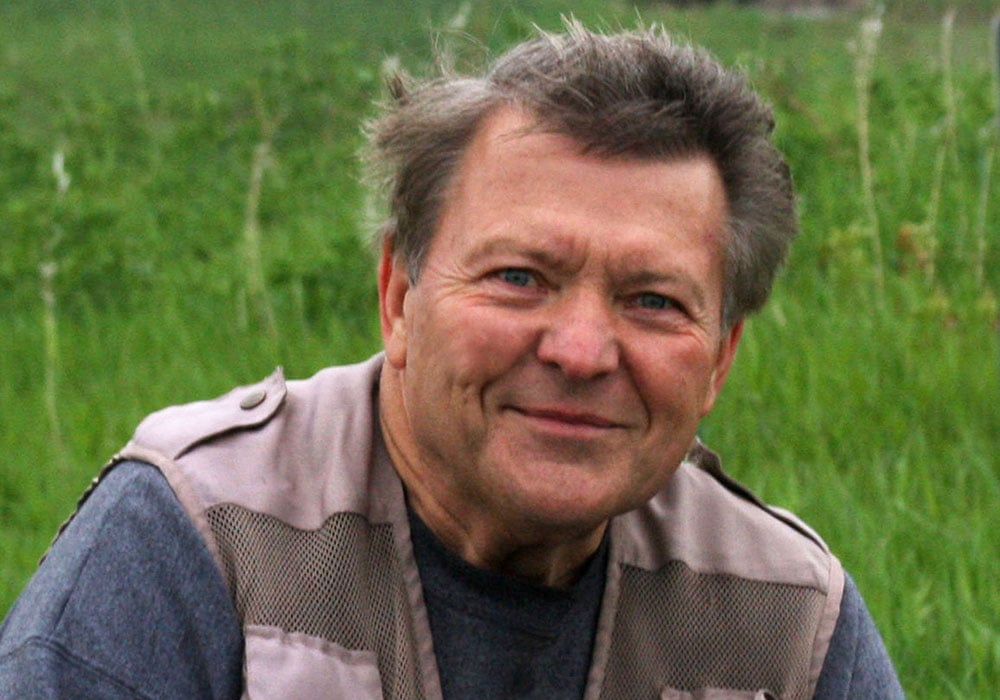 If you have a fun or unique way of catching nature in our preserves and would like to be featured in a "Catching Nature" blog, please contact Deb Humiston at dhumiston@dupageforest.org.