Guided Group Tour
Take a one-hour tour of the equestrian center's Kentucky-style barn to discover horse behaviors, types of feed, and uses of saddles and tack. Then, enjoy a horse grooming demonstration. (Horseback riding is not included.) For availability and reservations, call 630-668-6012. Complete and return the guided group tour application (PDF) upon completing your reservation.
Wagon Rides
Take a seat, relax and enjoy a leisurely 30-minute wagon ride around Danada Equestrian Center and the surrounding forest preserve, weather permitting. Public rides are available Saturdays and Sundays in the fall. Schedule a private group ride by calling 630-668-6012.
Danada House and Model Farm
The 19-room Danada House was once the home of Dan and Ada Rice. Today, the house and its bright, airy annex are available for receptions, meetings, showers, parties and other catered functions for up to 250. It's managed by the nonprofit Friends of Danada. For rental information, visit danadahouse.com (link) or call 630-668-5392.

The adjoining gardens showcase native and ornamental plants. A permeable brick paver parking lot limits runoff by allowing water to slowly seep into the ground. Rainwater feeds a courtyard water feature, and decks, arbors, pergolas, trellises, benches and fences feature low-maintenance materials. West of the house, a synthetic turf lawn absorbs up to 6 inches of rain an hour while remaining attractive even after heavy foot traffic.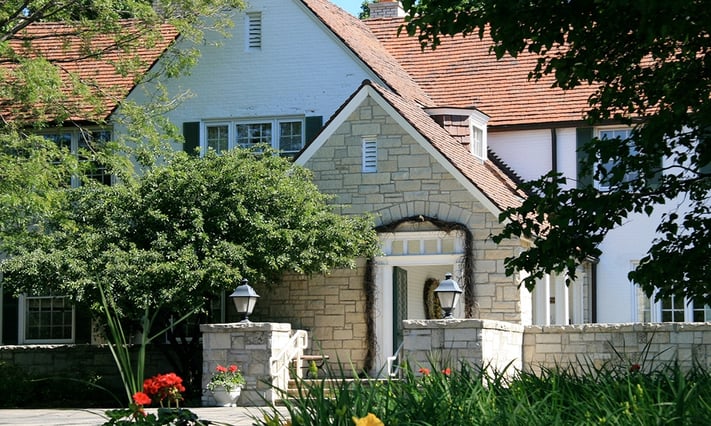 Rice Legacy
The equestrian center and most of the surrounding Danada Forest Preserve were part of the Dan and Ada L. Rice estate. The Rices purchased the land in 1928, when it was a working farm with apple orchards, wheat and corn fields, and grazing lots for livestock. In 1943 Dan bought eight Thoroughbreds for his wife's interest in horse racing, and the Ada L. Rice Stable was born, a legacy that would last 32 years.

The farm produced many champions and served as a training facility. The Rices patterned their 26-stall barn after the white dormered-window stables in Lexington, Kentucky. The "Kentucky-style" design, which features center stalls surrounded by an inside aisle, allowed trainers to exercise their Thoroughbreds even in bad weather. The 0.5-mile regulation racetrack west of the barn conditioned yearlings that arrived from a sister farm in Kentucky.

In 1965 the Rices' Lucky Debonair, a bay colt, crossed the wire first in a neck-to-neck finish for a $112,000 Kentucky Derby purse. One year later, their Thoroughbred Advocator placed second.