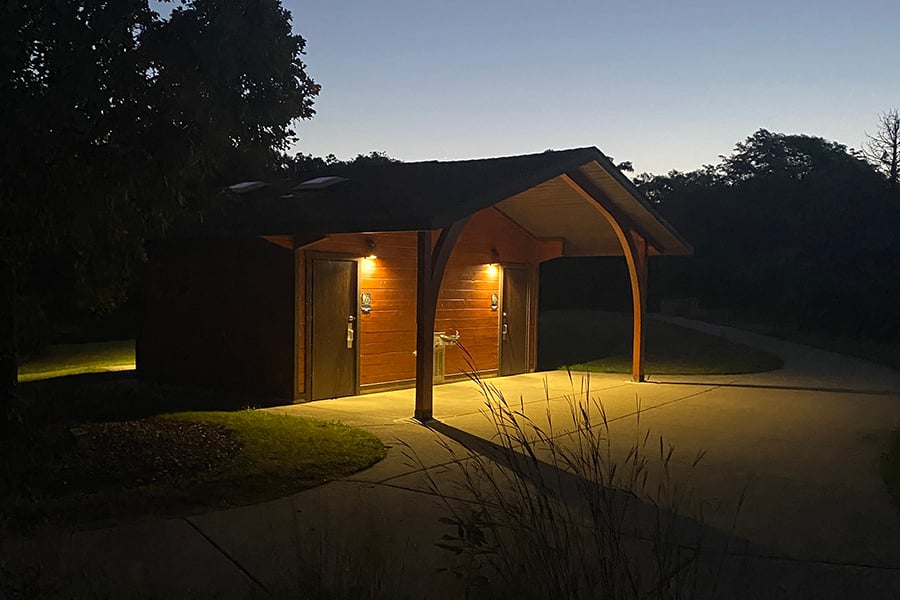 News Release
Forest Preserve District Intentionally Operates in the Dark
District takes pragmatic approach to safely reducing light pollution
At a recent board meeting, the Forest Preserve District of DuPage County reaffirmed its commitment to the dark sky movement and to complying with the best-practice guidelines developed by DarkSky International, the world's leading authority on light pollution.
The Forest Preserve District realizes the harmful effects of light pollution — unwanted or excessive artificial light — and takes its mandate to protect nature seriously. Scientific research shows that artificial night lighting has negative effects on a variety of species, including amphibians, birds, mammals, insects, and plants.
Of the 26,000 acres of land managed by the Forest Preserve District, only 125.6 acres, or 0.4%, are currently impacted by lighting. For instance, at Pratt's Wayne Woods in Wayne and Springbrook Prairie in Naperville, spanning 3,441 and 1,824 acres respectively, only 1 acre at each is affected by Forest Preserve District-emitted lighting. But the Forest Preserve District is committed to leading by example and educating the public about the importance of preserving dark skies and wants to do better.
"We're regrouping to see where we can take things even further," said Jason Berger, facilities manager at the Forest Preserve District. "We're conducting a comprehensive exterior lighting audit to eliminate any unnecessary lighting altogether and to identify additional opportunities for improvements," he said.
The Forest Preserve District now puts outdoor lighting at the forefront of planning considerations for its capital projects and is working to retrofit or replace existing lighting systems as part of routine maintenance renewal handled by District electricians. When evaluating a site's lighting needs, the Forest Preserve District applies DarkSky International's five principles for responsible outdoor lighting — that it's useful, targeted, low-level, controlled, and warm-colored. Basically, lighting should be no brighter than necessary, energy-efficient, and only operated when necessary.
"Artificial outdoor light can disrupt the natural environment for many species. This includes nocturnal animals that use darkness as cover while hunting, amphibians who call at night as part of their breeding rituals, and migrating birds that navigate by moonlight and starlight," said Erik Neidy, director of Natural Resources. "Not to mention that many insects are drawn to artificial light, which can give an unfair advantage to hungry predators and cause challenges for insects like lightning bugs that use light to attract mates," he added.
The Forest Preserve District has prioritized lighting upgrades for its current budget year, and enhancements are planned or already underway at Fullersburg Woods in Oak Brook, Greene Valley in Naperville, Herrick Lake in Wheaton, Hidden Lake in Downers Grove, Churchill Woods in Glen Ellyn, Danada in Wheaton, and at the family campground at Blackwell in Warrenville. Fixtures will be DarkSky compliant and selected for energy efficiency.
Of course, the safety of forest preserve visitors and staff is paramount, which is why Facilities Management works closely with Law Enforcement to take a thoughtful approach to the placement of fixtures, motion sensors, timers, manual switches, and other technologies.
In appreciation of dark skies, the Forest Preserve District will cohost "Astronomy Night" on Oct. 7 at Greene Valley with the Naperville Astronomical Association. This event promises a captivating experience of stargazing and planet viewing with telescopes provided. Admission is $10 per car, and registration can be completed online or by calling 630-933-7248. (This program is subject to cancellation based on seeing conditions.)
The Forest Preserve District of DuPage County has been connecting people to nature for more than 100 years. More than 5.5 million people visit its 60 forest preserves, 166 miles of trails, seven education centers, and scores of programs each year. For information, call 630-933-7200 or visit dupageforest.org, where you can also link to the District's e-newsletter and Facebook; X, formerly known as Twitter; Instagram; YouTube; and TikTok pages.
# # #