News Release
Forest Preserve District Hosts Solarbration
Guests gather to celebrate the installation of the District's most ambitious solar project to date
Yesterday, Forest Preserve District officials and invited guests, including U.S. Rep. Sean Casten from Illinois' 6th Congressional District and green-energy endowment fund donors, gathered at the Fleet Management building at
Blackwell

Forest Preserve
in West Chicago to commemorate the installation of a 260.2 kW solar array project designed to offset approximately 110% of the building's electrical energy consumption.
The project marks another achievement toward the Forest Preserve District's renewable energy goals identified in its 2019 master plan to reduce the District's reliance on fossil fuels, energy costs, and carbon footprint.

As part of that commitment, the Forest Preserve District contracted with Patrick Engineering Inc. in 2020 to study the feasibility of installing solar power at two existing buildings at Blackwell. The study determined the Fleet Management building, constructed in 2018, with its east-to-west orientation, few obstructions, and 23,000 square feet of available roof offered an excellent opportunity for the installation of a solar array.

According to projections, the new 531-panel system installed by 93Energy is expected to annually produce 324,000 kWH and save taxpayers an estimated $24,000 while reducing greenhouse gas emissions equivalent to 230 metric tons of carbon dioxide each year. It will also allow the District to sell back excess energy from the prior year with ComEd's net metering program.

Forest Preserve District President Daniel Hebreard spoke about the project and other recent solar accomplishments as well as the District's ambitious goal of leading the way in developing mission-aligned facilities. "It has been gratifying to be part of the achievement of some of these key green initiatives in my time as president," he said.
The cost to design, construct, and commission the project is approximately $570,000. More than 60% of the expenses will be offset through private donations and financial incentives for solar projects, including Solar Renewable Energy Credits and ComEd's Distributed Generation Rebate.

"In my view, this is not simply a celebration of what has been accomplished here, it is also a commemoration of the Forest Preserve District of DuPage County. In the past four years, the Forest Preserve — during some of the darkest days in memory — has fought hard and well against global warming," said environmentalist and green energy endowment fund donor Jeff Jens of Glen Ellyn.

Rep. Casten, one of the most vocal advocates for climate action in the U.S. House of Representatives, spoke about the nation's anticipated green energy advancements funded by the Inflation Reduction Act and applauded the District's contributions toward an environmental movement in DuPage County.
"Once you build this stuff, all of the sudden everybody gets jealous," he said. "Everybody comes out and says, 'I'd love to run a forest preserve where I'm not exposed to volatile energy prices. I'd love to not have to worry about my electric bill anymore because I don't have one. I'd love to be a person who can stand up and look my kids in the eye and say I have left a better planet for you than I inherited from my parents.'"
Additional details about the project and its preceding solar study are available on the District's website at
dupageforest.org/what-we-do/projects/blackwell-solar-studies
.
The Forest Preserve District of DuPage County has been connecting people to nature for more than 100 years. More than 6.2 million people visit its 60 forest preserves, 166 miles of trails, six education centers, and scores of programs each year. For information, call 630-933-7200 or visit
dupageforest.org
, where you can also link to the District's e-newsletter,
Facebook
,
Twitter
,
Instagram
and
TikTok
pages.

###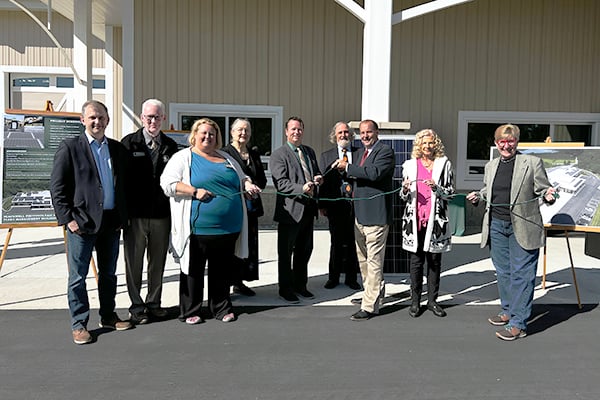 Left to right, U.S. Rep. Sean Casten, Forest Preserve Commissioner Jeff Gahris (District 4), Forest Preserve Commissioner Tina Tyson-Dunne (District 2), green-energy endowment fund donor Ann Boisclair, Forest Preserve District President Daniel Hebreard, green-energy endowment fund donor Jeff Jens, Forest Preserve Commissioner Al Murphy (District 6), Forest Preserve Commissioner Marsha Murphy (District 1), and Forest Preserve Commissioner Barbara O'Meara (District 5) ceremoniously cut an electric cord to celebrate the Fleet Management building's new solar power system.