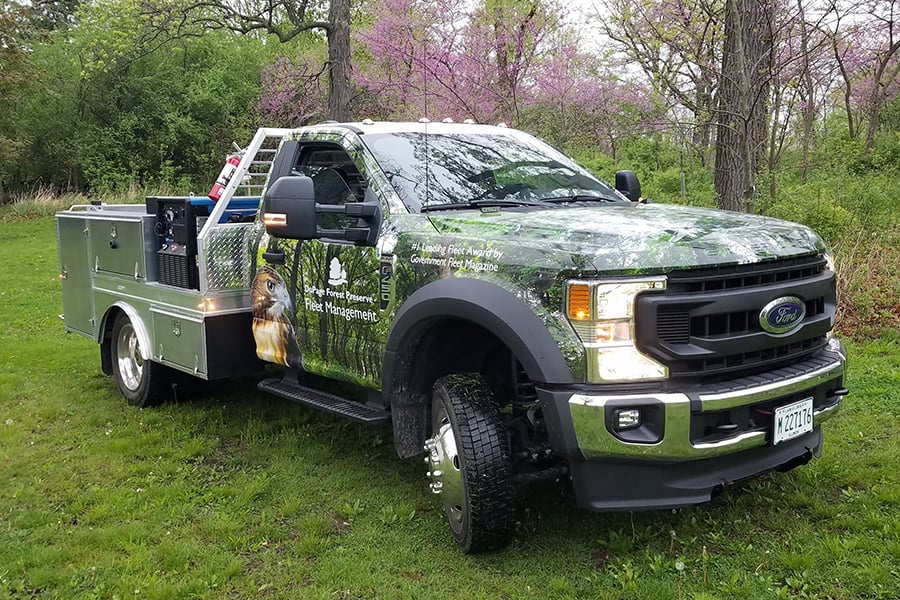 News Release
Forest Preserve District's Fleet Ranks Among the Top in the Nation
District's alternative-fuel fleet honored with prestigious awards
The Forest Preserve District of DuPage County's fleet continues to earn accolades when compared to other fleets across the country.
It was recently recognized as the No. 1 small fleet and No. 2 overall fleet in the blind-judged Leading Fleets Award competition hosted by Government Fleet magazine to highlight the nation's top-performing fleets regardless of location or budget.
The Forest Preserve District's fleet also ranked No. 23 in the 100 Best Public Fleets in the Americas competition hosted by the NAFA Fleet Management Association, which recognizes peak-performing public and commercial fleet operations and encourages improvement and innovation within the fleet industry. This marks the 10th year in a row that the Forest Preserve District's fleet made the list.
Currently 95% of the District's fleet of more than 170 vehicles is powered by alternative fuels — liquefied petroleum gas, compressed natural gas, ethanol, biodiesel, hybrid electric, and electric — and the District is committed to achieving a full alternative-fuel fleet.
In-house Forest Preserve District crews maintain standard passenger vehicles as well as specialized equipment such as mowers and tractors. The use of alternative fuels has lowered fuel expenditures, reduced tailpipe emissions, and lengthened vehicle lifespans.
The District also helps area municipalities reduce their greenhouse emissions by allowing them to use its alternative fuel station at Blackwell Forest Preserve in West Chicago, which is the first in Illinois with four different alternative fuels.
"These awards serve as a powerful reminder that when passion meets purpose, remarkable achievements are within reach," said Forest Preserve District President Daniel Hebreard. "We hope to inspire others to adopt eco-conscious practices as we pave the path toward a cleaner, greener world," he continued.
The Forest Preserve District's assistant director of Public Safety & Services Michael Webster explained that the fleet is distinct in not only its variety of vehicles but also its focus on alternative fuels. "There's no doubt that our continued emphasis on alternative fuels contributed to these awards," Webster said. "We firmly believe that the future of transportation lies in embracing cleaner, greener alternatives, and we've been humbled by the opportunity to lead the way," he said.
The Forest Preserve District of DuPage County has been connecting people to nature for more than 100 years. More than 5.5 million people visit its 60 forest preserves, 166 miles of trails, seven education centers, and scores of programs each year. For information, call 630-933-7200 or visit dupageforest.org, where you can also link to the District's e-newsletter and Facebook, Twitter, Instagram, YouTube, and TikTok pages.
# # #