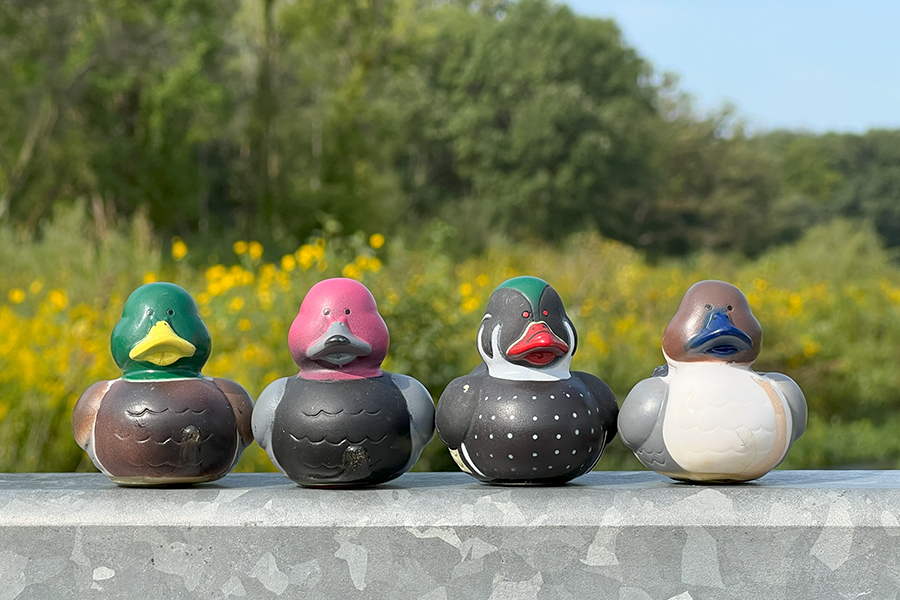 News Release
Rubber Duck Race To Benefit Nature in DuPage County
Ducks will race to raise money to support the restoration of habitat and the preservation of wildlife in DuPage forest preserves.
The Friends of the Forest Preserve District of DuPage County invites thrill seekers to purchase a chance to win $500 by sponsoring a rubber duck in a race down a restored stretch of Spring Brook at St. James Farm Forest Preserve in Warrenville on Sept. 7.
The first-place winner will receive a $500 cash award sponsored by the Wheaton Lions Club. Second place will win two tickets (valued at $200) to the Friends' "A Night for Nature" event on Sept. 14, also at St. James Farm. Third place will take home an exclusive Forest Preserve District swag package (valued at $50) to proudly showcase their support for the preservation of DuPage County's wildlife and wild areas.
"Our forest preserves provide important habitat for wildlife and help make DuPage County a healthy and beautiful place to live. We are proud to partner with the District to raise funds to help care for these precious places. And we have fun along the way," says Friends' board member Karyn Charvat. "We are looking forward to watching the ducks race to the finish along the restored Spring Brook."
Supporters ages 18 and up can sponsor ducks online at dupageforest.org/friends starting June 12. Ducks are $25 each or five for $100, and only 250 are available. You do not need to be present at the race to win. Online sales will end Sept. 4 at 7:30 p.m.
The quacky competition will start at 10 a.m. from the preserve's eastern bridge along the service road due north of the indoor riding arena. Depending on the weather, it should take the ducks about an hour to make their way down the 0.5-mile stretch of restored river. Spectators are welcome and should park in the preserve's main lot off Winfield Road. They can follow the ducks' path to the finish line at the western bridge by creek bank or trail.
Photos and race results will be posted to the Friends of the Forest Preserve District's Facebook page at facebook.com/dupageforestfriends by 5 p.m. on Friday, Sept.8.
"Funds provided by Friends of the Forest Preserve District help keep invasive plants at bay and nurture native plants. Forest preserve restoration and management sustains habitat to preserve our local biodiversity, sequesters carbon, and holds stormwater," says Erik Niedy, director of natural resources for the Forest Preserve District.
The rubber duck race promises to be an exhilarating event that not only captivates spectators but also supports the restoration of crucial wildlife habitats and the preservation of the region's natural beauty. By participating in this signature race, sponsors contribute to the noble mission of the Friends of the Forest Preserve District 501(c)(3), ensuring that future generations can continue to cherish and enjoy the remarkable nature that DuPage County has to offer.
The Forest Preserve District of DuPage County has been connecting people to nature for more than 100 years. More than 5.5 million people visit its 60 forest preserves, 166 miles of trails, seven education centers, and scores of programs each year. For information, call 630-933-7200 or visit dupageforest.org, where you can also link to the District's e-newsletter and Facebook, Twitter, Instagram, YouTube, and TikTok pages.
# # #