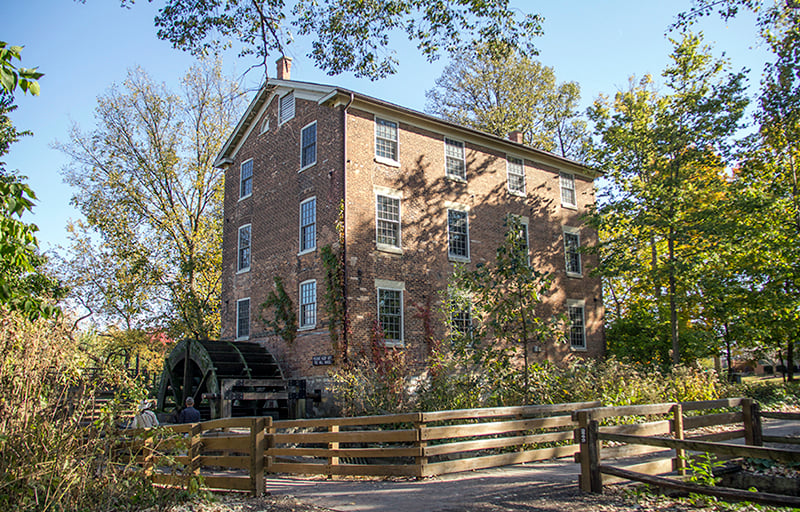 News Release
Graue Mill and Museum Opens for the Season April 15

Popular historical destination to open for programs on milling, spinning, and weaving by expert Forest Preserve District historical interpreters
The Forest Preserve District of DuPage County's Graue Mill and Museum at 3800 York Road in Oak Brook within the Fullersburg Woods Forest Preserve will open for the 2023 season on Saturday, April 15.
The popular destination for school field trips and family adventures will be open from 10 a.m. to 4 p.m. on Thursdays and Fridays and from noon to 4 p.m. on Saturdays and Sundays through Sunday, Nov. 19. It will be closed Mondays through Wednesdays.
Programs on milling, spinning, and weaving will highlight the effect mills had on the area's culture.
Each Saturday and Sunday at 2 p.m., historical interpreters will offer demonstrations on topics related to 1850s and '60s life, including spinning, weaving, wool dying, mill mechanics, and corn grinding.
"We're thrilled to be able to open the doors for the season and continue to offer the level of high-quality historical interpretation that generations have come to expect at the mill and museum," said Anamari Dorgan, director of Community Engagement for the Forest Preserve District.
After their visit, visitors can enjoy a 0.6 mile walk along Salt Creek to the Fullersburg Woods Nature Education Center, which is open Monday through Saturday from 10 a.m. to 5 p.m. The surrounding preserve is open daily from one hour after sunrise until one hour after sunset.
Admission to the Graue Mill and Museum and the Fullersburg Woods Nature Education Center is free. Call 630-850-8112 for more information.
Graue Mill and Museum is the only operating waterwheel gristmill in the Chicago area and is listed on the National Register of Historic Places. It is also the only gristmill recognized as an Illinois Historic Mechanical Engineering Landmark by the American Society of Mechanical Engineers for representing an important technology and era in the history of America.
The Forest Preserve District of DuPage County has been connecting people to nature for more than 100 years. More than 6.2 million people visit its 60 forest preserves, 166 miles of trails, seven education centers, and scores of programs each year. For information, call 630-933-7200 or visit dupageforest.org, where you can also link to the District's e-newsletter and Facebook, Twitter, Instagram, YouTube, and TikTok pages.
# # #