With winter slowly fading and signs of spring arriving daily, gardeners are getting the itch.
Many may be looking to add shrubs to their yards this year. While some consider native plants wild and unruly, there are many benefits to planting native shrubs for both humans and wildlife. Below are a list of some of my favorite native shrubs for different conditions, their benefits and some tips on shrub planting.

Full Sun to Part Sun
New Jersey tea (Ceanothus americanus) is a small, deciduous shrub that is well-behaved in a garden. It does well in well-drained soils and develops a deep root system in a few years so it's able to withstand drought. It also provides nectar for hummingbirds and butterflies with its beautiful, showy white flowers.
American hazelnut (Corylus americana), also known as American Filbert, is a medium to tall deciduous shrub that is one of my favorites. It is a spreader and can form thickets, so consider this shrub if you are looking to fill in a large area. American hazelnut has showy flowers in early spring and almost wavy branches that give it visual interest, even when there are no leaves on the plant.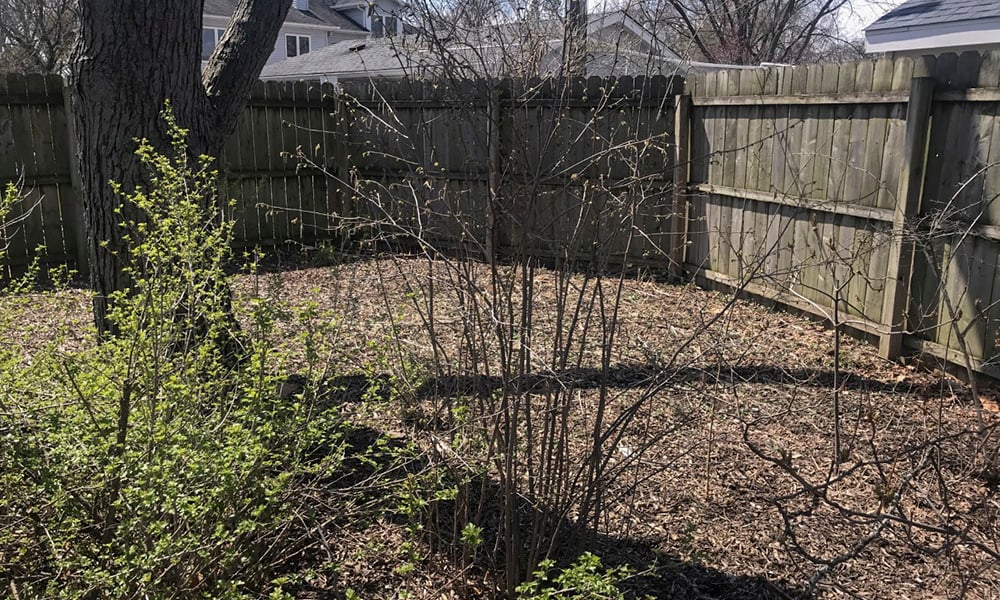 An American hazelnut shrub in a garden.
American hazelnut has a high wildlife value, meaning a lot of animals utilize its nectar, fruit or leaves. It is host to more than 112 butterfly and moth species and is used by several mammal and bird species.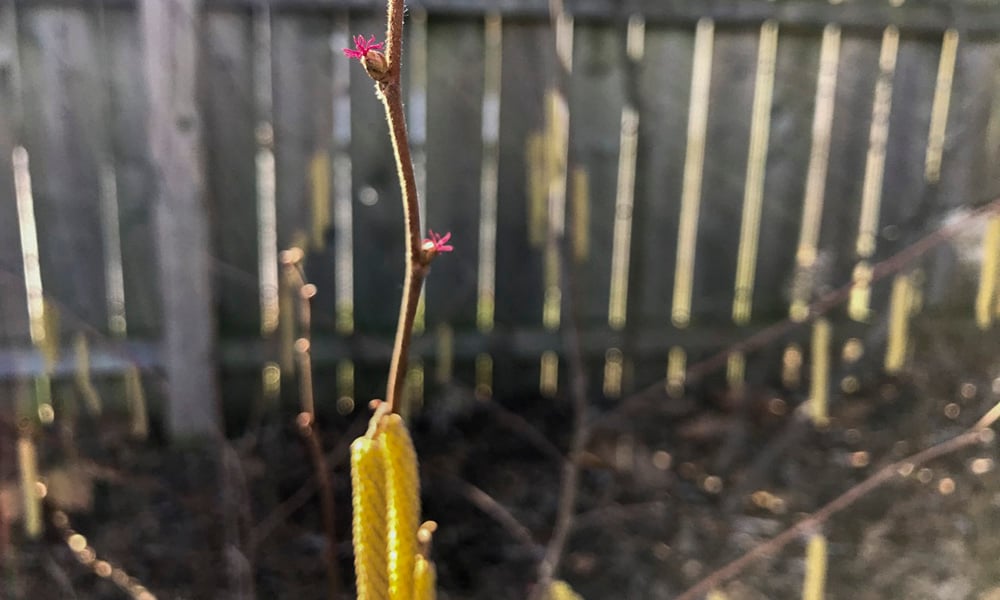 American hazelnut flowers starting to emerge.
Buttonbush (Cephalanthus occidentalis) not only has a cute name, it has interesting spherical flowers that leave round balls on the shrub throughout winter. Buttonbush is a tall deciduous shrub that grows fast and loves it wet, which makes it a perfect contender for rain gardens or an area that tends to hold water in the rainy season. This shrub is host to 24 butterflies and moths and is loved by many pollinators for its nectar. While buttonbush can get tall, it tolerates yearly pruning well if you like to keep it shorter.

Part Sun to Shade
Spicebush (Lindera benzoin) is a favorite of many native gardeners for its small, yellow flowers that emerge before the leaves do, it is a perfect substitute for the non-native shrub Forsythia. Spicebush is a tall deciduous shrub that does well in a shaded area. One quirk with spicebush is that both a female and male shrub is required to get the red berries birds love in the winter. If you don't have both a male and female spicebush, don't fret! The leaves are host to 10 species of butterflies and moths, most notably the spicebush swallowtail butterfly.

Wild hydrangea (Hydrangea arborescens) is a medium-sized shrub with showstopping, large white clusters of flowers. This plant is a great substitute for cultivated hydrangea species. Its flowers bloom most of the summer and are a good nectar source for many pollinators. Wild hydrangea likes to spread but can be controlled by removing its suckers. It is host to 10 butterfly and moth species.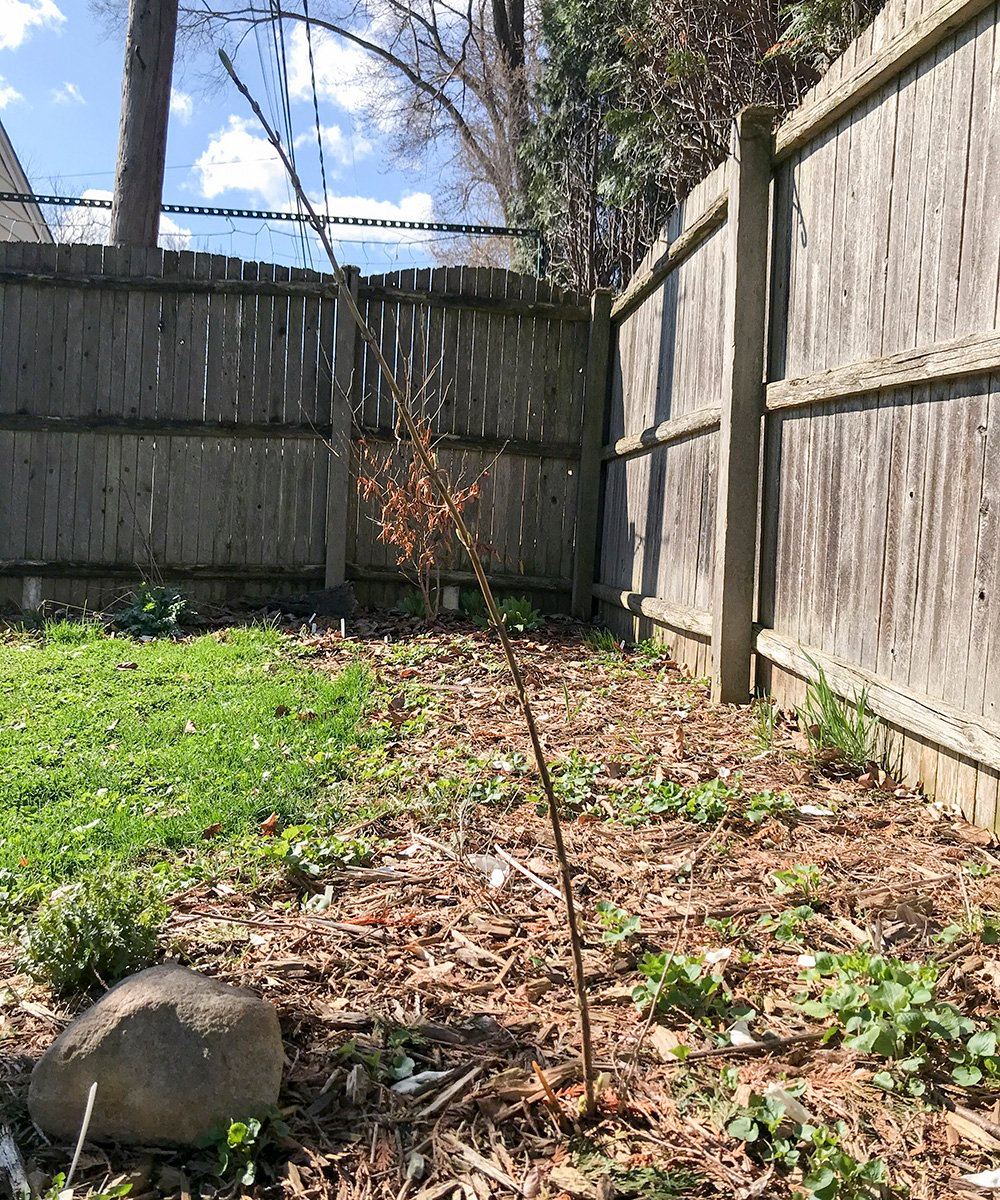 A young wild hydrangea makes a nice addition to any garden, but give it room to grow because it likes to spread.
Tips for Planting Shrubs
When preparing to plant a tree or shrub in your yard, pick a spot suitable for the shrub, or conversely, pick a shrub that is suitable for the spot you wish to plant in.
Be sure to allow space for the shrub to grow vertically and horizontally. If you need to prepare a new bed for planting, use cardboard to kill the grass in the area organically instead of using chemicals.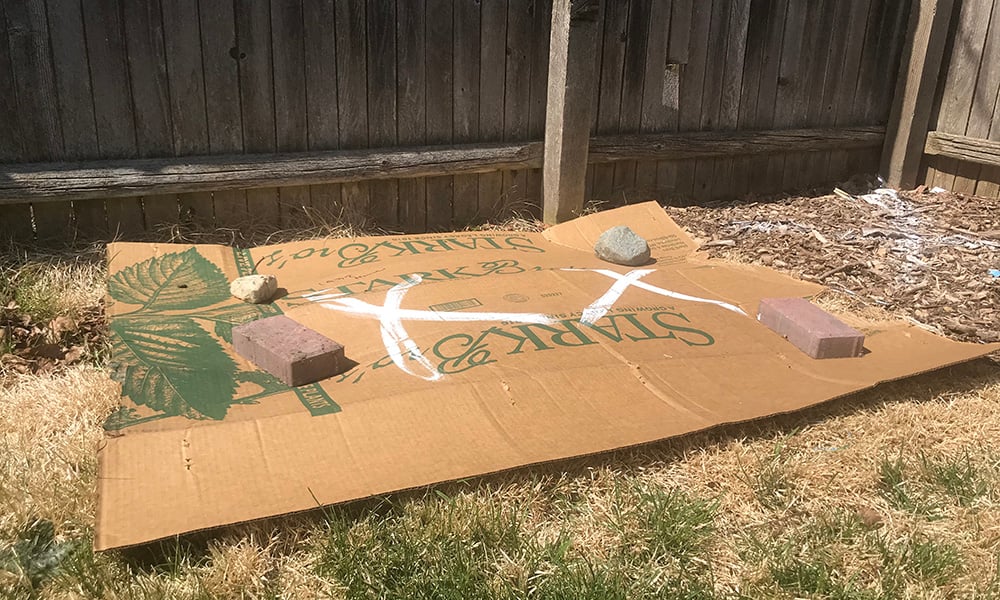 Prepare a spot in the garden for a native shrub by placing cardboard over the spot to kill the grass in the area.
Once your location is found, it's important to have the area surveyed for utilities. Shrubs and trees typically need to be planted fairly deep, and you want to make sure you don't hit any utilities when digging your hole. This may seem like a hassle, but it's a fairly easy process that can be done online and the survey is usually conducted within 48 hours.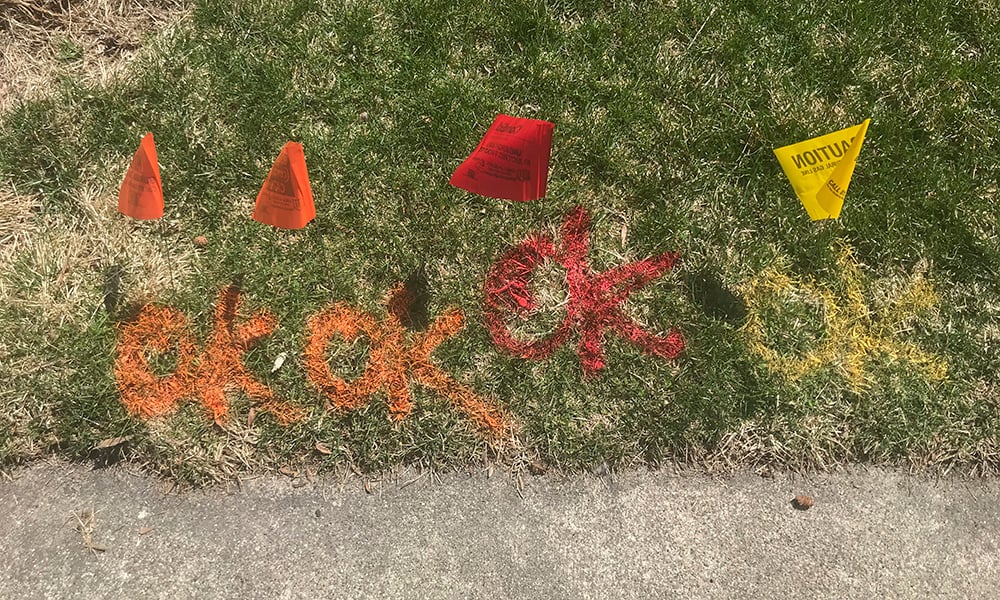 Before you dig, contact JULIE to mark utility lines so you won't hit any utilities when digging a hole for your shrub.
After your yard has been surveyed and you're given the all-clear, you can start digging your hole. It's important to dig a hole 2 – 3 times wider than the root mass of your shrub but not deeper than the pot it came in, or deeper than the roots are long if it is a bare root shrub. If your shrub's roots are covered in soil or compacted, it helps to knock some of the soil off and loosen up the roots before planting.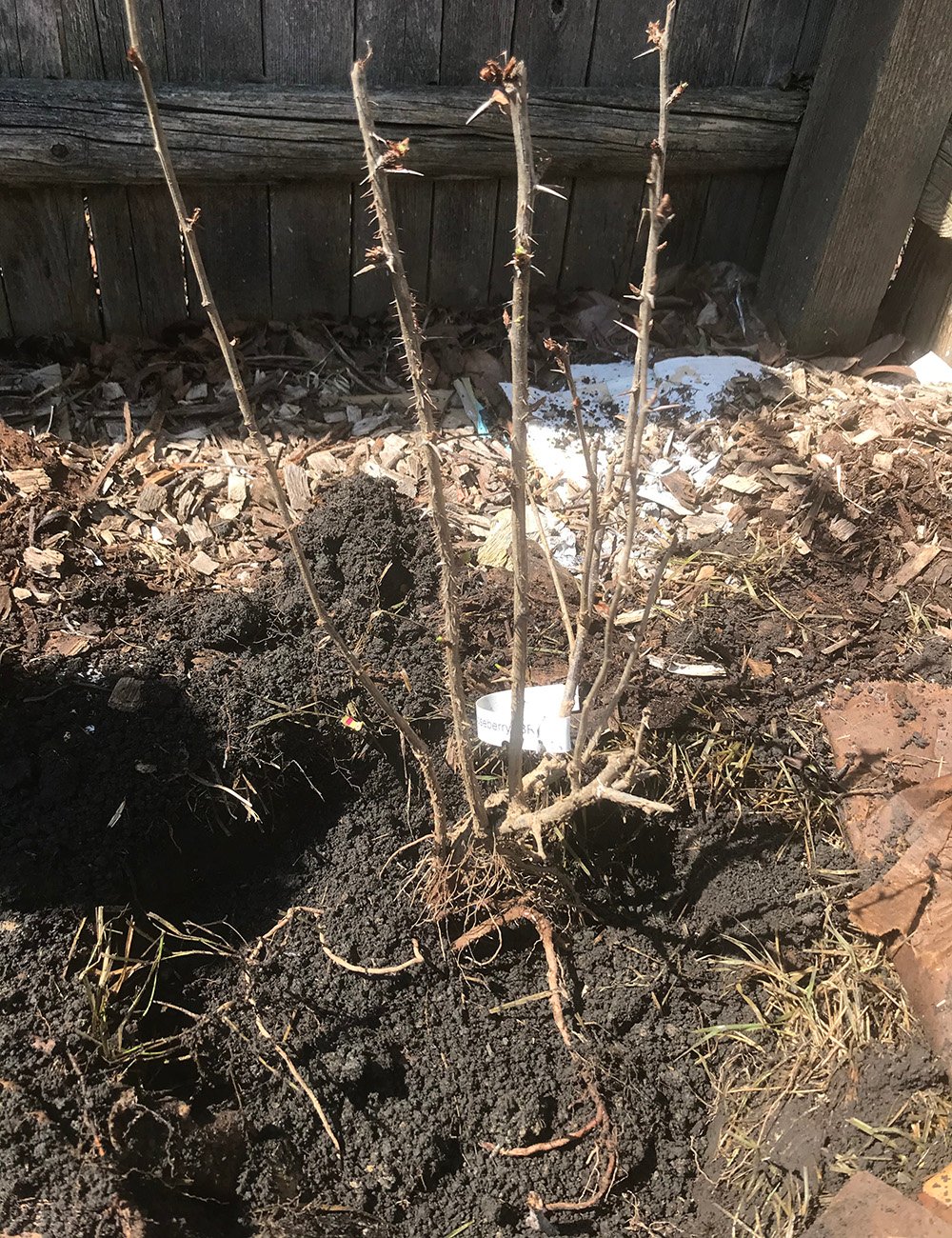 A new shrub is readied for planting by loosening the soil around the roots.
Next, throw some compost in the hole if you have some ready from your compost bin. Place your shrub in the hole and let it sit a little high. Newly dug soil tends to sink down after a while, and setting your shrub root ball slightly above the ground will allow it to settle and avoid root rot.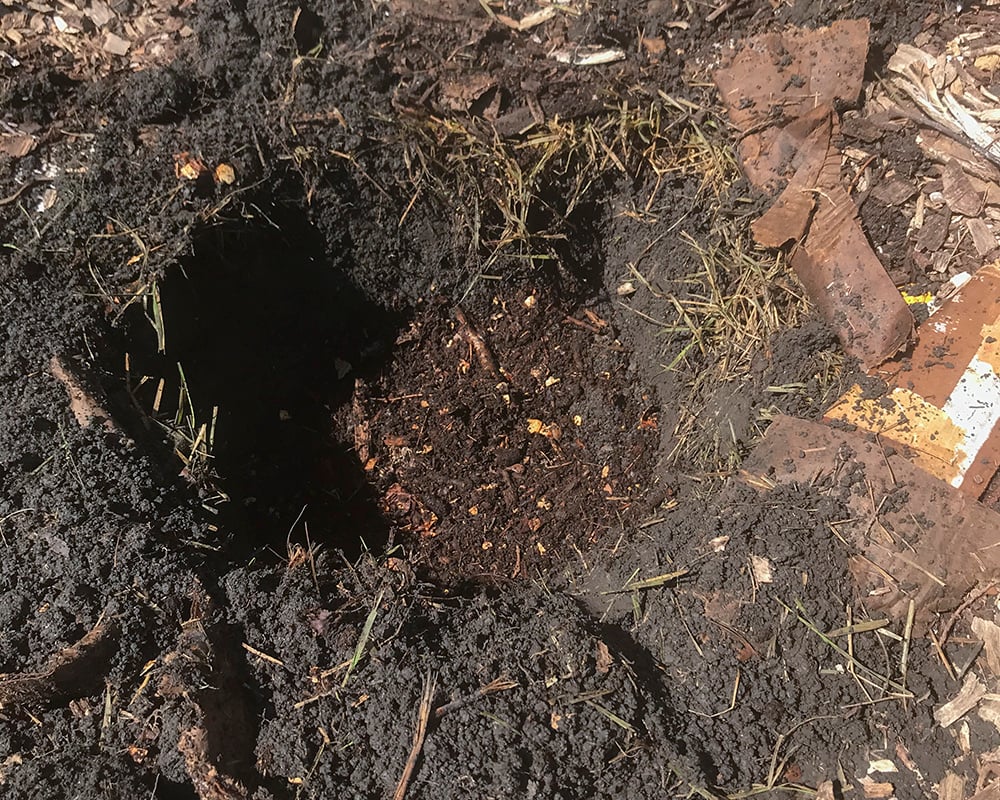 Add some decomposed compost in the hole first to improve the water holding capacity of the soil. Adding organic matter like compost to the soil helps improve plant growth and health.


Fill the hole back in halfway with soil and tamp it down the best you can with your hands without causing harm to the newly planted roots. Next, water the half filled hole and let the water absorb into the ground. Finish filling in your hole with soil, tamp it down with your hands or lightly stepping on the area with your feet and water once more.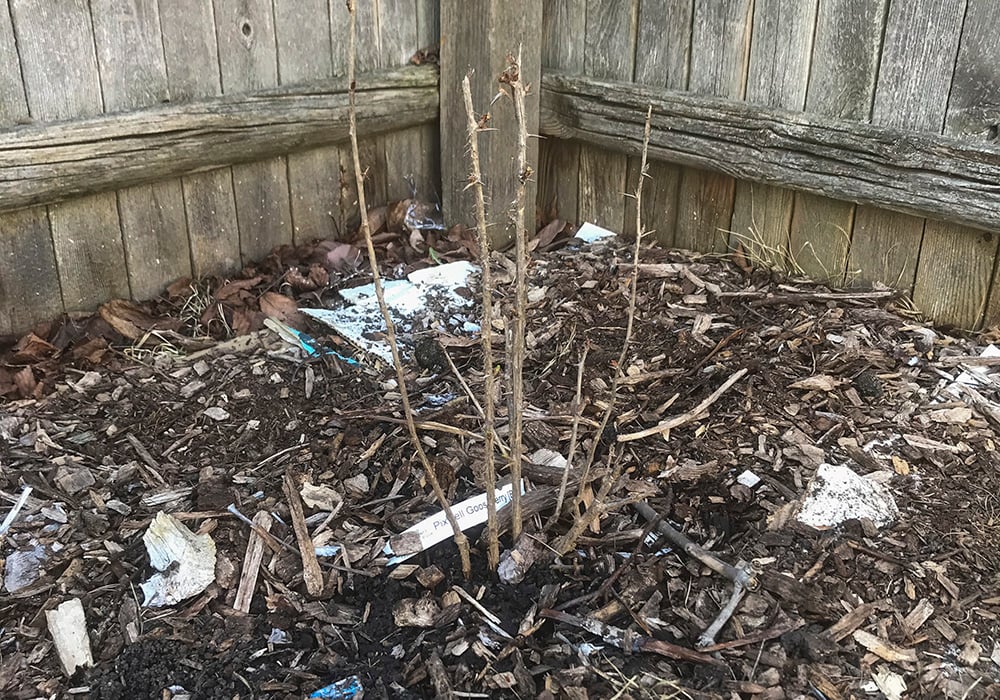 A new native shrub after planting.
Newly planted shrubs will need to be watered regularly until established and will benefit from a mulch layer of organic materials to help reserve moisture while getting established in your garden. Mulch materials can be leaves or grass clippings.