Do you like birds and wish you knew more about them? There are a few simple steps you can take to welcome birds in to your backyard and begin to identify them.
Birding is a multibillion dollar industry, but that doesn't mean you have to break the bank or leave your backyard to see birds. And it's an activity you can do solo or with a few friends.
Getting Started
The first thing I recommend for people who want to start birding is to put up a bird feeder in your yard. The type of feeder isn't important. While there are many different types of feeders that attract different types of birds, any type of feeder will do.
A feeder will attract birds to your yard and help you become familiar with their behaviors and how they move. This is an important part of birding that only comes with watching birds for a period of time. What easier way to do it than your backyard?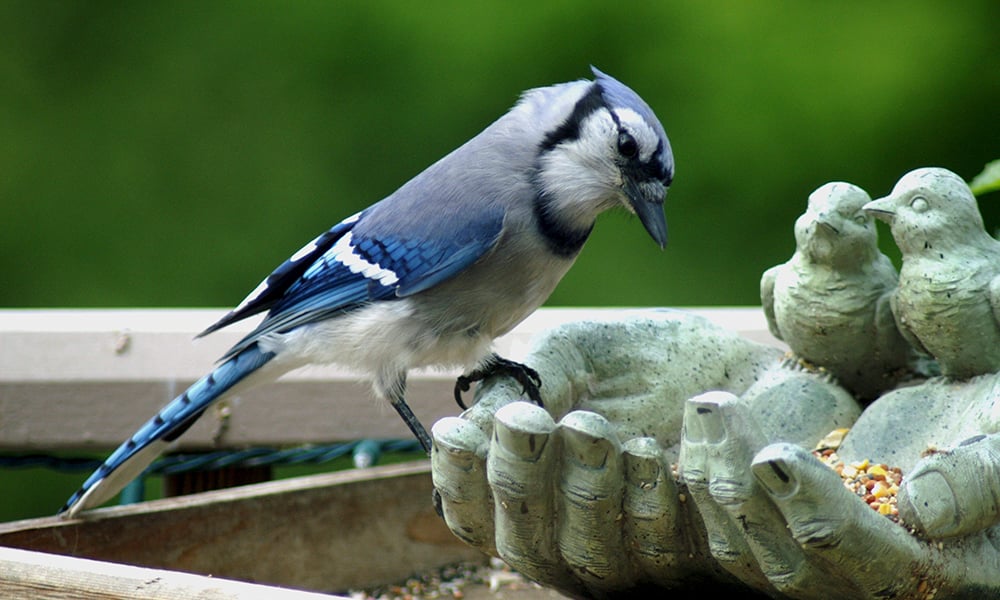 A blue jay stops to munch at a bird feeder.
Add a Little Water
It also helps to add a water feature or bird bath in your backyard to attract birds. Not all birds eat seeds from a feeder, but they all need to drink water. It might surprise you to see who shows up for a drink or a dip in your bird bath.
Birds love moving water, so any sort of solar or electric pump that moves water is an added bonus that will attract all sorts of birds to your yard and help you study them. Moving water isn't required but highly recommended. I set up a solar fountain every year in my backyard. This year, within 5 minutes of setting it up, an American robin came and took a bath in it.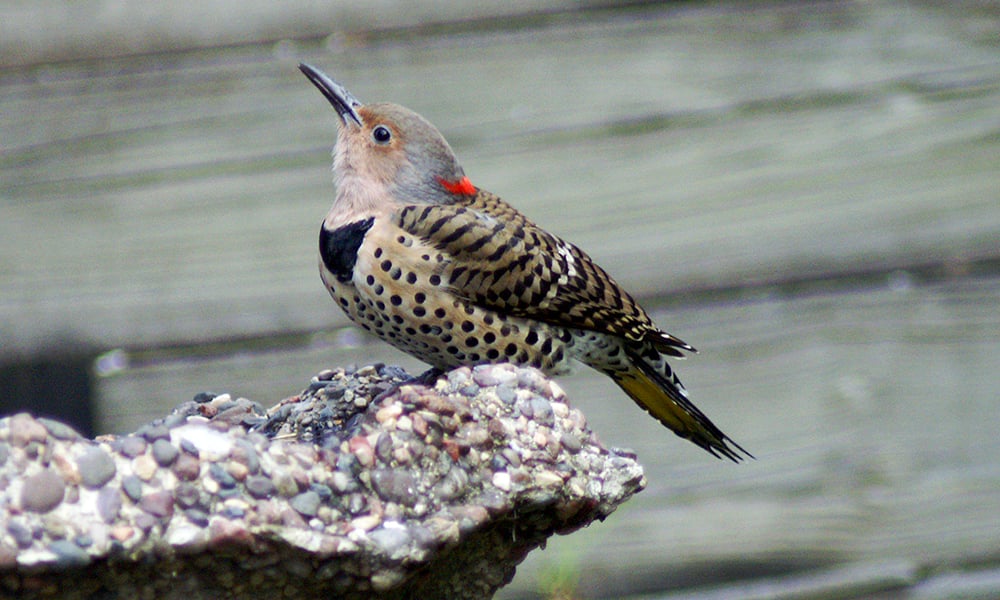 A northern flicker stops to take a drink at a bird bath.
Help Identifying Birds
Next, I recommend obtaining a field guide or a birding app on your phone. Field guides can be pricey and complicated, but you don't have to break the bank when it comes to your first field guide. Choose one you're comfortable using that is aimed at identifying birds in the United States or, more specifically, Illinois.
Personally, I prefer using my phone app for birding since it's something I always have with me, and it's one less thing to remember to carry. Phone field guide apps include recordings of birds songs, and when you're ready to start identifying birds by call or song, it's already at your fingertips. I also prefer guides that have pictures instead of drawings. This is a personal preference of mine and I recommend choosing a guide based on your preferences.
Field guides help you identify birds visiting your backyard or local forest preserve. Do you have to be able to identify every single bird you see? No! And I recommend not trying to identify every bird you come across. For me, this is the fun part. Mysteries in birding are what keep me going and keep it interesting.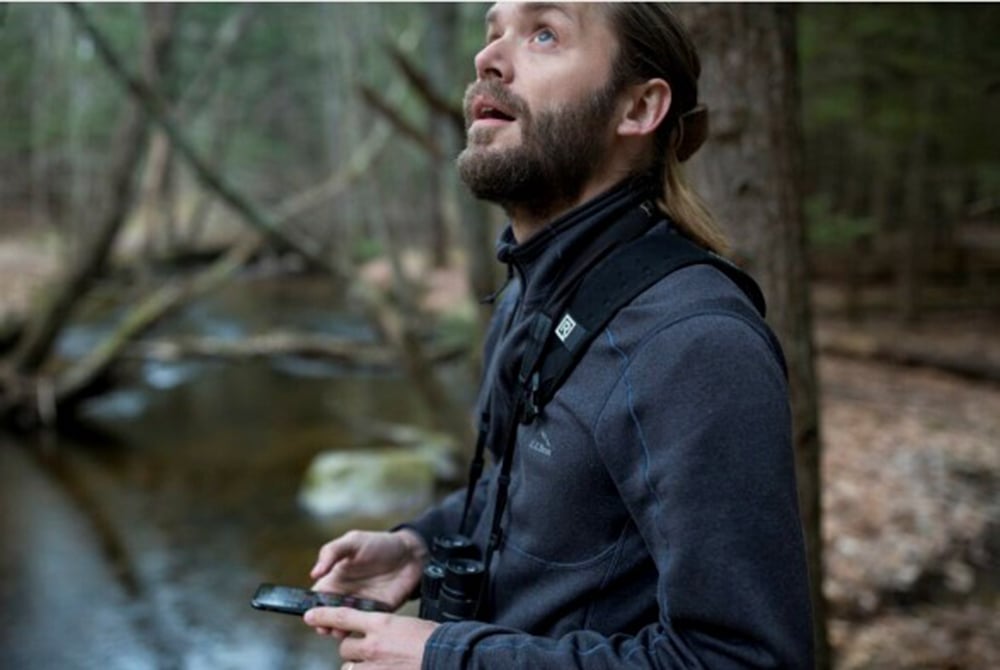 Scoping Scopes
Next, you'll need to get a pair of binoculars. Any brand of binoculars will do. Again, they can be pricey but I don't recommend the high-priced ones. You should be able to find a good pair of binoculars for $100 or less with 8x32 or 10x40 magnification. Practice on the birds in your backyard. Learn to track birds through your binocular lenses, which takes some practice.
Once you're comfortable finding birds using binoculars and a field guide in your yard, venture out to a DuPage forest preserve and try your hand at finding and identifying some new birds that don't visit your backyard. Some peak times to see a multitude of different birds is during the spring or fall migration. In Illinois, this is generally mid-April- to mid-May and mid-September to mid-October. Happy birding!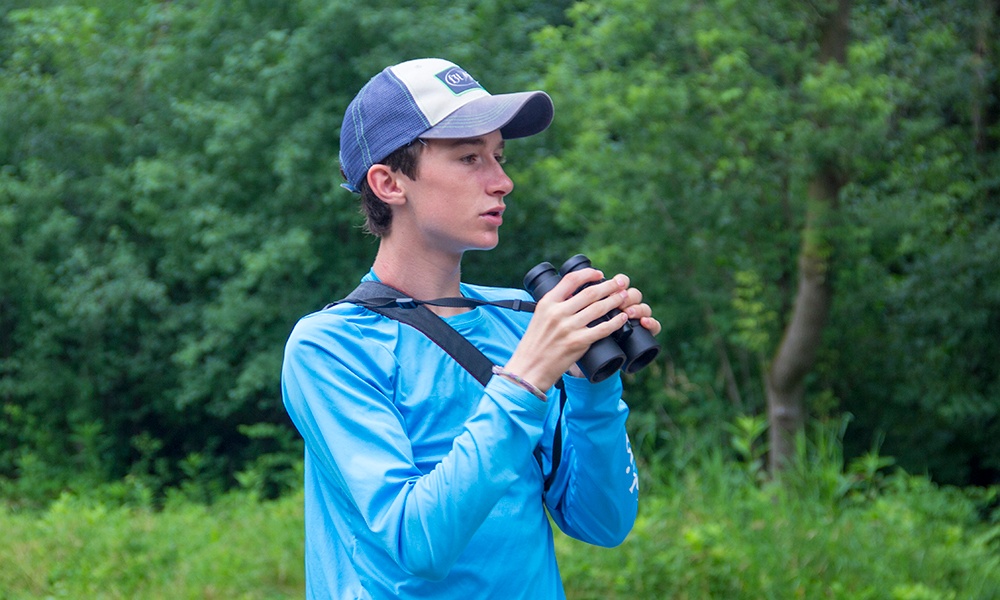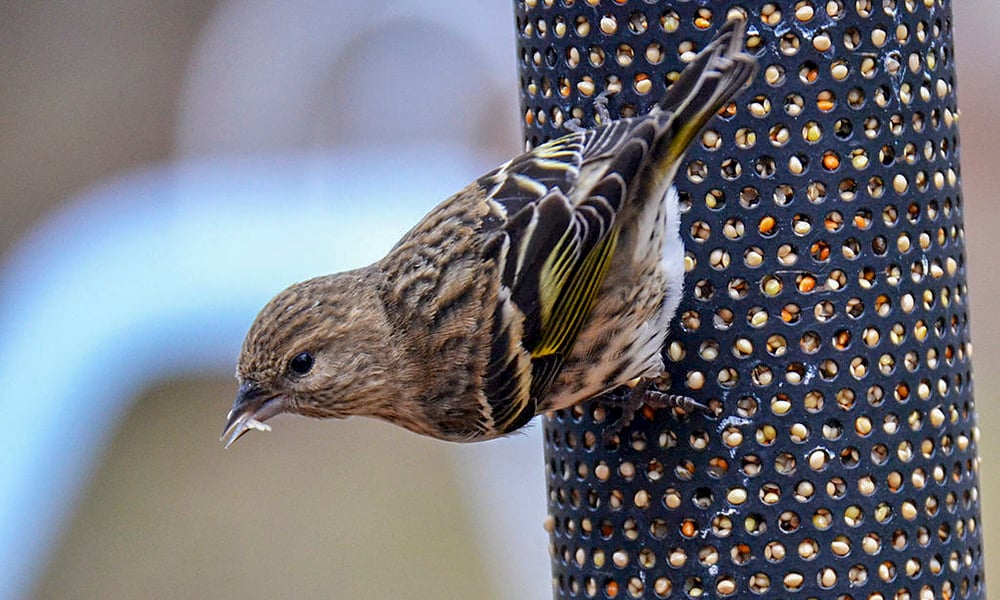 A pine siskin grabs some grub at a bird feeder.