Fall in DuPage County kicks off with the goldenrod bloom in September, and it's the first sign that 90-degree days are coming to an end, in a predestined nod to the tipping planet.
The wide open patches of yellow — everywhere it seems — blanket our natural areas in a three-to five-foot-tall carpet the color of our largest star, and remind us of the areas we think we've conquered but have, in fact, given back to other species (roadside goldenrod blooms are my favorite road trip scenery).

Usually the late September goldenrod bloom ends around the time our last bits of summer sun draw down, bringing about the the balmy days and true-blue October skies I've come to revel in. These days feel, still, so warm, but they tend to be days you can't kayak through (because our prairie streams don't get a ton of water in late summer) and also too cold to go to the big lake to swim. The best thing, sometimes, is to lay down on a hammock around an ancient oak tree in the afternoon or go on a sunset bike ride.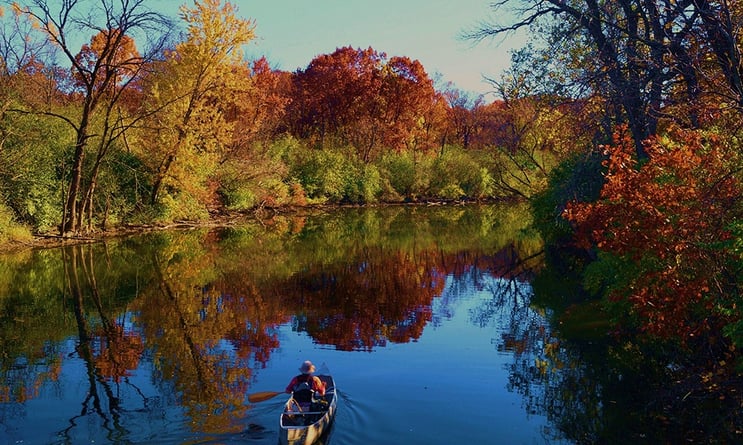 Over the next few weeks, the days become infinitesimally shorter and cooler, until one day you're sitting around a bonfire fueled by energy-packed oaks burning off all their pent-up energy. You're thankful for the fire because it's dark and suddenly — for the first time since April — cold. Which is odd, because the trees haven't yet put on their best foliage. You wonder if it isn't a little late for them to be starting their show?

Waking up the next morning, the entire world nestles itself in a gray blanket, with the emotional texture of your favorite fleece. You think about how nice it would be to have just a few more days where you didn't have to worry about the weather to do all those fun fall activities — apple picking, biking, birding and lazy afternoons spent picnicking.

Fortunately, most years, it seems, October splits right down the middle and gives us both the rains to replenish our streams and the bluebird days to flutter down them in a lazy paddle. And the weather and trees have the good sense and Midwestern organizational abilities to let the most fantastic of their colors peak in those first sunny days, just in time for us to seize the last warm weeks. At least the days are warm; the nights still call for fires and oven-baked meals (and our wonderful farmers, at this time, are busy harvesting root crops perfect for roasting).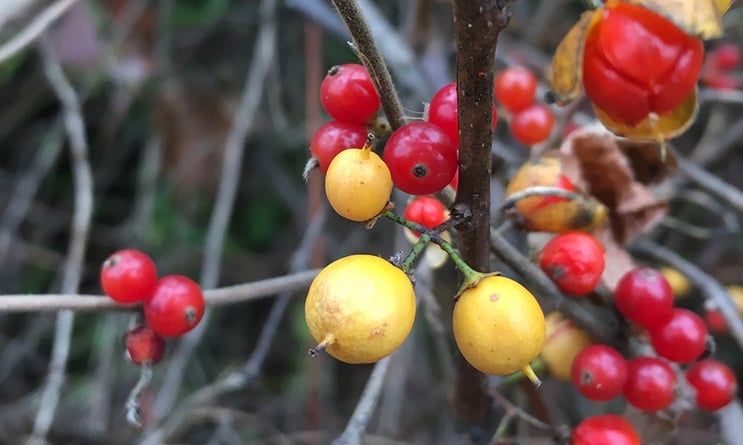 Of course, in the prairie state, colors can't be left to the trees. Unlike New England, we have few wide-ranging forests or huge hilly outcroppings, but it's nice to be different. On my recent walks through forest preserves, the yellowing walnut trees and reddening maples carry a plurality of the notes in the symphony, but key accompaniments come in the vibrancy of some of our evergreens and the fruit-bearers (wild roses and crabapples among the most prominent), but undertones of white goldenrod galls and blue juniper berries, too.

And how lucky are we, too, that our wildflower season doesn't conclude in the spring as do so many alpine or Mediterranean wildflower seasons. Instead, our show carries on in an ever-evolving cacophony of color and form, through the peak of late summer and even into early fall. How many places are able to count deep purple as a fall color, too, when the big blue stem rises and puts out seed that falls from well over our head?

This wonderful month of October will pass, I know. The leaves will mostly all fall and by Thanksgiving almost all of our trees will be bare, save for many oaks and the sporadic evergreens. The calls of migrating songbirds will slow and then stop, giving way to the siren call of the sandhill crane migration and then to the lonely owl. The creek behind my house will swell more later this month and then crest one final time, and slow to a trickle and eventually freeze, in some years deeper than others. Finally, our long season of colors will quiet, giving way to the first snowfall that gently hugs the earth, creating new contours of terrain. The kayak paddle of October will give way to the snowshoe of December.

Yes, this season does pass. The colors do fade. Yet, I do not suppose that Octobers in DuPage, our growing season's grand finale, can be rivaled by any season, anywhere.