Strolling through a forest preserve is great; walking with a best friend through a forest preserve is the best. I have a few best friends, but when I want to walk alone but not all the way alone, I love to bring my six-year-old dog, Jacob.
Walks with Jacob are a whole different sensory experience than walking by myself or with another person. I find my attention heightened by his incessant crying at hikers, dogs and especially cyclists zipping by, and by his apparent extrasensory awareness of the world around us. Because of my walks with him, I know where coyote dens are because he's scared of them and can smell them when the wind blows in the right direction.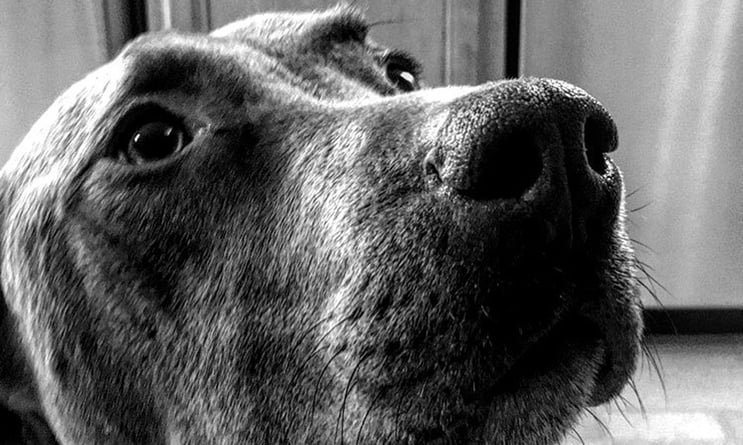 What to Know Before You Go
I have a few guidelines for walking with your dog in the DuPage County forest preserves and elsewhere, such as in a state park or your community.

These boil down to three broad categories: Be in control, be considerate and know the overwhelming benefits.

It's important to always be in control of your canine companion. My dog is a rescue, as are many dogs on the trails, and he scares easily and is skittish, like many adopted dogs. Bicycles and motorcycles absolutely petrify Jacob, and he lunges at them whenever he gets the chance. As a result, we've outfitted him with a choke collar and keep him on a short leash, especially when the weather is nice and there are lots of cyclists on the trails. As the trails get less crowded, I feel more comfortable giving him a little more leash. It's important to staying aware and in control of your dog at all times.


A Cautionary Tale
Last winter, I was walking Jacob through Waterfall Glen Forest Preserve in Darien when we walked by a guy with two much larger dogs, including a German Shepherd. On icy ground, the dogs began to bark loudly at one another. We kept approaching one another with an understanding glance, but as we passed his feet slid across the ice and he began to lose his footing. Jacob and I made it out and the guy regained his footing quickly, but it's a good reminder not to walk more dogs than you can handle. It's also important to keep trail conditions in mind when determining how many dogs you can control. Keep in mind that you're likely to encounter someone on horseback or a wild animal on your walk; if you're unsure how your dog will react, proceed with a good amount of caution.

Of course, caution with your furry friend also means consideration for everyone around you. You might be in the forest preserve just to run with your dog, but there are others who love to walk quietly through the preserves, admiring the natural beauty we have in abundance here. A number of people also have a fear of dogs. I love dogs and still have a healthy fear of them! Keeping everyone safe is the foremost concern, but please don't stop there. Bring a bag or two for your dog's number two! No one likes to step in the wrong place; help us all out by reducing the amount of wrong places.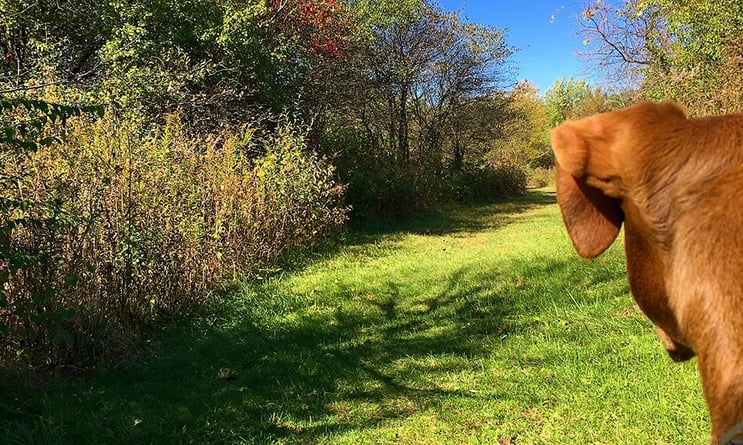 Protect Our Preserves
Some also come to the preserves for the wide variety of flora and fauna that the Forest Preserve District staff work so hard to establish, maintain and protect. Keep in mind that we have federally endangered species of flowers in some preserves, and stay on trail at all times so you and your dog don't trample vegetation. "Leave No Trace" is a good principle to recreate by — and not just in enormous national parks.

Don't forget to be considerate toward your dog, too. Take him for a walk when the weather is suitable; as our days grow shorter and colder, take him for longer walks closer to midday when the temperature is a little higher. Going for a long walk? Bring water and maybe some food, too — and don't be afraid to change plans if your dog seems too cold or too hot. Excessive panting or very pink ears and nose are signs that you've pushed your dog about as far as you should.

There are so many rewards to sharing the outdoors with your dog. You get quiet, enthusiastic companionship, for one. You both get some exercise and fresh air, and the owner gets another opportunity to socialize the dog. For those of us who love dogs and nature, what could possibly be better than combining the two?

Footnote
Dogs are welcome at most preserves as long as they're on leashes under 10 feet long. You can enjoy off-leash fun with your four-legged friends at six DuPage forest preserves: Blackwell, East Branch, Greene Valley, Hawk Hollow, Mayslake and Springbrook Prairie.