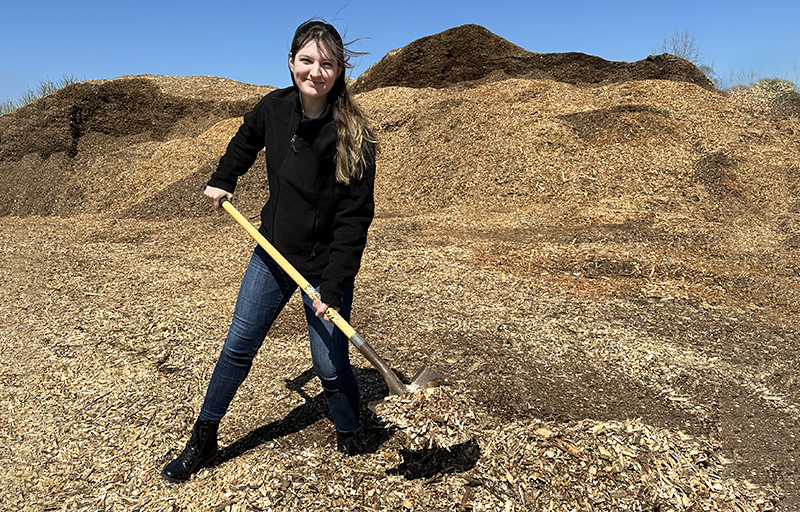 News Release
Free Wood Chips Available at Forest Preserve District's Native Plant Nursery May 20

Mulch provides many benefits to landscapes
The public is invited to pick up free wood chips while supplies last on Saturday, May 20, from 8 a.m. to 1 p.m. at the Forest Preserve District of DuPage County's native plant nursery on Mack Road 0.5 mile east of Route 59 at Blackwell Forest Preserve in Warrenville.
Individuals may fill one pickup truck or smaller vehicle; contractors are not allowed. A District employee will be on hand with a tractor to help fill trailers and truck beds. People who want smaller amounts should bring their own shovels and containers. Firewood is not for sale at the nursery.
The native plants at the nursery are used in DuPage forest preserves and are not for sale, but the Forest Preserve District will hold its popular annual Native Plant Sale at Mayslake Peabody Estate, located at 1717 W. 31st St. in Oak Brook, on May 19 and May 20. Details are at dupageforest.org/native-plant-sale. For more information on the free wood chip pickup day, call 630-876-5920 weekdays between 7 a.m. and 2:30 p.m.
Wood chips are a great natural way to add nutrients to your soil, regulate soil temperature and moisture, prevent erosion, suppress weeds, protect tree trunks from mowers and string trimmers, and add visual appeal to your landscape. Organic wood chips are a cleaner alternative to processed mulches and allow water to flow more easily through to tree roots than shredded mulches.
The Forest Preserve District makes its own wood chips from dead trees and tree and brush trimmings. It uses the wood chips for trails and landscaping throughout the forest preserves. When it has more than it needs, it offers the mulch to the public through free pickup days.
The Forest Preserve District of DuPage County has been connecting people to nature for more than 100 years. More than 5.5 million people visit its 60 forest preserves, 166 miles of trails, seven education centers, and scores of programs each year. For information, call 630-933-7200 or visit dupageforest.org, where you can also link to the District's e-newsletter and Facebook, Twitter, Instagram, YouTube, and TikTok pages.
# # #