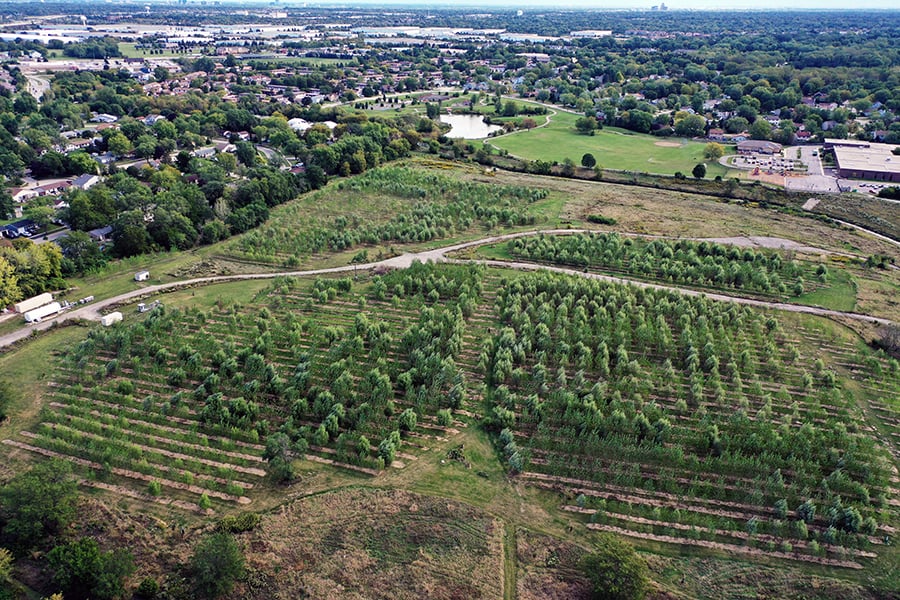 News Release
Scientists From Around the World To Tour Closed Landfill at Mallard Lake May 26
International society devoted to using plants to deal with environmental problems to visit site
On May 26, members of the International Phytotechnology Society, a professional scientific association dedicated to using plants to address environmental problems, will tour the closed landfill at the Forest Preserve District of DuPage County's Mallard Lake Forest Preserve in Hanover Park to learn about the innovative, cost-effective, and environmentally friendly way leachate is handled at the facility.
Leachate forms when rainwater passes through waste in a landfill. It's usually collected in tanks and trucked to a water-treatment facility, but for more than five years, an automated irrigation system at the Mallard Lake site has distributed the leachate to more than 8,500 poplar and willow trees on 14.7 acres. The trees soak up the leachate, using any compounds to fuel growth, and then release the clean water through their leaves via evapotranspiration. They not only reduce the facility's carbon footprint but also cut costs by 25% to 50%.
"Since the phyto-utilization system became operational in 2018, it has treated over 20 million gallons of leachate and subsequently reduced leachate disposal costs for the District by $700,000," said Brock Lovelace, manager of engineering & environmental services for the Forest Preserve District. "As the system cost $919,000 to install, we anticipate a return on investment within a couple of years while still having decades of operational life remaining on the system," he said.
The trees also enhance wildlife habitat and improve aesthetics for preserve neighbors and users of the North Central DuPage Regional Trail, which runs through the preserve.
"It is gratifying to me that the International Phytotechnology Society considers our site a model of science and engineering put into practice and worthy of attention because from the time the project was conceived, we wanted it to both functionally address our environmental protection needs and demonstrate that landfills need not be wastelands — they can be a valuable part of the landscape if we're willing to make the effort," said Dan Zinnen, director of Resource Management and Development at the Forest Preserve District. "The District's Environmental Services department, including manager Brock Lovelace and landfill system specialists Art Michalowicz, Joe Hitzeroth, and Pete Cotton, in collaboration with our consultant partners, have achieved great success in operating and maintaining the phyto system near its optimal potential."
There are currently only two other similar systems in Illinois — one in South Barrington and another in Milan near the Quad Cities — but the one at Mallard Lake is believed to be the largest in the U.S.
The International Phytotechnology Society's mission is to promote research, education, training, and application of those technologies that use plants to deal with problems of environmental contamination, carbon sequestration, alternative fuels, and ecological restoration. The society is holding its 2023 conference at Argonne National Lab May 23 – 26. The landfill tour will be hosted by Forest Preserve District contractor Louis Licht, the founder and president of Ecolotree Inc., the agency that the Forest Preserve District contracts with to operate the landfill leachate treatment system at Mallard Lake. Dan Zinnen will provide further insight into the use of landfill poplar covers.
The Forest Preserve District of DuPage County has been connecting people to nature for more than 100 years. More than 5.5 million people visit its 60 forest preserves, 166 miles of trails, seven education centers, and scores of programs each year. For information, call 630-933-7200 or visit dupageforest.org, where you can also link to the District's e-newsletter and Facebook, Twitter, Instagram, YouTube, and TikTok pages.
# # #