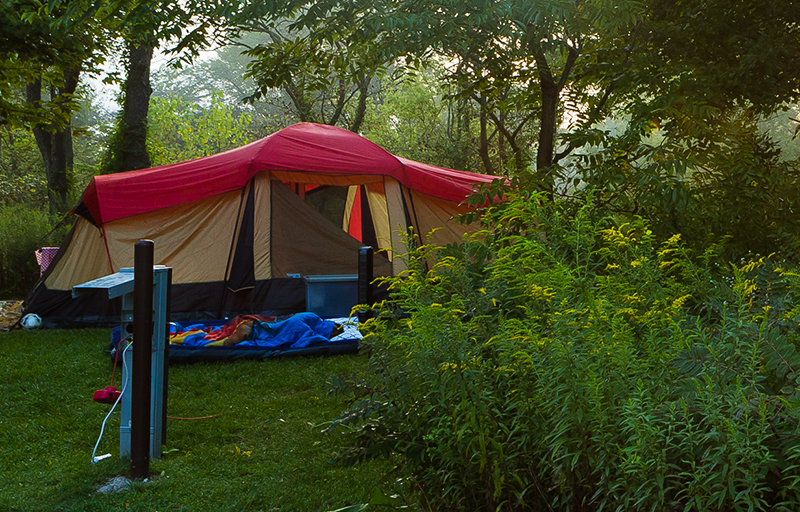 News Release
Popular Forest Preserve District Amenities Open May 5 and 6
Family camping, boat rentals, and the scenic overlook at Greene Valley open for the season
Summer will be here before we know it, and with it several popular outdoor activities will return to the DuPage forest preserves starting the first weekend in May.
Nature enthusiasts can spend a night under the stars at the Forest Preserve District's 64-site Blackwell Family Campground, which will operate Friday and Saturday nights May 5 through Columbus Day weekend with added nights around the holidays. Campers can purchase permits online using a desktop computer (mobile phones do not work) 24/7 up to a year in advance but must make reservations at least three business days in advance. For additional nights around the holidays, campers should call or stop by the District's Visitor Services office from 8 a.m. to 4 p.m. Monday through Friday at 630-933-7248 or 3S580 Naperville Road in Wheaton.
The campground has wooded and semiwooded sites for tents, trailers, and motor homes. Each has electricity and a gravel parking pad, fire ring, and picnic table. Sites are $20 per night for DuPage residents or $30 per night for nonresidents in advance through Visitor Services. Sites can hold up to eight people, two tents, and one vehicle. The campground has restrooms, showers, and hand water pumps. It also has a water-fill station and a dump station for RVs. Outside firewood is not allowed; firewood is $7 per bundle. Campers can dispose of their empty 16-ounce propane tanks at the campground thanks to a collaborative program with DuPage County.
Outdoor aficionados can also get a bird's-eye view of DuPage County and the Chicago skyline from 190 feet above the ground at the scenic overlook at Greene Valley in Naperville, which will be open weather permitting Saturdays and Sundays from 11 a.m. to 6 p.m. May 6 through Oct. 29. (The overlook may be closed without notice due to Illinois Environmental Protection Agency maintenance and construction activities.) Admission to the hill is free, and visitors can park at the summit and are encouraged to bring spotting scopes or binoculars for views of migrating birds. Visitors with valid District permits can also launch nonpowered model gliders and sailplanes from a designated area of the overlook. For more down-to-earth exploration, hikers and bikers can use the 1.9-mile Hawk Trail, which circles the hill's base and is open only during scenic overlook hours.
What's more, adventure seekers can check out Blackwell in Warrenville from the water by renting canoes, kayaks, rowboats, or paddleboats from 11 a.m. to 6 p.m. on Saturdays and Sundays May 6 through Sept. 30 and weekdays Memorial Day through Labor Day. Weekend rentals also begin at Herrick Lake in Wheaton over Memorial Day weekend. At both locations rowboats and single kayaks are $15 per hour, and canoes and two-person kayaks are $18 per hour. Paddleboats at Blackwell are $20 per hour. Rentals end at 5 p.m.
The Forest Preserve District of DuPage County has been connecting people to nature for more than 100 years. More than 5.5 million people visit its 60 forest preserves, 166 miles of trails, seven education centers, and scores of programs each year. For information, call 630-933-7200 or visit dupageforest.org, where you can also link to the District's e-newsletter and Facebook, Twitter, Instagram, YouTube, and TikTok pages.
# # #