Districtwide - Grounds & Natural Resource Operations Assessment & Logistics Plan
Over the last 20 years the District has expanded its holdings, facilities, and land restoration on more than 26,000 acres of land which has stressed land management operations. Preserve use and visitation has increased as well, but most significantly in the last 2 – 3 years. Improving efficiency in land management operations is necessary to meet these challenges as the District continues to provide services at the level of quality expected from the public.
The approved 2019 master plan includes 15 listed initiatives that warrant further study before specific project recommendations can be made. One of these initiatives is the assessment of grounds and natural resource management facilities. Since 2007, various outside consultants and professional staff have concluded the facilities are undersized, aged, and inefficient for intended and desired operations, noncompliant with building, life safety and ADA codes, and in need of significant repairs and improvements.
Funding
This study as well as subsequent facility designs shall be funded by yearly appropriated construction and development funds. Approximately $550,000 has been currently budgeted to cover the operations assessment and logistics plan as well as preliminary design for the recommended facility.
The estimated potential cost of a new grounds and natural resource management facility is approximately $21,000,000 including all design, permitting and construction costs. Funding for the latter work shall be determined as more refined plans and cost estimates are developed.
A combination of yearly appropriated construction and development funds, capital improvement, repair and replacement funds, grants, energy efficiency rebates and potential debt issuance are all potential sources of revenue for the project.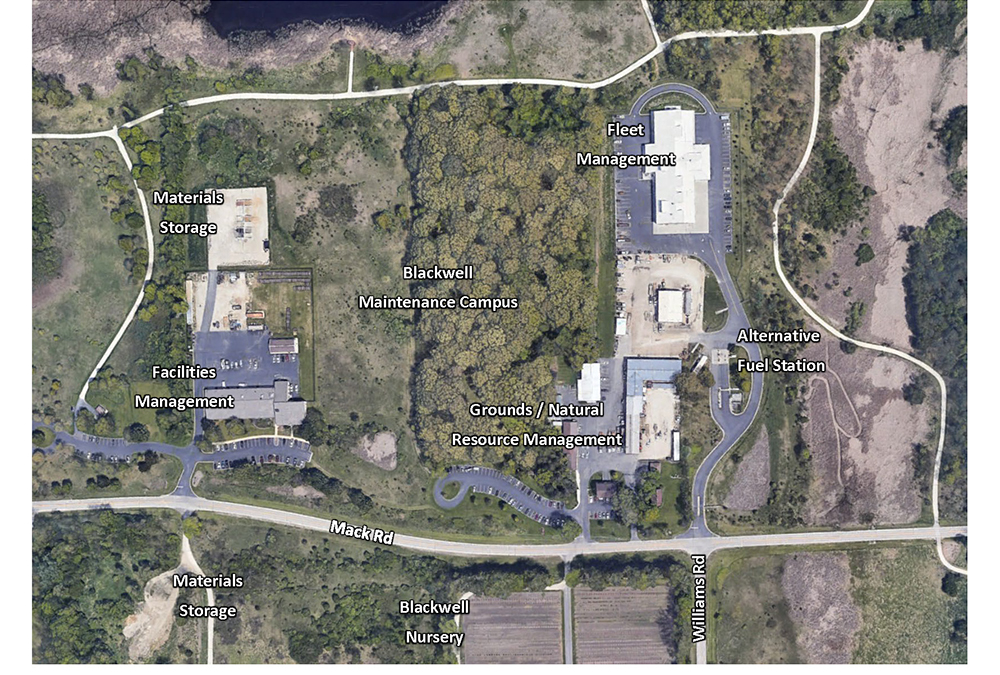 Additional Information
The Board approved a contract with Knight E/A, Inc. to conduct an operational assessment and develop a logistics plan with recommendations for grounds and natural resource management facilities. The assessment entailed a holistic review of existing and future operational and spatial needs, identification of efficiencies and deficiencies, and analysis of potential scenarios and costs. The goal of this project is to ensure district operations are functioning optimally in the right locations, with the right resources, and right facilities to the meet the needs and expectations of the public.