Emelia Buckley likes painting the natural world because "it's the most complex and simple concept on earth." So she jumped at the chance to paint a nature scene on the biggest "canvas" she had ever worked on.
Family friend and fleet supervisor Jay Vavruska invited the 15-year-old Maine South High School sophomore to paint a storage container in the parking lot of the Fleet Management building at Blackwell Forest Preserve in Warrenville.
"I'm really grateful to have the opportunity to work on it because I've never done a project of that magnitude before," Buckley said. "The storage container was the biggest canvas I've ever worked on."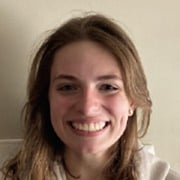 "Nature inspires me by how freaky, cool and diverse it is," she said. "It changes and adapts to its environment and overcomes challenges in unique ways."
Buckley used spray paint as a base layer to mark shapes and sketch the scene. For the rest of the painting she used regular house paint. It took about 10 hours to paint the scene, which she finished in mid-August.
"I like painting the natural world because it's the most complex and simple concept on earth," she said. "Also, you can't go wrong with a forest scene. Like who doesn't like trees?"
Buckley has been drawing and painting "for as long as I can remember. I've always been interested in art and drawing. I'm mostly self-taught besides random classes here and there as well as school art class."
"Drawing/art is one of my passions, and hopefully I can make a career of out of it someday," she said.
When she isn't painting or drawing, Buckley loves running, snowboarding and music. She's also on the school's cross country team.
"During my cross country season we spend a lot of time running as a group in the forest by my school, which is a lot of fun," Buckley said.
Her advice to others? "Just go for a walk or sit outside for a bit. Go touch some grass. Being outside is so stress relieving and it's a great reality check."