A great horned owlet was reunited with its family in a North Aurora tree after it fell out of its nest.
Willowbrook Wildlife Center received the owlet on March 18 after it was found isolated on the ground by the Fox River by a local wildlife photographer. After a couple days of heat support and food, it was ready to go back home!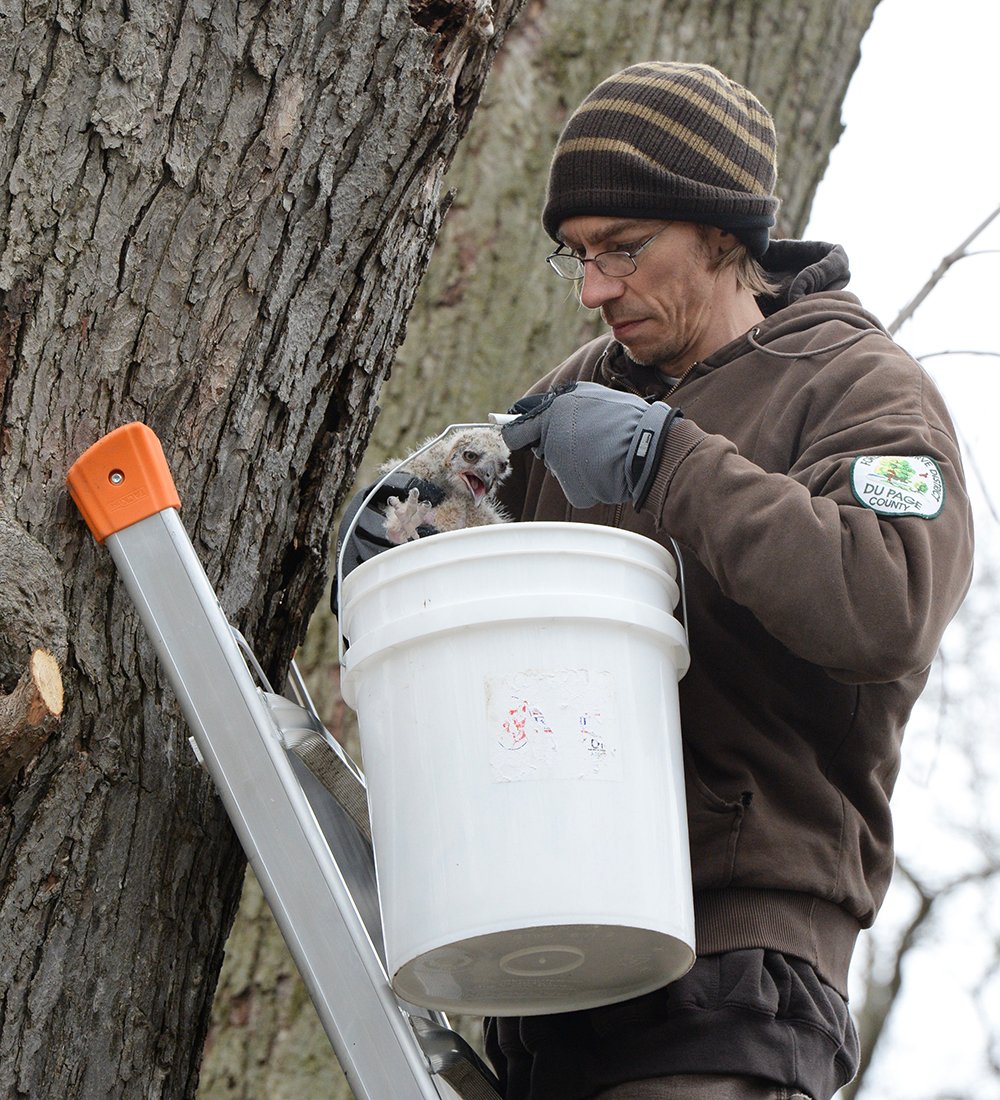 Justin Sharp removes the owlet from the bucket to return it to its nest. Photo by Jeff Nelson
On Friday, March 20, Willowbrook wildlife keeper Justin Sharp and Willowbrook veterinarian technician Emily Simpson returned the owlet to its nest in a tree cavity. Great horned owls don't build their own nests; they take over old nests of squirrels, crows or hawks, or use a dead snag or even manmade structures.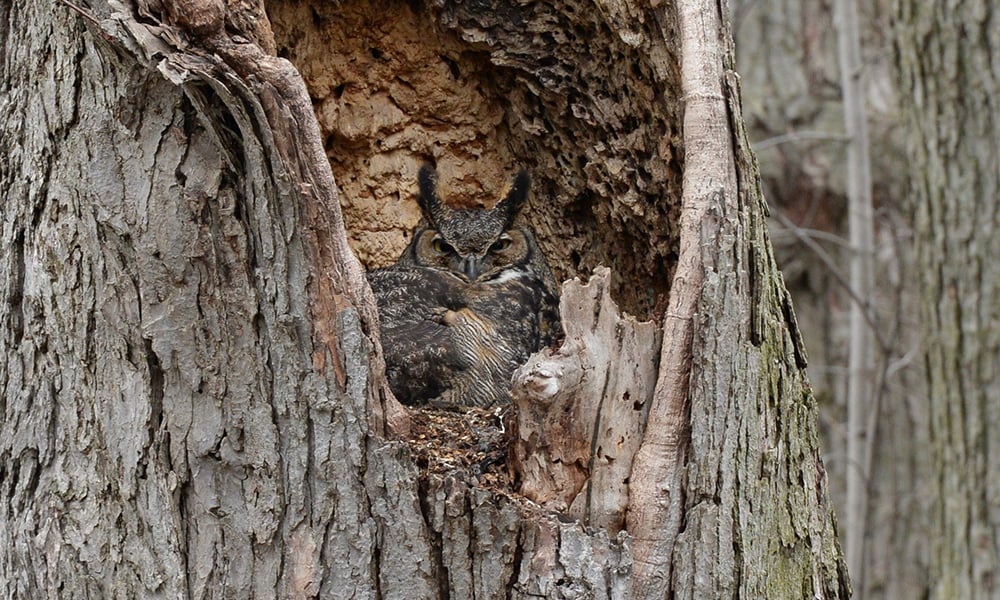 When Willowbrook staff arrived, one of the great horned owl parents was in the nest, along with another owlet (not visible in photo). Photo by Jeff Nelson
When they arrived one parent and one owlet were in the nest. Sharp was able to use an extension ladder to reach the nest; the parent flew off as soon as Sharp started placing the ladder and watched from a nearby tree. Sharp climbed the ladder and placed the owlet back in the nest.
This was the second great horned owlet renesting for Willowbrook so far this season. The center typically renests 3 – 8 owlets per season, usually great horned owls, Sharp said.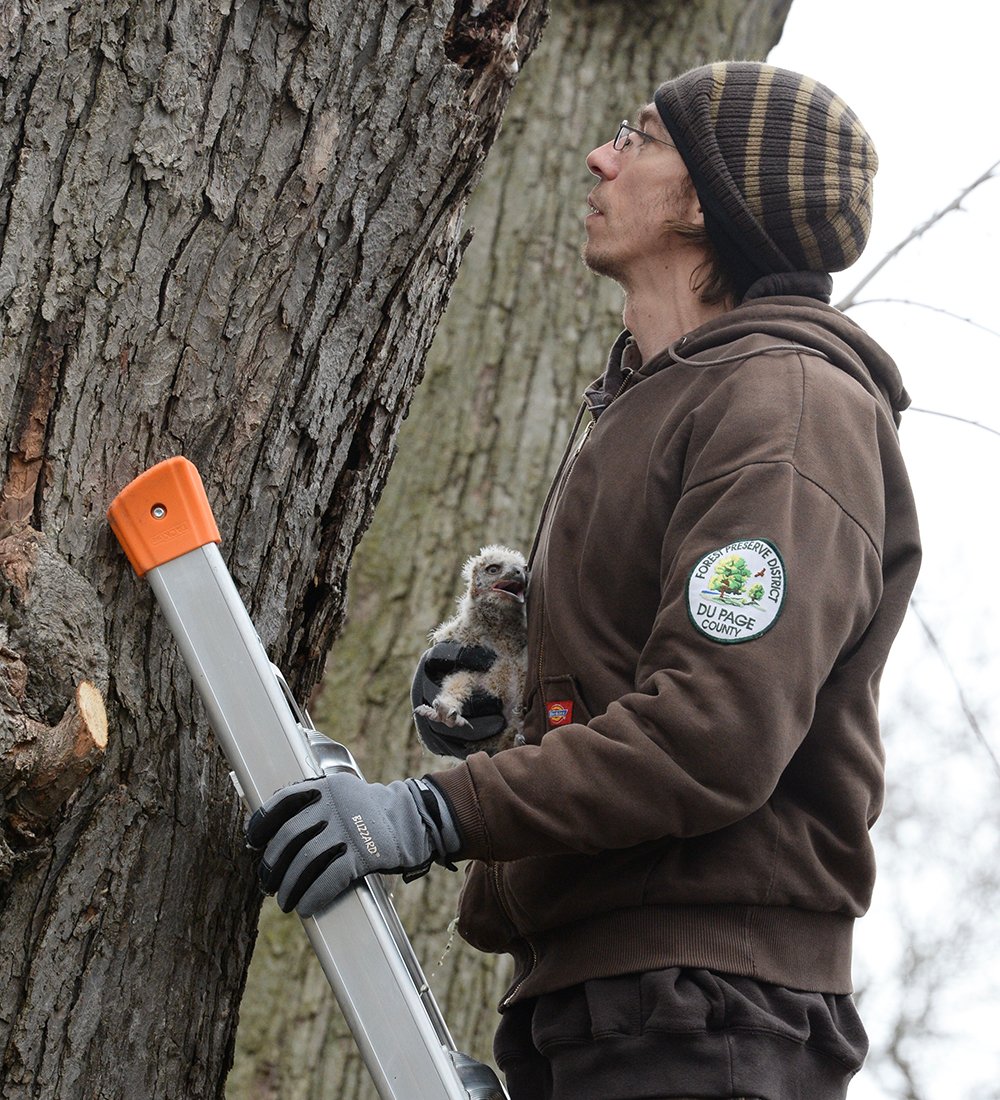 Sharp holds the owlet as he climbs the ladder to reach the nest. Photo by Jeff Nelson
Unfortunately, it's quite common for owlets to fall out of their nests this time of year. An owlet begins to explore its world and venture from its nest onto nearby branches, called "branching," at about six weeks old. By seven weeks old, an owlet is able to take up to three or four brief flights per day to spread its wings and strengthen its muscles.
The fledgling cannot fully fly until about 10 – 12 weeks. Fledgling siblings will stay together after leaving the nest for several weeks. Their parents will return and feed them during the first few months.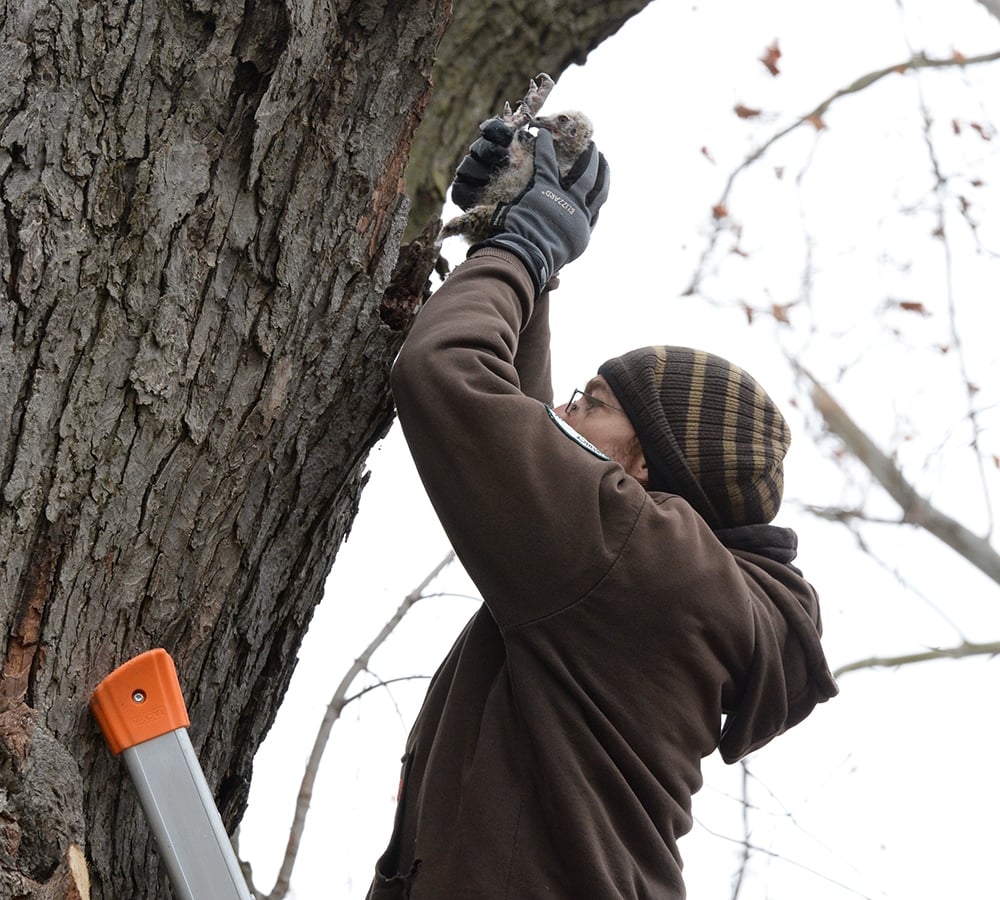 Sharp places the owlet back in the nest with its family. Photo by Jeff Nelson
If you find one on the ground, Willowbrook staff recommend calling the center at 630-942-6200 or emailing staff at willowbrook@dupageforest.org. A staff member can help determine if the owlet is sick or injured or too young to be outside the nest. It's normal for a fledgling owlet to briefly be on the ground and Willowbrook does not recommend handling these healthy individuals.

Caution should be used with great horned owlets, as parents are quite protective. It's best to first observe the area for a time to see if parents are around or a nest can be located. Then, call Willowbrook at 630-942-6200 or a licensed rehabilitator before taking any action.

During the spring season, Willowbrook reminds residents that it's normal for wild animals to leave their young alone for several hours at a time while they look for food. Inexperienced individuals who try to raise or treat them inevitably can produce unhealthy, tame animals that cannot survive in the wild. Human intervention may be needed if an animal is injured or truly abandoned.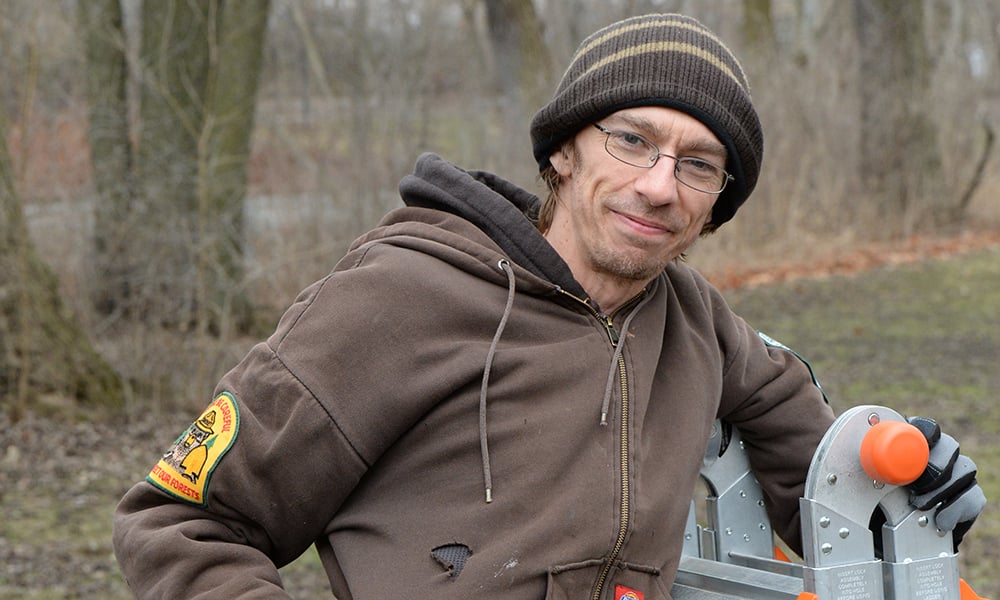 Willowbrook wildlife keeper Justin Sharp uses an extension ladder to place a great horned owlet back in its nest in Aurora. Photo by Jeff Nelson