DuPage Forest Preserve Police are adding a thermal-imaging drone to the police force to help improve response and recovery time in the Forest Preserve District's more than 60 DuPage forest preserves.
The drone will be used to help police search for missing and lost persons, water rescues, crime scene documentation, and assist other Forest Preserve District departments.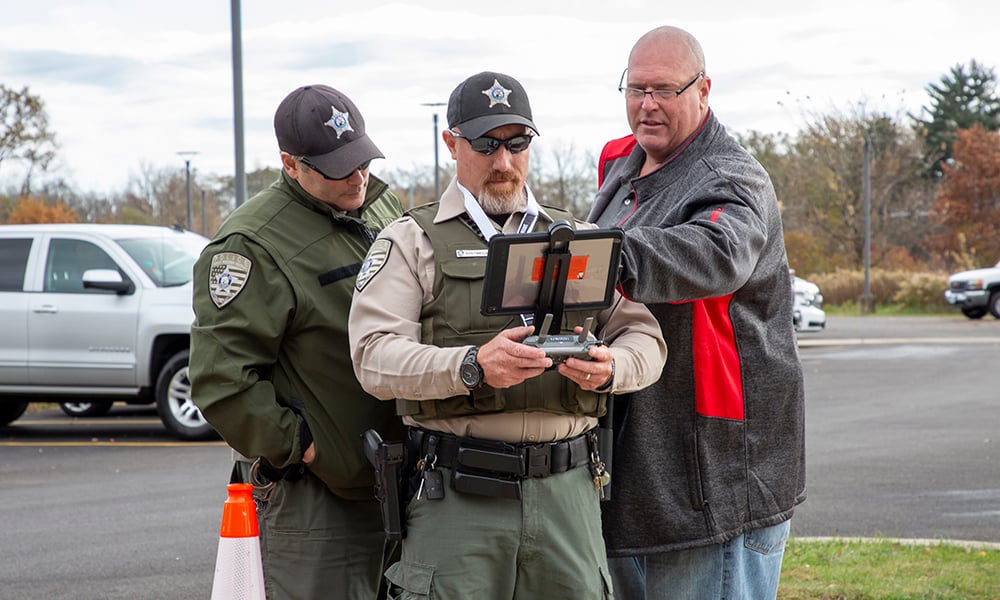 FAA-certified flight instructor Bob Warfel shows DuPage Forest Preserve police officer Mark Pinella how to fly the drone while Officer Scott Caswick looks on.
Five officers on the department have undergone training and obtained certificates from the Federal Aviation Administration to be licensed remote FAA pilots.

"The drone's ability to search the vast amount of land owned by the district could greatly improve lifesaving efforts for our patrons and increase our officer's safety while performing their duties," said Forest Preserve District Police Chief David Pederson.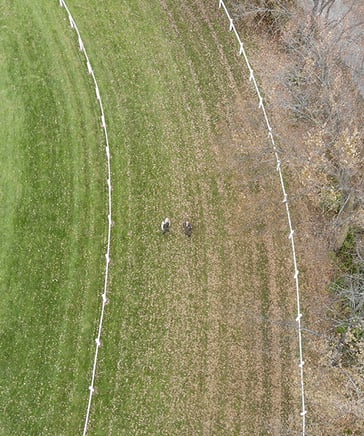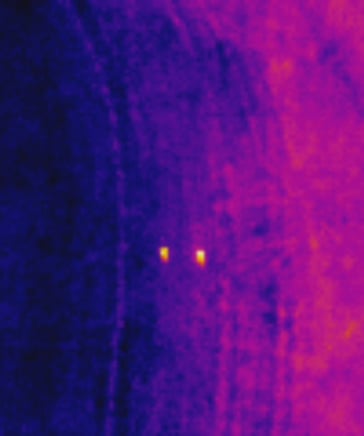 A photo of two people taken by the drone. The one on the right uses the drone's thermal imaging capabilities.
DuPage Forest Police have had to use other law enforcement agencies' drones in the past to assist in rescue operations. In April 2019, police were able to find an insulin-dependent missing person at Mallard Lake using Elgin Police Department's thermal imaging drone. The individual was located in six minutes under dense brush in a desolate densely wooded area . The individual was unconscious and in need of medical attention.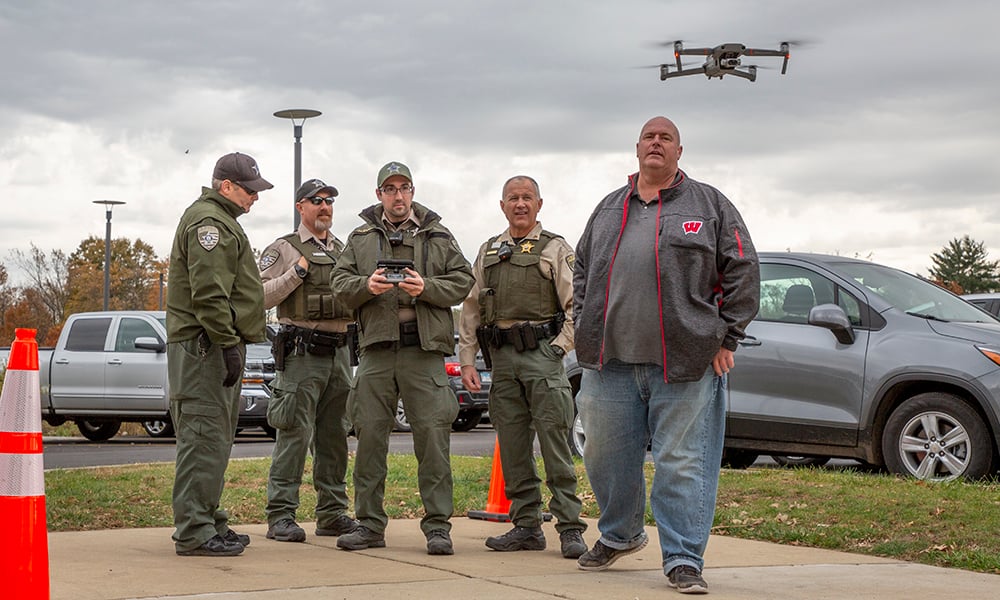 DuPage Forest Preserve Police Det. John Alipour brings the drone in for a landing during a practice run at Danada headquarters.
Elgin's thermal-imaging drone was used another time to find a person at James "Pate" Philip State Park in Bartlett.

The new drone, called a DJI Mavic Enterprise Dual, is equipped with a spotlight, loudspeaker and thermal imaging that can detect heat signatures. It's also equipped with real-time position alerts to identify any nearby aircraft, and omnidirectional obstacle sensing and avoidance.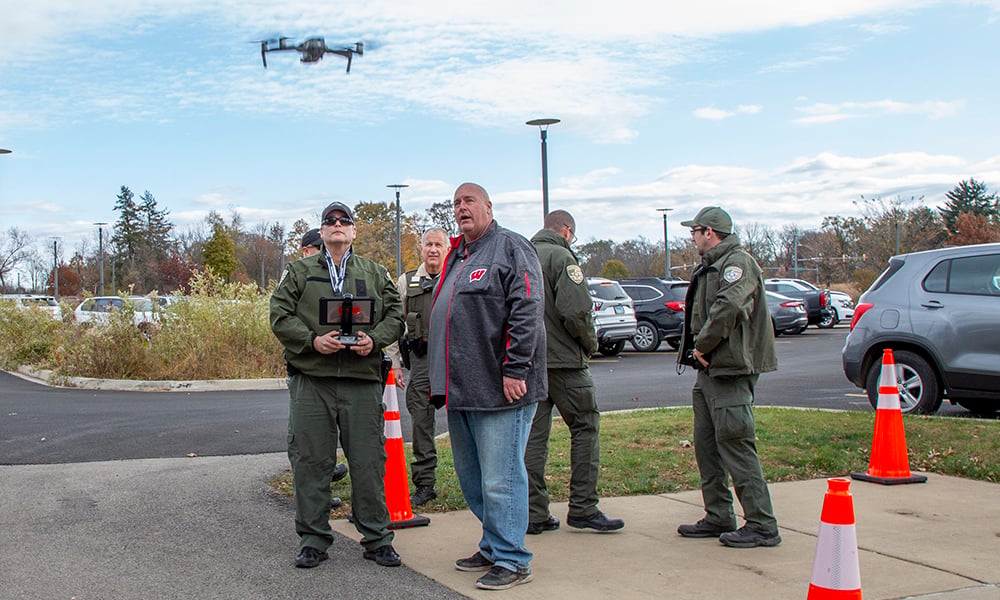 Caswick takes the drone for a spin during a recent practice run at Danada headquarters.
The drone was partially funded by the Friends of the Forest Preserve District of DuPage County, which advances the vision of the Forest Preserve District through philanthropic endeavors.

More than 4 million people visit 60+ DuPage forest preserves, 166 miles of trails, six education centers and 30 lakes and ponds, including three riverways. DuPage County is home to 916,000 residents.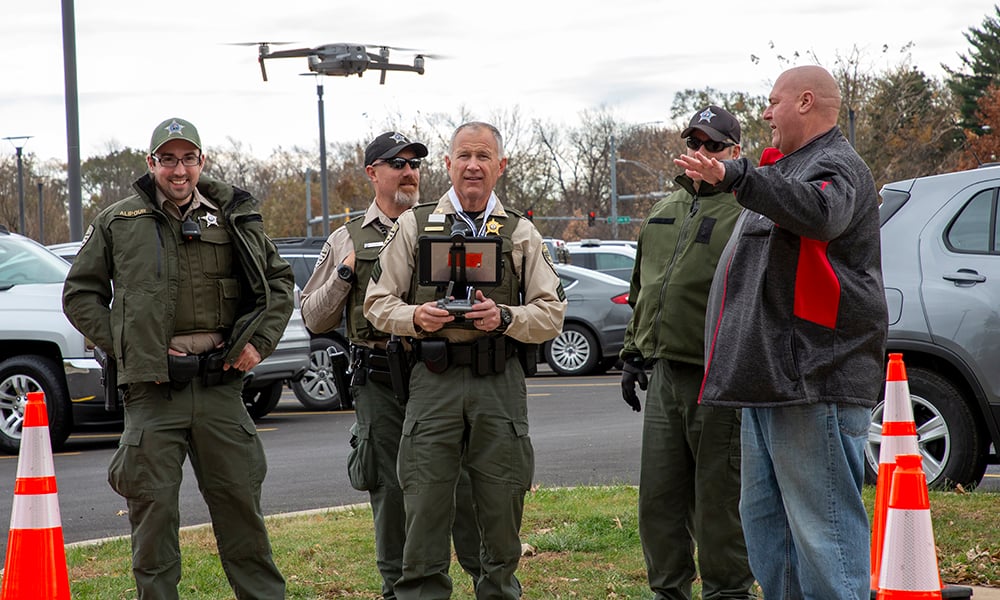 DuPage Forest Preserve Police Det. Sgt. Rick Splittgerber takes the drone for a spin during a practice run at Danada headquarters.