Whether you're new to hiking or a regular walker on DuPage forest preserve's 166 miles of trails, there are at least 6 essentials you should bring with you every time you head out on a hike.
Whether you plan on hiking a couple miles or all day, make sure you're prepared with these must-haves for hiking.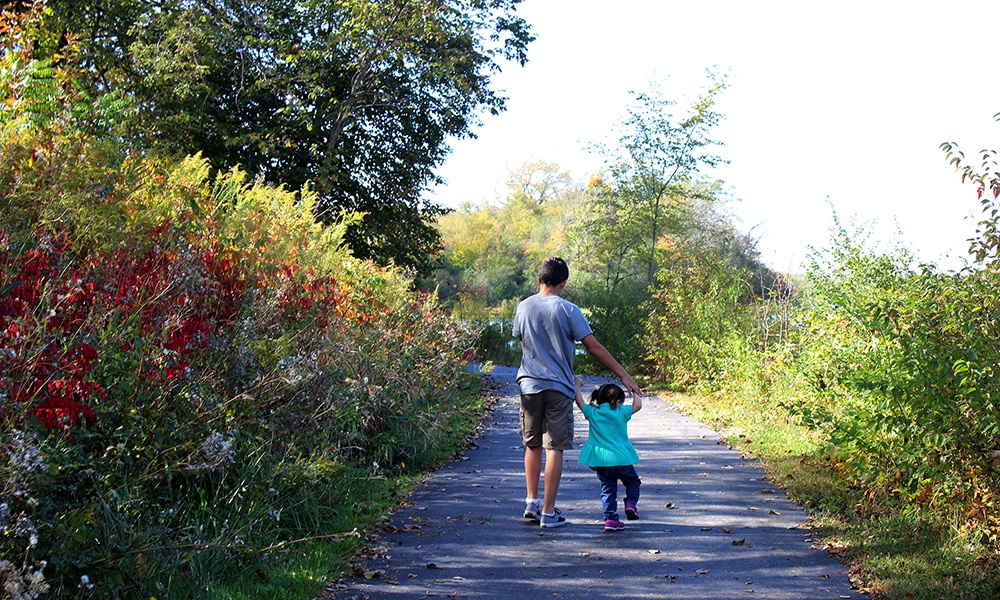 Appropriate Shoes
Most trails in the DuPage forest preserves are limestone gravel or paved. There are also some mowed grass trails, woodchip trails and even dirt trails in some preserves. Good shoes with traction and support will keep you comfortable while hiking. Hiking shoes or boots are your best choice over gym shoes, and sandals. These boots will give you support and most are waterproof in case you come upon a random puddle along the trail. Other shoes like gym shoes or sandals will not give you the support you need when walking over uneven terrain or slippery surfaces.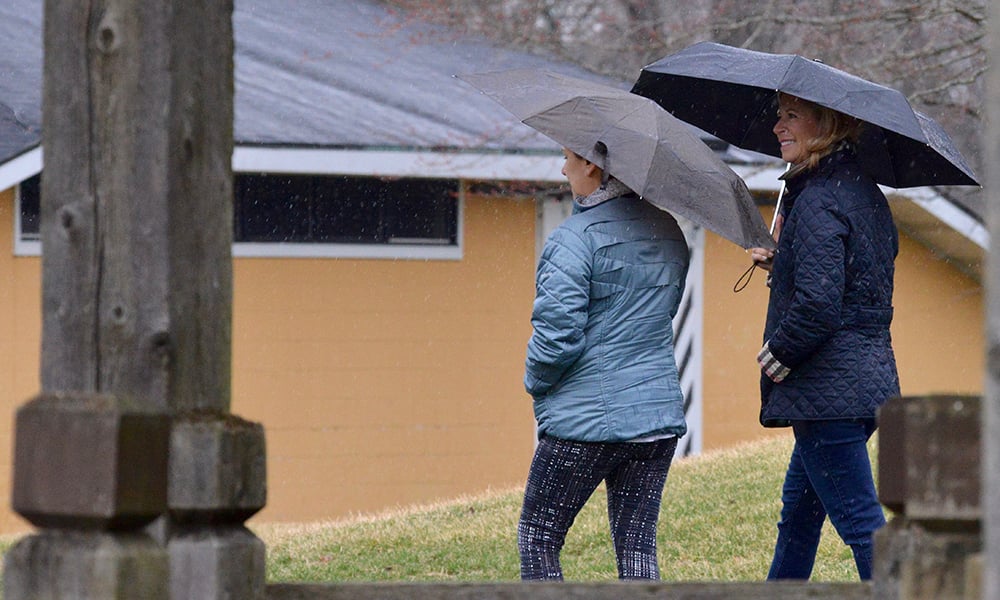 Map and Compass/GPS
The Forest Preserve District provides trail maps of most preserves at dupageforest.org or in its Trail Guide, available online or at District headquarters. The maps include information about the types and distance of trails and preserve amenities and can be downloaded to your phone or printed out so you can take it with you on your hike. Be sure to pre-plan your hike, and know where you're going before you head out. The main trails in most DuPage forest preserves are well marked with trail markers and maps to make your hike easier.
For longer hikes be sure to bring a compass or GPS. Even with advanced technology in mobile phones and devices, they still lose signals or battery life. Compasses work without batteries and are reliable if you know how to use one. Handheld GPS units also work well as long as you have the maps downloaded before your hike. If you bring a GPS, be sure to put fresh batteries in it before you head out on the trail.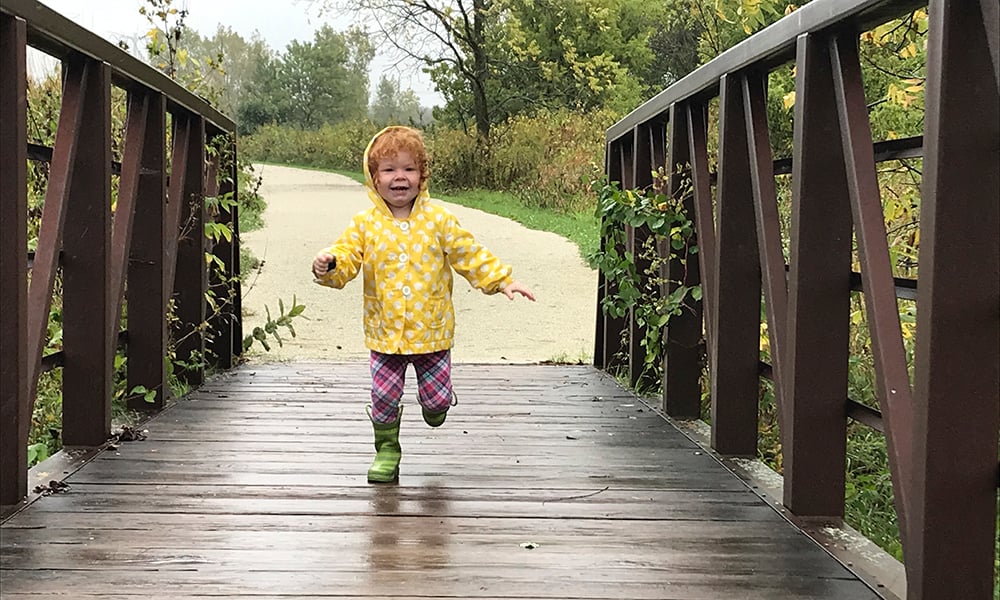 Water and Food
According to the American Hiking Society, you should plan to bring a half liter of water per hour of hiking in moderate temperatures and terrain. It's a good idea to bring some extra in case you spend more time out on the trail than you originally planned. It's important to stay hydrated, so take sips of water, even when you don't feel thirsty. This is especially important in cooler temperatures.
Be sure to bring some high-calorie snacks like energy bars, dried fruits, or beef jerky along in case your hike goes longer than expected. Make sure what you bring does not require any type of preparation or cooking.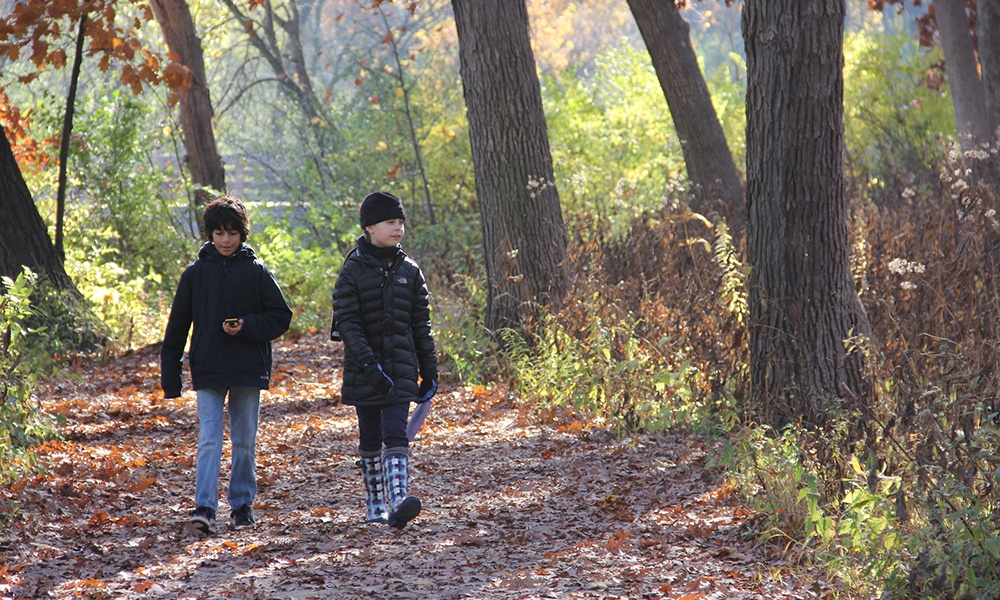 Appropriate Clothing
The weather can change unexpectedly, so you should always be ready for anything. Be sure to dress in layers because it's easier to take things off, than it is to add warmer clothes that you don't have. Your clothing layers should be moisture-wicking to increase your comfort and reduce your chances of getting chilled. Extra socks are always a good idea, especially when your shoes get wet. Changing your wet socks will help you stay warm and dry during your hike.

Don't forget to bring rain gear. Rain can happen unexpectedly, even when the weather apps say it isn't going to rain. Also, a warm hat is a good idea. Keeping your head warm is a great way to stay warm if you catch yourself out later than planned.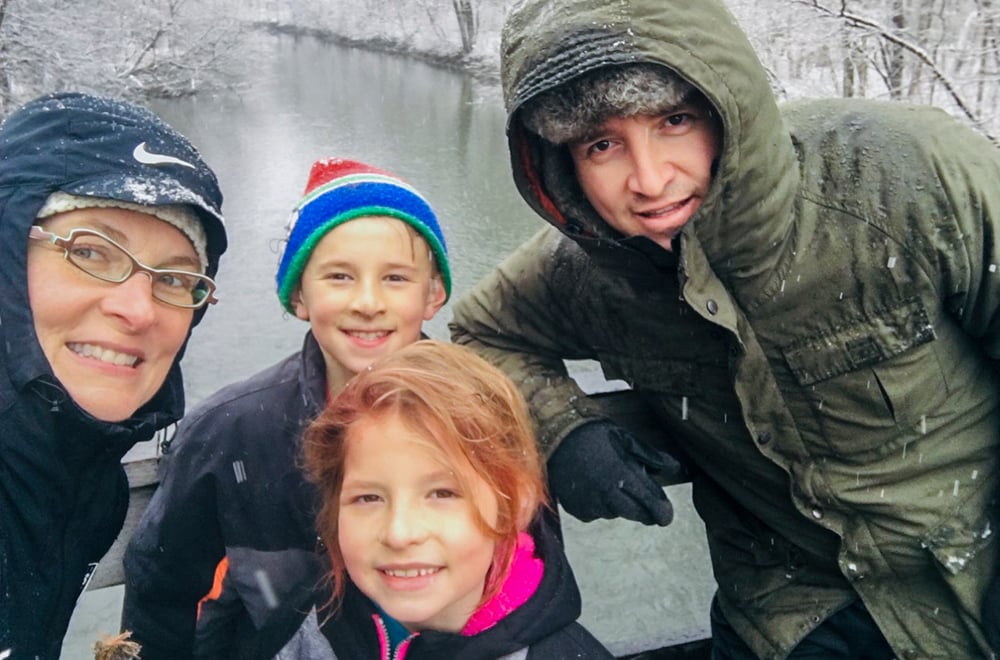 Safety and First Aid
Even on a short, one-hour hike, you or a hiking partner can get sick or injured, causing your time outside to be longer than expected. Don't be caught without a first aid kit containing basic items to treat blisters, various sized bandages and gauze, ointments, pen and paper, and gloves.

REI has a very detailed explanation on how to pack or purchase your first aid kit. It is also very important to know how to use your first aid kit. If you have a chance, take a class to better understand basic first aid and CPR.

Other helpful items to bring along on a hike include a flashlight, knife or multi-tool, whistle, and a emergency shelter/blanket.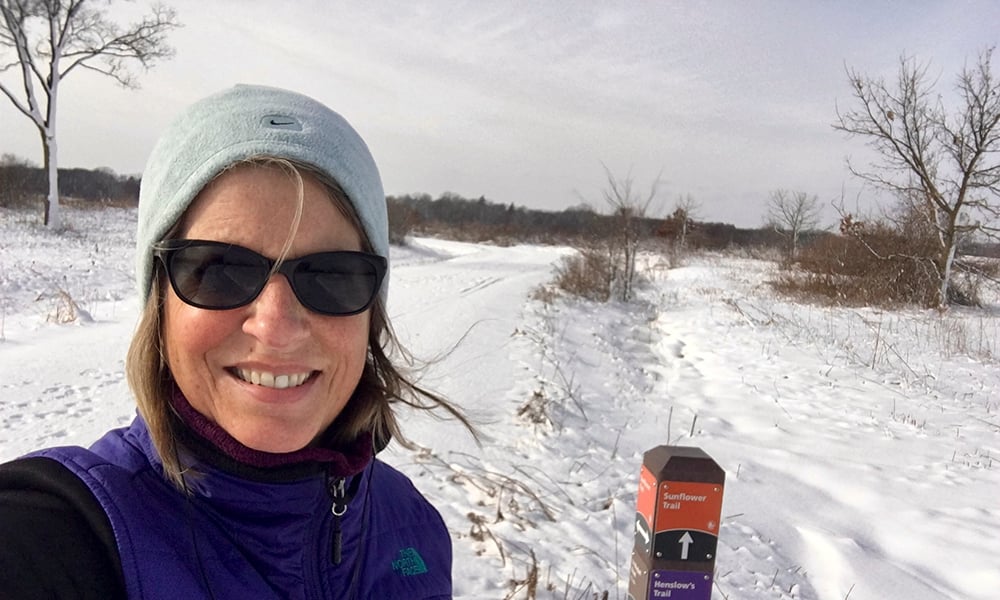 Sun Protection
Skin protection is important in every season no matter the temperature or cloud cover. This includes sunscreen, sun glasses and sun protective clothing like a hat with a brim and UV protective clothing. These items are essential to protect you from sunburn and other skin related issues. Make sure your sunglasses and clothing are rated to block UVA and UVB rays. Your sunscreen should have a sun protection factor of at least 15 to 30 and be reapplied often.
Having these essential items will make your hike a more pleasurable experience, whether it is an hour or all day. Pack a backpack with these items and have it ready for when you want to head out to your favorite DuPage forest preserve!