What happens when you combine a love of horses with a passion for philanthropy? At St. James Farm Forest Preserve in Warrenville in the 1980s and 1990s, it resulted in an annual steeplechase event that drew thousands to the farm, dominated the work schedules of farm employees, and made a meaningful impact on a local charity.
After he retired from International Harvester in 1980, Brooks McCormick — then owner of St. James Farm in Warrenville — wanted to use his time and the farm's resources to advance philanthropic causes.
A Bold Vision
John Davies, the farm's equestrian operations director, proposed building a first-class equestrian facility to host a variety of events at St. James Farm.
And so, St. James Farm began to aggressively develop the estate's renowned equestrian facility, which grew to include a 62-stall stable for competitors' horses, a 200-seat concession area and dressage and jumping arenas. A 1.5-mile steeplechase track was carved out of the farm fields south of Butterfield Road.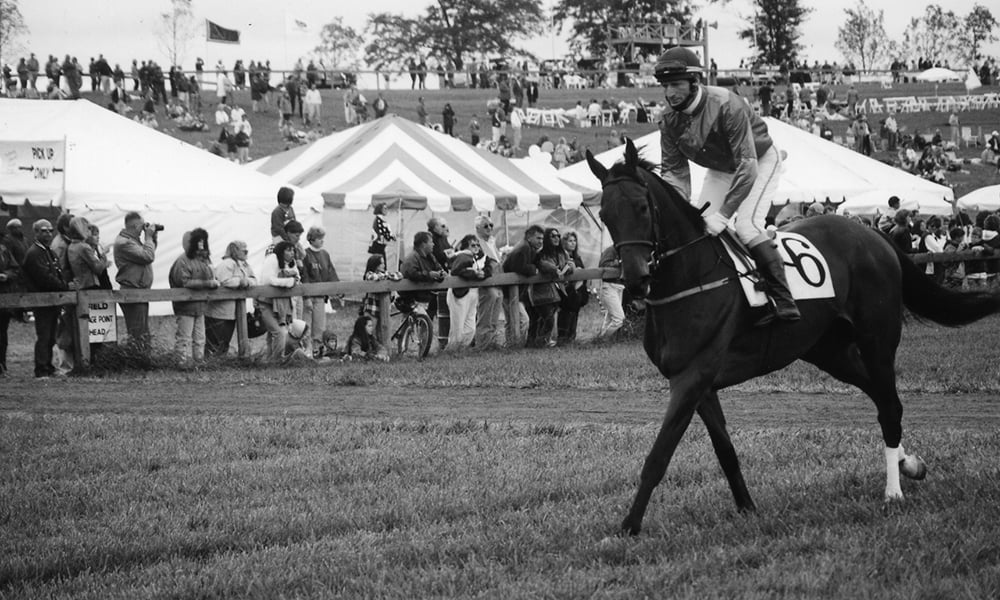 Steeplechase racing dates back to the mid-1700s when fox hunters on horseback would challenge each other to races from point to point across the English countryside. Because church steeples were the most visible points on the landscape, the cry "to yon steeple" prompted a gallop over hedgerows, livestock pends, stone walls, brooks and whatever else man or nature put in the way. Today's races take place on a circular track with a series of permanent fences and hedges.
St. James Farm hosted several international eventing and dressage competitions. The 1.5-mile steeplechase course event grew to become St. James Farm's most popular equestrian experience, benefiting the local Marianjoy Rehabilitation Hospital in Wheaton.
An estimated 300 people attended the first competition in 1985. At the height of its popularity, the event drew approximately 14,000 spectators and was the only Midwest site designed exclusively for steeplechase racing.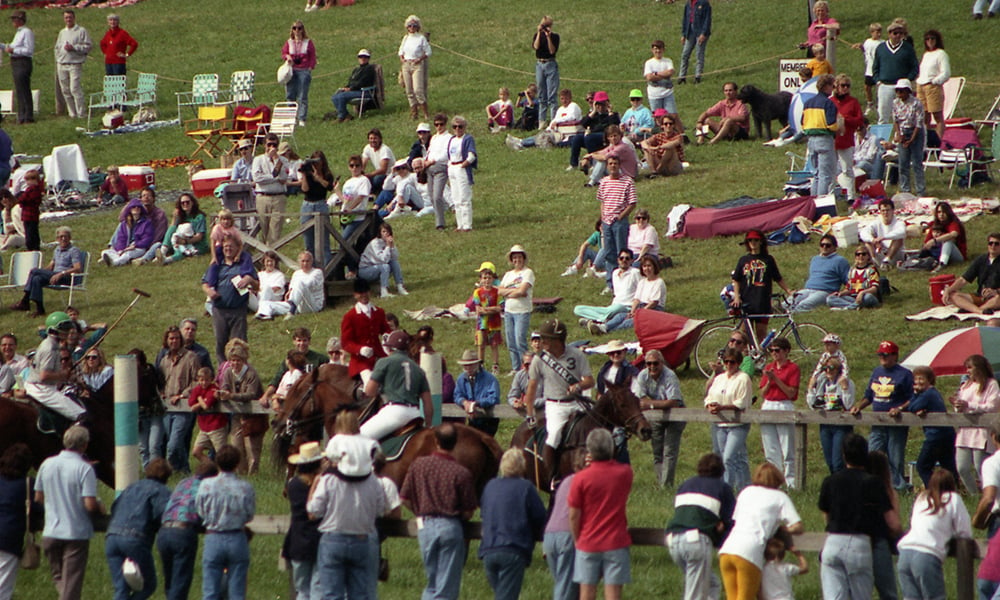 Impact on Farm Staff
The annual event, held on the third Saturday in September, became a major part of the lives of St. James staff, which numbered less than a dozen. As an employee, my responsibilities were often consumed by steeplechase preparation.
To water every square foot of the 135-foot wide 15-plus acre steeplechase course, we had to constantly move the pipe and sprinklers on a mobile sprinkler system seven days a week throughout the summer. Staff watered and pruned hedges and string-trimmed fence posts. We watered and fertilized trees planted for shade to encourage more growth.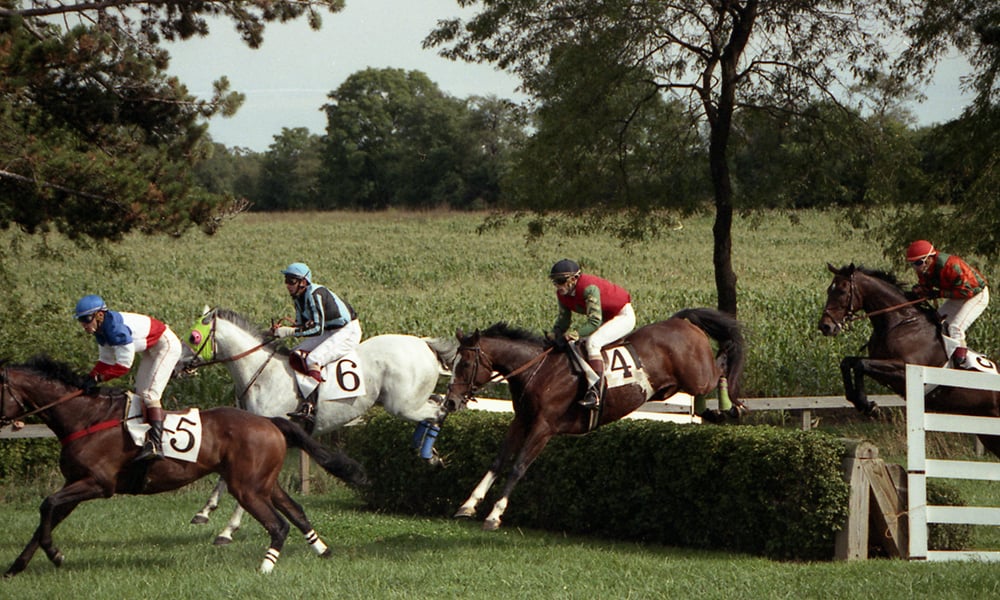 We weeded, watered and mulched a bed of 1,400 Autumn Joy sedum that would come into bloom at the perfect time for the event. We kept all grass areas watered, fertilized, and mowed throughout the spring, summer and fall in preparation for race day.
Virtually 364 days of the year were dedicated to preparation for race day. The minute the races were over, we started thinking about next year and what improvements were needed to make it even more successful next year. But all this work was worth the effort for staff.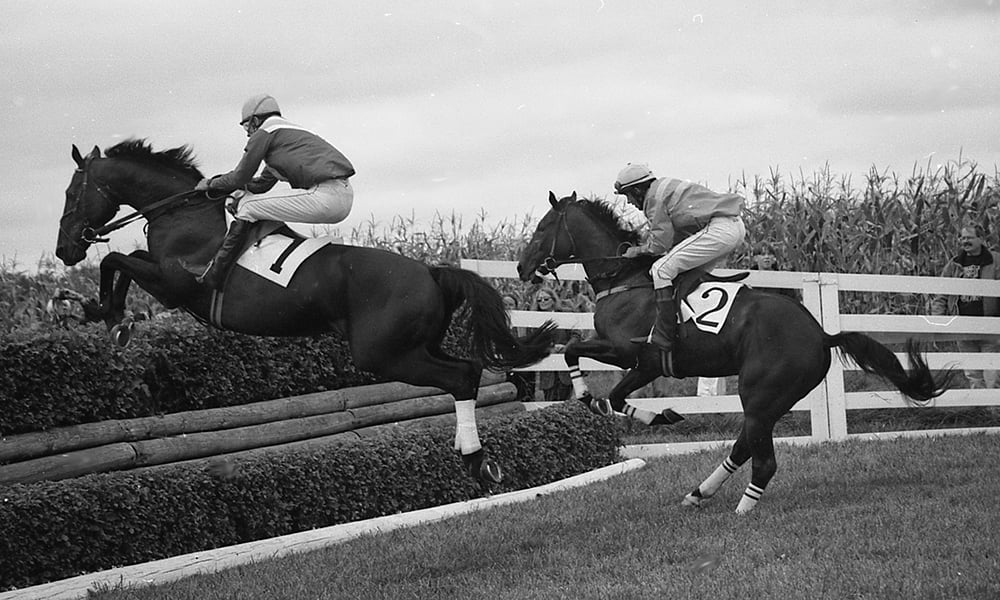 All Good Things Must Come to an End
After the 1999 race, we were informed that there would be no more steeplechase races and the track was to be dismantled and returned to farm fields. As exhausting as this event was, everyone's heart sank at the news. Of course it lightened our workload, but at what cost? By then, the course was more than just a part of our workday; it was a part of our lives, and a tremendous loss was felt by all.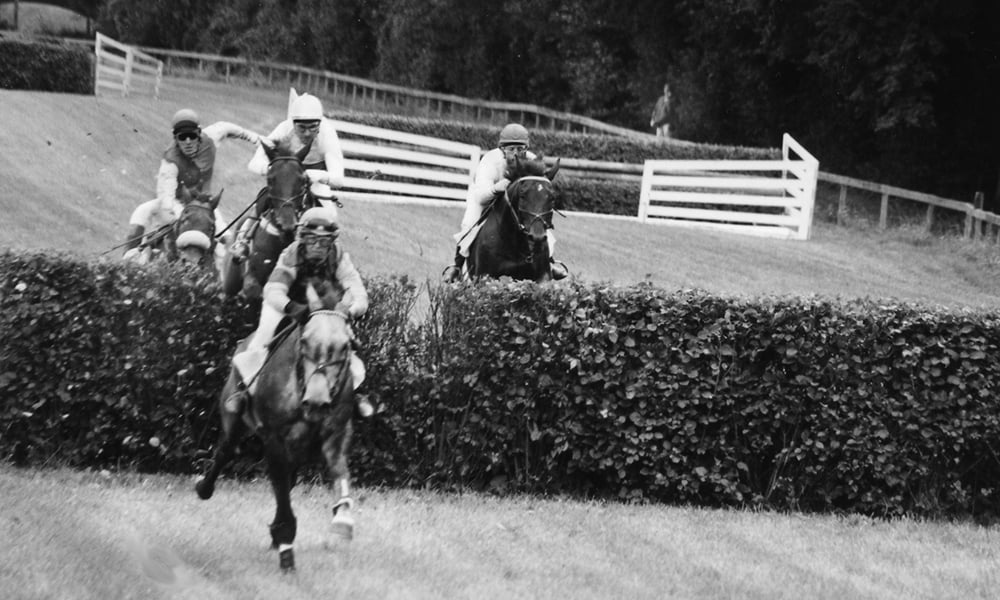 Questions Linger
More than 15 years had passed since that first steeplechase race at St. James Farm. It started as a quiet day in the country, but the event took on a life of its own. While many speculate about the decision to end the popular event, I believe a number of issues led to the decision.
From the beginning, there was talk of it having a limited shelf life and ending it after 15 years in 2000. On top of that, John Davies retired from St. James Farm. And there was the ever-growing commitment by all who maintained and organized the event. Whatever the reason, the people who played a role in the event can be proud that their combined efforts made the steeplechase at St. James Farm an incredible success.
In 2000 Brooks McCormick sold the 607-acre St. James Farm to the Forest Preserve District of DuPage County, retaining a life estate that gave him the right to live on the property until his death in 2006. In July 2007 the District officially took possession of the property.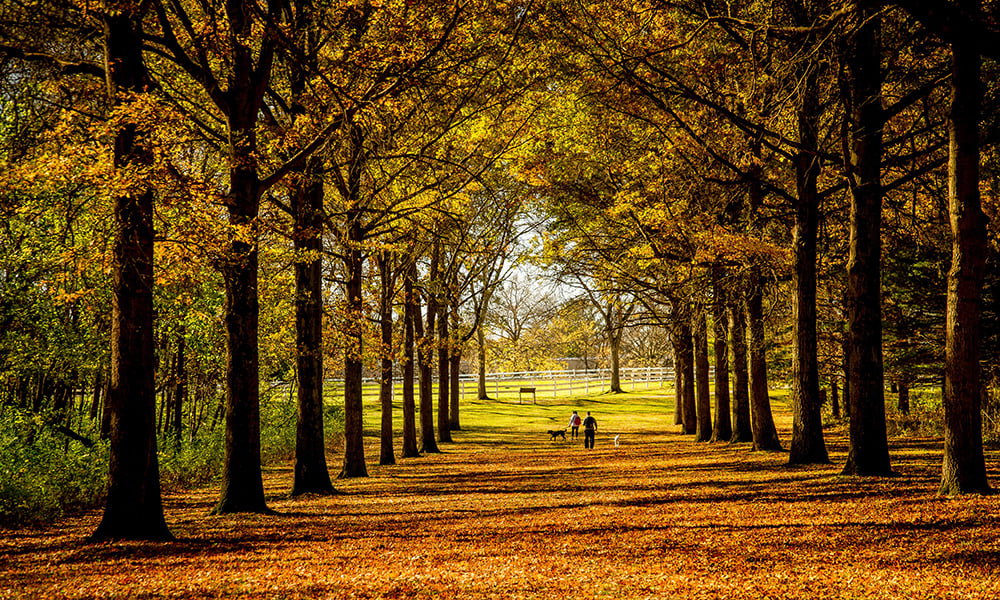 The termination of its biggest event, together with the sale of the property to the Forest Preserve District of DuPage County and the retirement of John Davies, resulted in the end of the equestrian program. As events were eliminated from the schedule, their infrastructure was also removed.
Brooks McCormick was never one to allow things to just waste away. The steeplechase course was returned to corn and soybean fields, dressage arenas were taken out, and native prairie was planted in their place. While all good things must eventually come to an end, the St. James Farm steeplechase left a legacy of charity and a lasting impression on many equestrian lovers' hearts.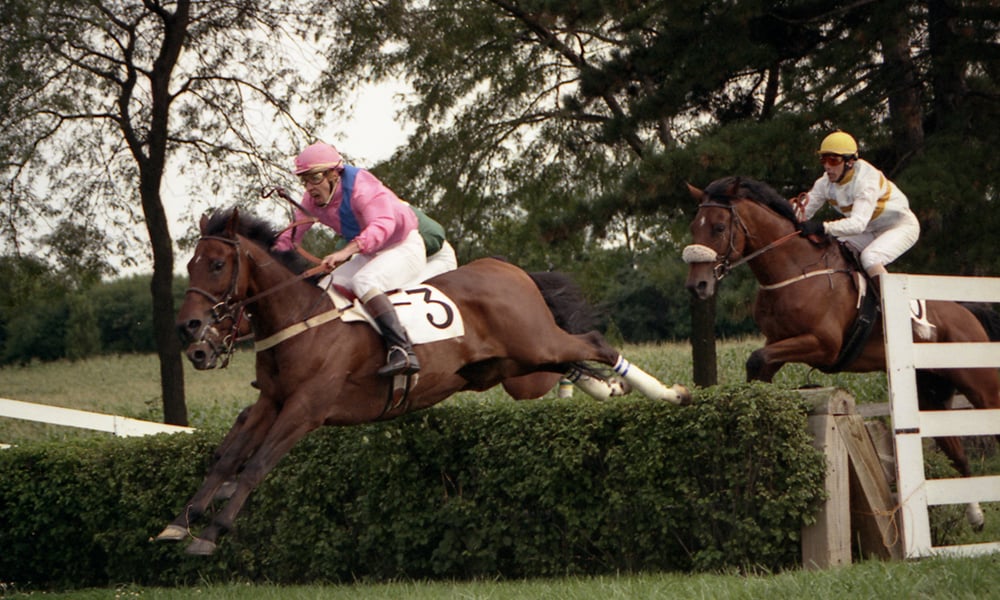 Excerpt from 'Race Day'
by John Davies, director of St. James Farm equestrian operations
As equines leap into the hands
And cheers come from the hillside stands

Up and over the timbered pile
They lift and tuck in varied style

To gallop on and hug the rail
With head outstretched and flying tail

But win or lose they all agree
No matter what your sport may be
There's nothing that can meet the pace
Nor match the thrill of Steeplechase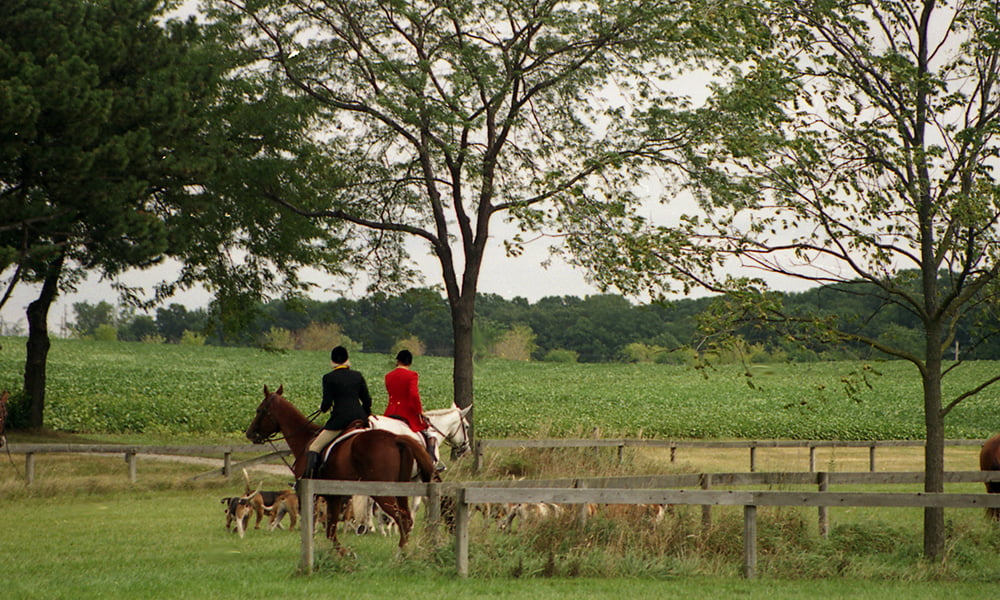 About Hidden History blogs
From glaciers to mounds, mammoths and farms, each month we highlight the often-overlooked history of our preserves and provide context to deepen your connection to the land, as well as tell the stories revealed to us through the objects and formations left behind. Stay tuned as members of the Forest Preserve District's collections committee bring you closer to your community through story every month.