With the passage of time, nature disguises the land's cultural legacy, covering the marks of human impact and often protecting the past with brush and vegetation, but this can also leave a legacy susceptible to human neglect.
Though hidden from sight for nearly a millennium burrowed within an evolving community, Winfield Mounds Forest Preserve in Winfield has been a significant subject of interest in the past century and serves as an example of culture becoming a permanent feature of the land.
This is the second in a series of blogs sharing the stories of some of the land that makes up today's forest preserves, brought to you by members of the DuPage Forest Preserve District's collections committee, which serves as public steward of DuPage forest preserve history.
From glaciers to mounds, mammoths and farms, each month we'll highlight the often overlooked history of our preserves and provide context to deepen your connection to the land, as well as the stories revealed to us through the objects and formations left behind.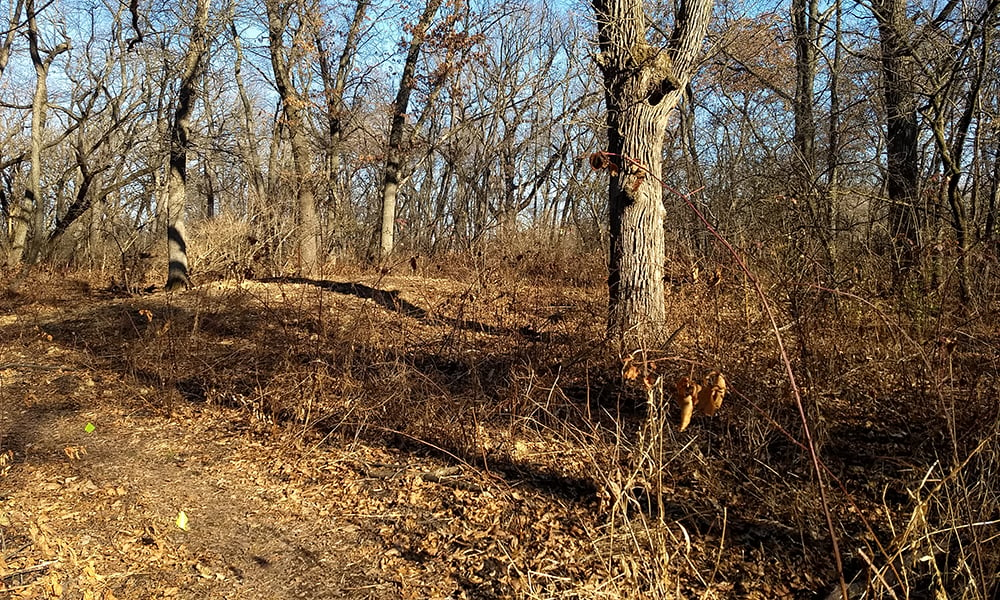 The Story Behind Winfield Mounds
Long before the land became a forest preserve, indigenous peoples inhabited and traversed the areas along the West Branch DuPage River. About 1,000 years ago during the Late Woodland period, three conical effigy mounds were fashioned near the West Branch (effigy mounds built in parts of the upper Midwest were designed piles of earth resembling animals and other symbols). They're the only documented account of burial mounds in DuPage County.
Following a surge in population and artistic expression, these mound builders existed in a time of consequential transformation and dispersed up smaller streams, bringing with them distinctive pottery and the newly adopted bow-and-arrow hunting style, which replaced the antiquated atlatl dart.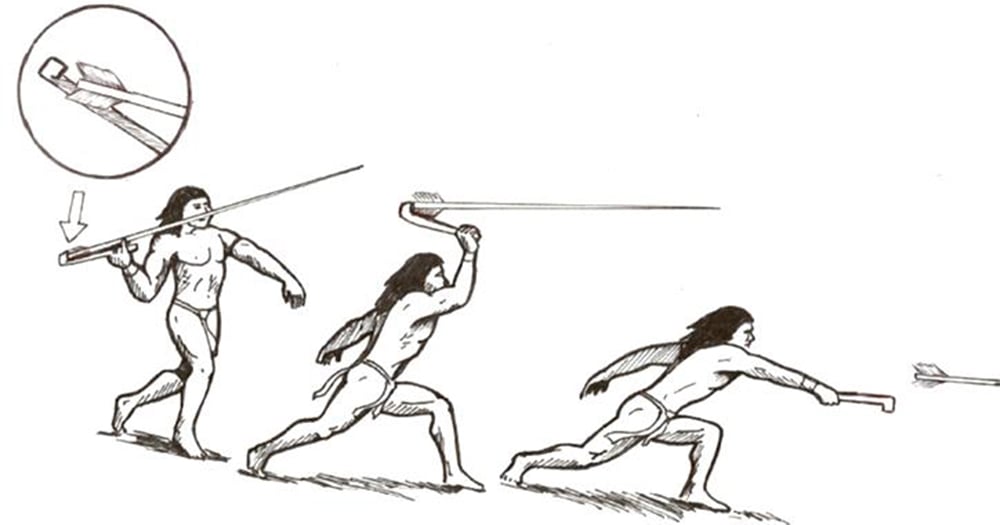 An atlatl is a tool used to launch a small spear at a greater velocity than only using hands.

---
The Rediscovery

As Americans moved west, cultivating the land and constructing large urban centers, the vast majority of the mounds were plowed over and destroyed, often incidentally. The Winfield Mounds were known by local settlers and escaped defacement until 1926 and 1927, when vandals dug into two mounds before they were driven away by an adjacent farm owner. The thieves reportedly escaped with artifacts, including skeletal remains.
These incidents inspired Wheaton residents to action — local residents appealed for help from the University of Chicago Department of Anthropology. In 1931, Dr. Georg Neumann and a team from the university completed the first professional archaeological dig at Winfield Mounds. When this excavation exhumed a bundle burial, the skeletal remains inside were so fragile that they disintegrated upon exposure. Most of the artifacts placed in mounds by their builders are perishable, often succumbing to the consequences of time.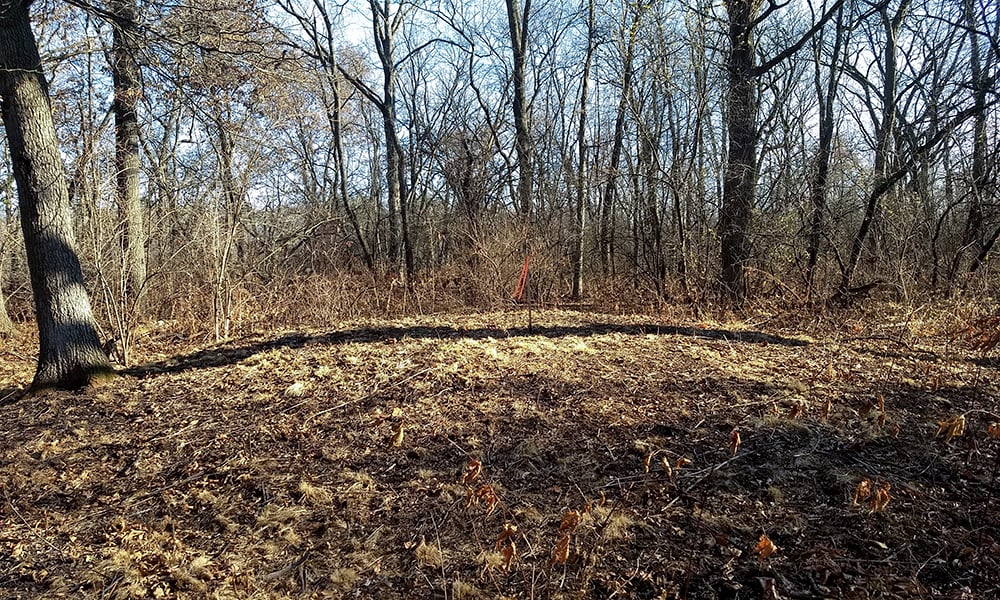 One of the effigy mounds at Winfield Mounds Forest Preserve in Winfield.
---
As before, the mounds were left alone and perhaps forgotten until Dr. James Jennings of Wheaton College chanced upon evidence of an indigenous settlement on a walk along the river.
After obtaining a research permit from the Forest Preserve District, he and his team of archaeology students from Wheaton College conducted several digs near the river and of the mounds and reclaimed over 2,000 settlement artifacts, including pottery sherds, stone tools, and arrowheads (some of which are still being studied by the University of Wisconsin-Milwaukee).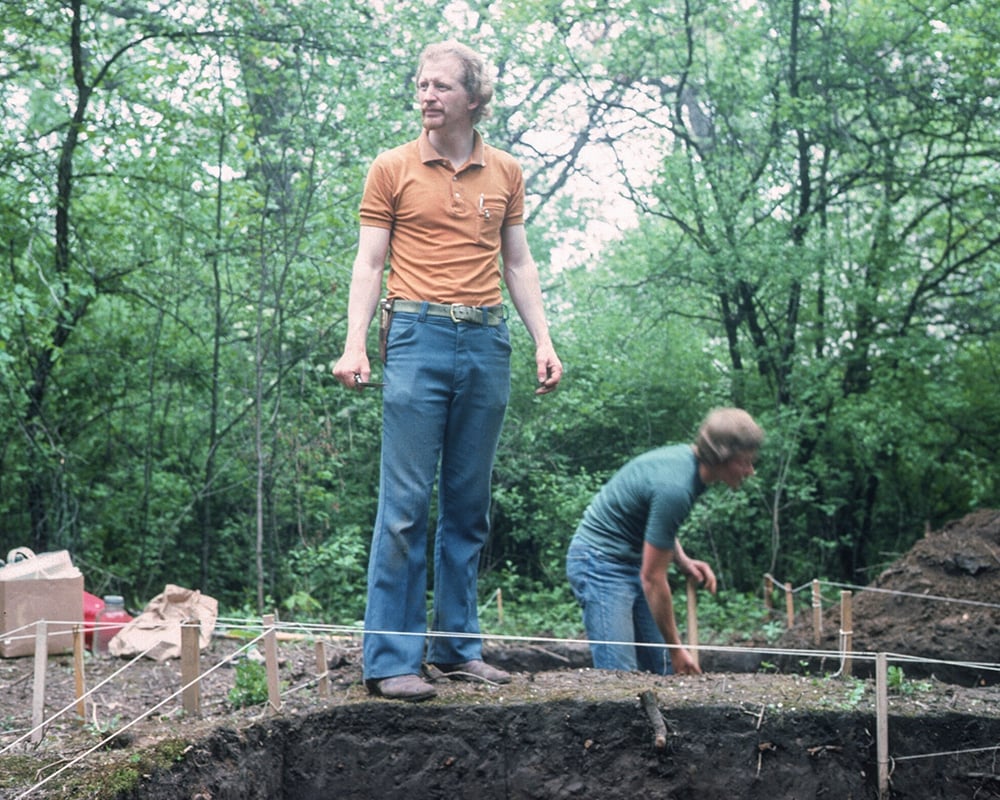 Dr. James Jennings of Wheaton College with a team of archeology students from the college at one of the digs at Winfield Mounds. Photo courtesy of Buswell Library Special Collections at Wheaton College
---
Although archaeology broadens our understanding of cultural history, this practice is unintentionally destructive and, along with vandalism, left its scars upon Winfield Mounds. A decade after Jennings' team concluded, Doug Kullen of the University of Chicago resumed the research and published a comprehensive report on the excavations, recommending the restoration of the disfigured mounds.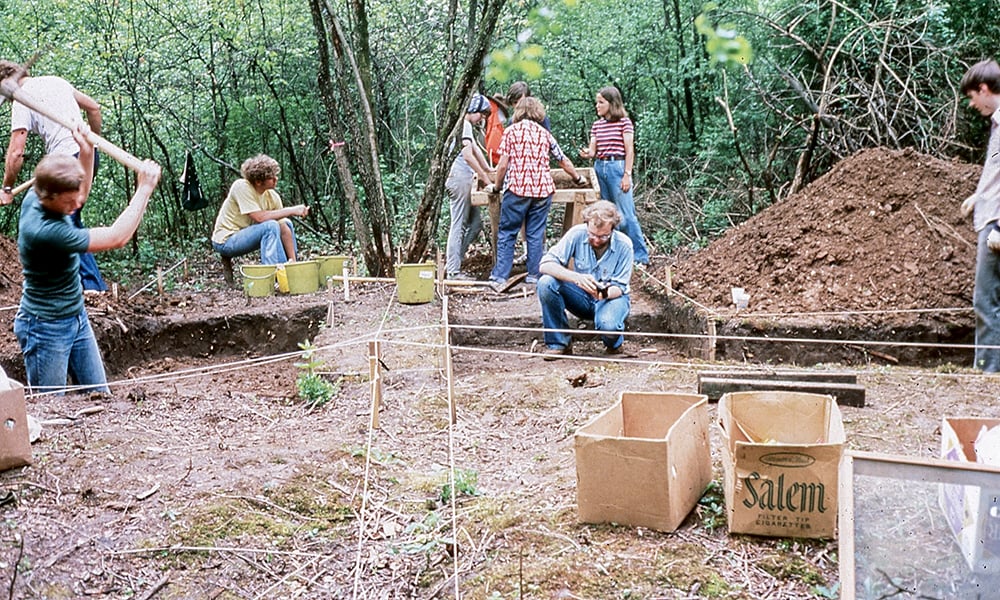 Wheaton College students at an archeological dig at Winfield Mounds. Photo courtesy of Buswell Library Special Collections at Wheaton College
---
Restoration and Commemoration
In 1998, the Forest Preserve District teamed up with Doug Kullen, the Illinois Prairie Path, and volunteers to reconstruct three low round mounds of earth to permanently mark the historically significant site. They cleared the site and a trail, installed interpretive signs, and restored the mounds using only hand tools.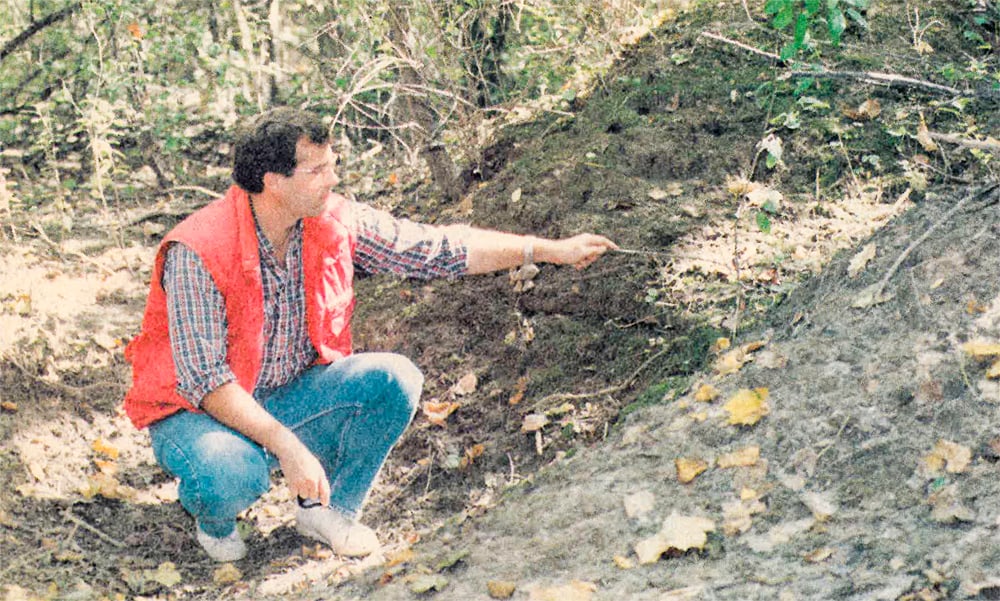 Doug Kullen during a visit to Winfield Mounds Forest Preserve in Winfield. Photo by Jeff Knox courtesy of the Daily Herald
---
Although the mounds are not always cleared of vegetation in order to deter further vandalism, Winfield Mounds are still celebrated today with many patrons making the mounds part of their preserve experience. In fact, the rediscovery of the mounds is planned to be a part of the village of Winfield's 2021 centennial celebration year.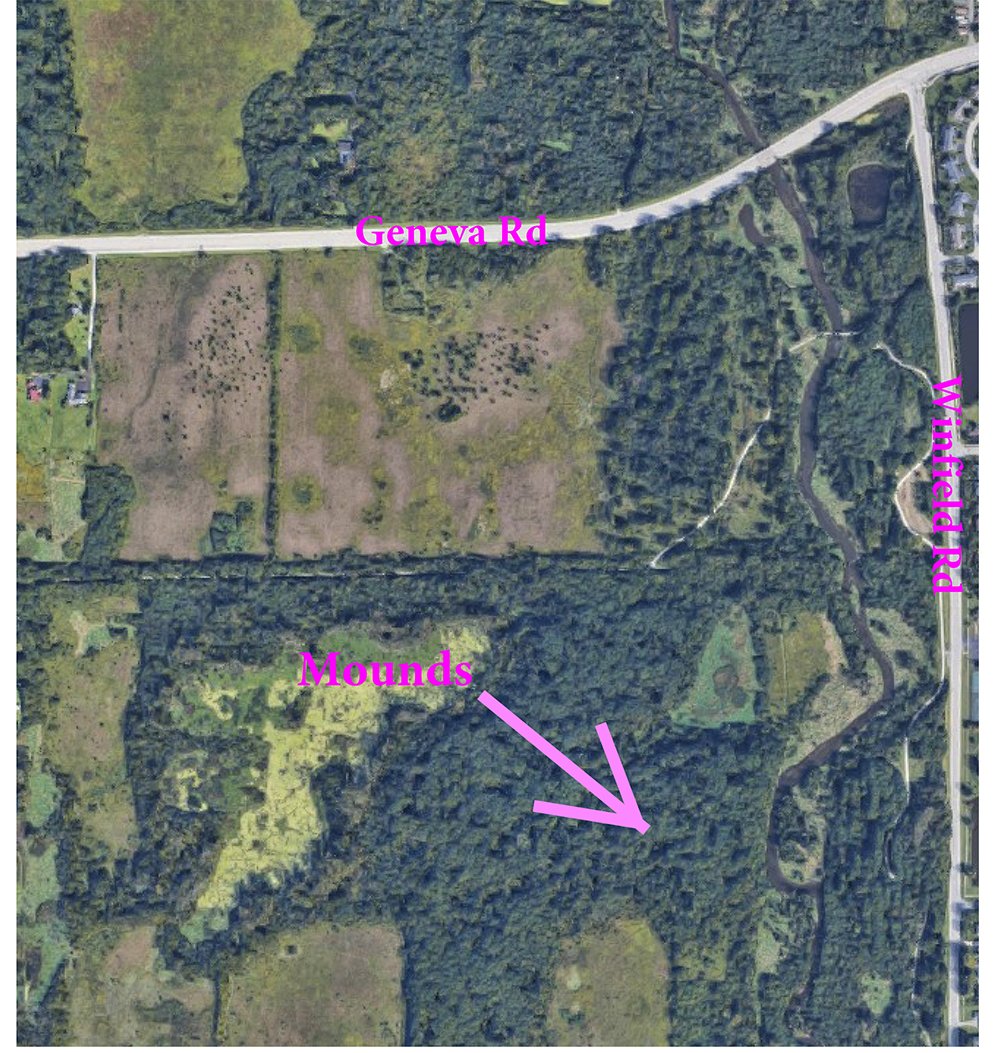 A Google map showing the location of the mounds at Winfield Mounds Forest Preserve in Winfield.
---
What to do if you discover archaeological artifacts
The story of Winfield Mounds reminds us that historical discoveries are still being made today and serves as a lesson on what to do if we stumble upon artifacts. If you spot an artifact in our preserves, please photograph the item without moving it and share the location with District staff by emailing forest@dupageforest.org. These artifacts deserve care and are protected by law. Only state-certified archaeologists conduct digs and all discoveries are public property and do not belong in a private collection.
A Story of Learning
The destruction that followed modern development left few mounds for us to celebrate. Other effigy mounds can be observed at the Briscoe Mounds in Channahon or Cahokia Mounds in Collinsville, IL, but Winfield Mounds represent the only effigy mounds and documented prehistoric burial site that survived in DuPage County and the surrounding area. As we continue to learn how to preserve and appreciate Winfield Mounds, you can connect to the land's hidden history by visiting and remembering their significance.