Every year, the Natural Resource Management crew and volunteers collect seed from more than 200 plant species native to DuPage County. The seed is used in various Forest Preserve District restoration areas, such as planting former cropland back to prairie, restoring plant diversity to an oak woodland after removing invasive brush, or enriching wetland habitat for rare wildlife species.
Seed collecting season begins in late May with early blooming species, such as false rue anemone and trout lily, and continues well into November with species like heath aster and bottle gentian. Years of experience has helped determine the optimal time to collect each species — harvest too early and the seed may not be viable, wait too long and much of the seed has already dropped off the plant.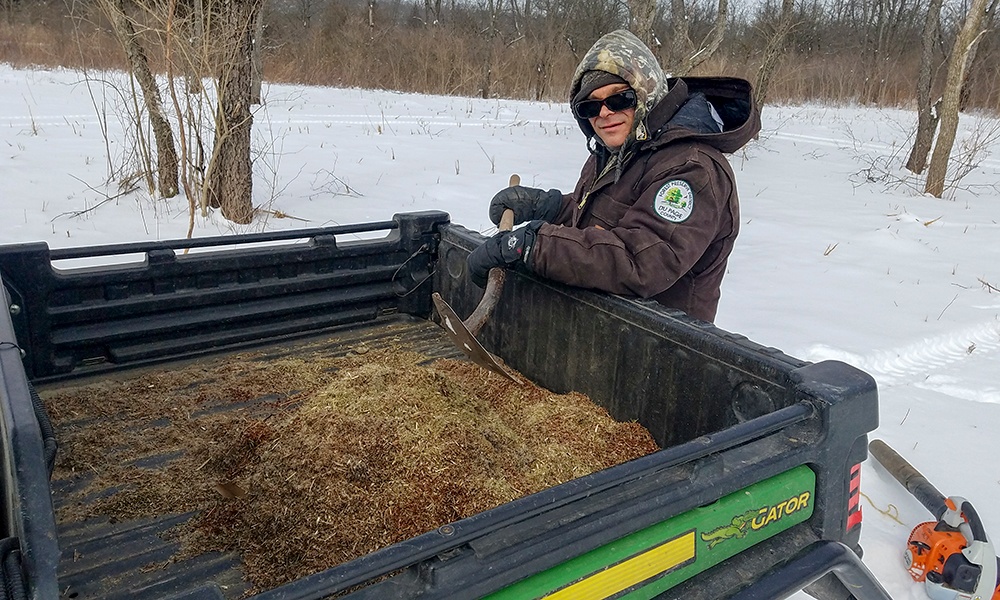 Many native plants are propagated in the District's Native Plant Nursery in West Chicago. Seed is collected and distributed in areas that lack plant diversity. Seed is also collected by volunteers at steward sites throughout DuPage County. Every November, stewards exchange seed between their sites to increase plant diversity.
District staff often "frost-seeds" during winter periods. Seed is broadcast by hand or with a machine on the soil surface or into snow on warmer days when it can melt into the snow pack. Freezing and thawing mixes the seed with the soil and provides needed moisture for germination in the spring. Most native plant species require this freeze/thaw cycle, called cold-moist stratification, to germinate.
For more information about District's habitat restoration programs, see the Restoring Habitats page.